It was killing me to miss the pivotal Brazilian Grand Prix at Interlagos this year for scheduling reasons, so I was determined to do my best to go to the nearest best thing, the Homestead-Miami IndyCar Series race.
How are these two race weekends similar? Like Sao Paulo, Miami is hot and increasingly Latin, including Cuban (indeed, Miss Cuba put in an appearance in the Homestead paddock), sometimes called the Capital of South America, and the atmosphere in the paddock - including Brazilian-based sponsors like APEX Brasil - is actually very much like attending a Formula 1 race in South America.
To start with, many of the IndyCar drivers are South Americans. Three-time Indianapolis 500 winner Helio Castroneves, having survived his brush with Uncle Sam's tax man earlier this season, maintains his hacienda in Miami. Godfather of the Brazilian drivers in IndyCar is Tony Kanaan, who also lives in Miami, and as a driver is good enough to have been in F1 but beyond a Honda F1 test drive, nothing ever developed. Kanaan is like Rubens Barrichello in F1, the Brazilian ringleader that the younger South American drivers all look up to. He presided when the weight-conscious Brazilian driver group took a petit dejeuner under the Andretti Green Racing hospitality tent.
Kanaan is also a friend indeed to a friend in need. Nelson Piquet Jr, fresh from the World Motor Sports Council's Singapore hearing in Paris, was pounding the pavement around the pits during the race weekend wearing Kanaan's credentials. Many fans approached Piquet for pictures with the family. Perhaps there is life after F1 for him in the IndyCar Series. Antonia Pizzonia was also there among the Brazilians, paying a visit between his Superleague and Brazilian stock car races.
In addition to the Brazilians, we have IndyCar's Venezuelans - one fast and one slow, both of them sponsored to some extent by PDVSA, the national oil company of what is officially called the Bolivarian Republic of Venezuela. Milka Duno is gracious in the paddock but her CITCO-sponsored car is slow on the track; compatriot EJ Viso of HVM Racing, is just the opposite and initially unnerved rivals with his speed and devil-may-care racing tactics.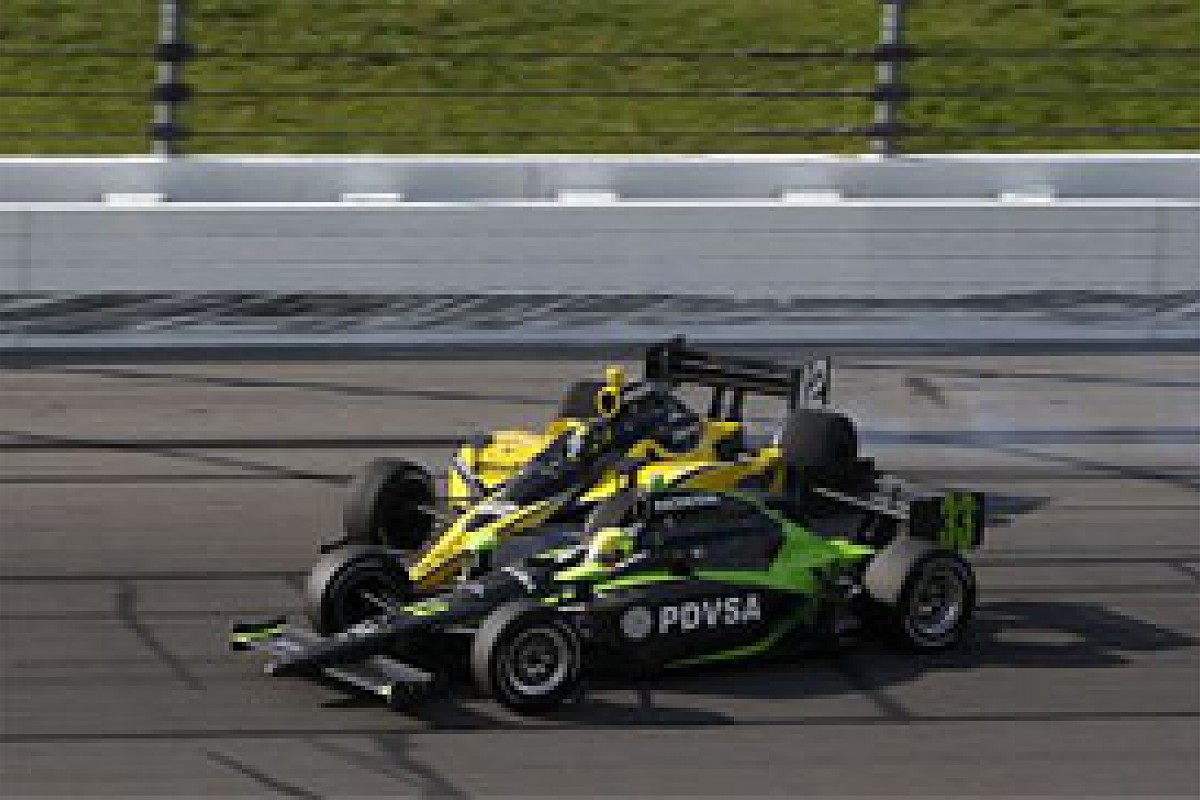 EJ Viso clashes with Tomas Scheckter during the 2008 Kansas race © LAT
European fans will remember Viso surviving an incredible accident at Magny-Cours in 2007 when he was in GP2, vaulting over the concrete barrier right after the start and riding the barrier upside down until the car's momentum ground it to a halt, right side up happily. Viso's bad luck this year has kept him out of the IndyCar headlines but with his raw talent and such strong sponsorship from, in effect, Hugo Chavez, next season he is bound to be back in the thick of things if he returns.
Viso is not the only driver who turned away from the F1 ladder to join IndyCar. His HVM team-mate Robert Doornbos can boast 11 grand prix starts and his pedigree will show in time. Justin Wilson headed to America after a year in F1 with Minardi and Jaguar and was a star in adversity at Dale Coyne Racing this year. At Homestead he could be seen terrorising people as he sped around the paddock on his motorbike.
Tomas Scheckter, son of 1979 world champion Jody Scheckter, was also with Jaguar F1 as a test driver in 2001, but got bounced from the team for a youthful indiscretion the English call kerb crawling. For Scheckter, it has been a long way back since then with a variety of teams but the new sponsor of his Dreyer & Reinhold Racing team, Mona Vie, an 'antioxidant and nutritional' juice drink that is a blend of the (you guessed it) Brazilian Acai berry and other fruits, is making a big splash in the States and its funding bodes well for Scheckter's prospects.
On the Homestead-Miami infield, Mona Vie had the best hospitality tent, up to Red Bull-like F1 standards, a spiffy air-conditioned facility overlooking the whole paddock with couches, TV monitors and a free bar not confined to fruit juice.
Completing the demographic profile of the current IndyCar drivers, America still has the most representatives with seven drivers (Marco Andretti, Ed Carpenter, Sarah Fisher, Ryan Hunter-Reay, Jaques Lazier, Danica Patrick and Graham Rahal), while Britain has four drivers (Mike Conway, Alex Lloyd, Dan Wheldon and Justin Wilson) and in a series powered exclusively by Honda engines there is only one Japanese driver - Hideki Mutoh, then still with Andretti Green.
With this mix of men, women and nationalities, the IndyCar Series may not have become the top rung of the American Sprint Car ranks that Tony George envisioned as the Indy Racing League's mission when it was formed in 1994, but the diversity and high quality of this experienced group is pretty impressive to watch on a race weekend. In 2010, this diversity will be fully reflected in the calendar, which will include eight ovals and eight road courses.
Not all the active IndyCar drivers were present for Homestead. Will Power and Nelson Philippe had a horrific accident at Sears Point when Power came over a brow during practice and T-boned Philippe, who had just spun and was a sitting duck, injuring them both.
While Power was sidelined with back injuries, Philippe required surgery for an open fracture of his left foot; and it also turned out had a hairline fracture of his right tibia so he was out for the season.
I ran into the 24-year-old Frenchman in the Homestead-Miami paddock using his walker and he reported that he will ready to get back into a car in a month's time. Two years ago during the 2007 Monaco Grand Prix weekend, Philippe was on the Red Bull hospitality barge among the F1 contingent looking at a GP2 spot but today he and many other open-wheel drivers see IndyCar as the preferred series for them - a career destination, not a stepping stone to something else.
Wire to Wire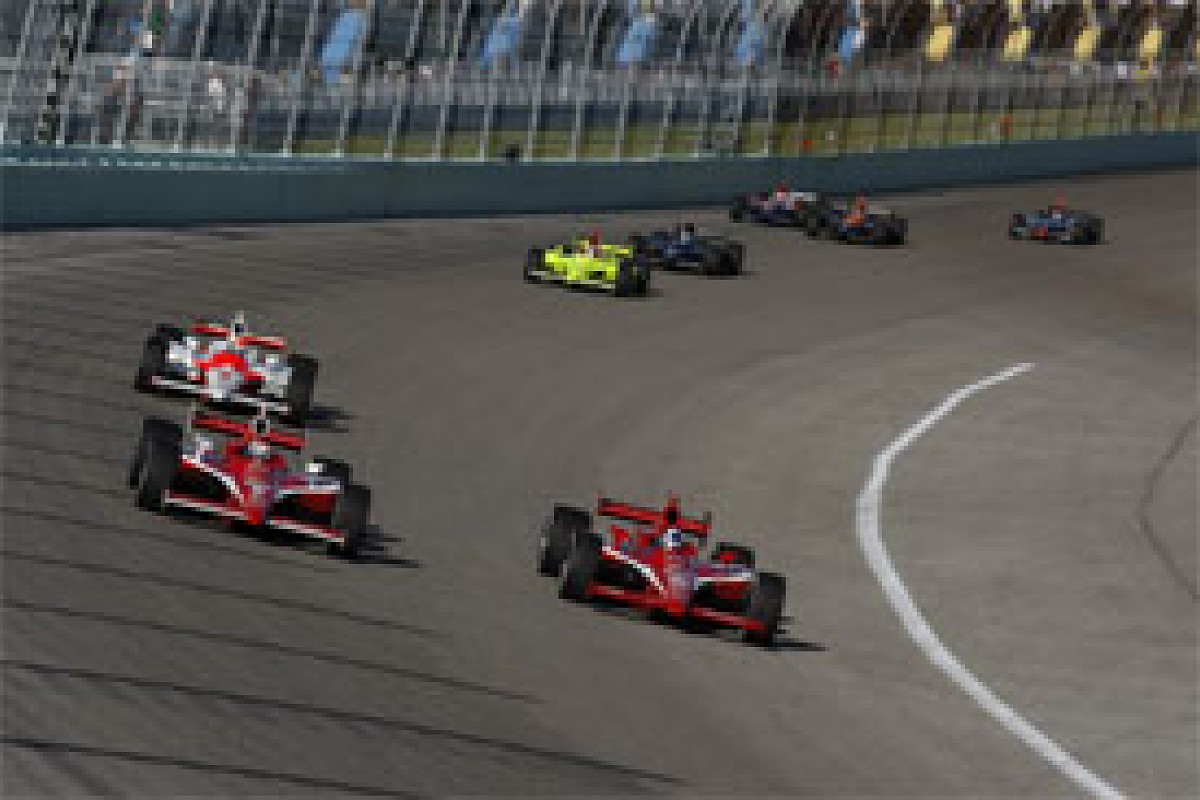 Dario Franchitti battles with Scott Dixon and Ryan Briscoe for the race lead and series championship © LAT
Perhaps the skill in the 2009 driver group explains the unprecedented situation that developed at Homestead-Miami: it was the first IRL IndyCar race ever to go from start to finish without a caution flag. Winner Dario Franchitti - who won by nursing the fuel in his Chip Ganassi Dallara-Honda further than the competition - was himself surprised that there were no crashes: "We had our hands full. I was catching slides the whole time, coming off Turn 4 in four-wheel drifts and cranking a bunch of opposite lock... The fact that no one smacked into the fence was pretty impressive."
Notwithstanding how smoothly the race went, the paddock at Homestead pre-race was a tense and busy place. The finale was a shoot-out for the IndyCar championship between three drivers: sometime Toyota F1 test driver Ryan Briscoe of Australia, beginning to make his mark in IndyCar with Team Penske as team-mate to veteran Helio Castroneves, and the two Ganassi team-mates, Scott Dixon of New Zealand, and Franchitti of Scotland, both prior IndyCar champions. Franchitti is a recidivist, having spent a disastrous year in NASCAR before returning to the IndyCar fold in 2009 as the Prodigal Son.
Dario and his glamorous wife, actress Ashley Judd, have always brought something special to the paddock. Somewhat unusually for modern drivers, Franchitti is very cognisant of motorsport history and particularly that in winning the 2007 Indy 500 he was walking in the footsteps of the great Scot, Jim Clark, double world champion and Franchitti's boyhood hero.
Franchitti was also a great friend of the late Greg Moore, and mentioned that on his cool-down lap he could not help but think back ten days to the day when losing the Champ Car title to Juan Pablo Montoya on a tie-break paled into insignificance when he learned of Moore's death early in the deciding race.
Wife Ashley is about as knowledgeable and supportive of her husband's career as any partner could be, coming to as many races as her own career permits. In the old days at Team Green, the predecessor to AGR, Ashley could rattle off who did what to whom and at what venue to disadvantage her hubby's prospects.
I was watching the 2002 Indy 500 from Paul Tracy's Team Green pits - this was the race where Tracy passed Castroneves on the last lap but the win was given to Castroneves because of a yellow flag on lap 198 - and remember Judd talking a blue streak on the pit wall about how unfair the result was to Tracy and Team Green and the aggrieved driver wasn't even her husband Dario, who had innumerable tyre stops and finished 19th!
When Franchitti won the Indy 500 in 2007 and then took the IndyCar championship on the final lap of the season when rival Dixon ran out of fuel, Ashley really let her hair down and celebrated as hard and genuinely as anyone I had ever seen. At one point she donned a blue and white Scottish flag a fan gave Dario and wearing it, toga-like, draped over her lucky green dress at the trophy ceremonies, later on making her way barefoot to the Media Centre with Dario, diving into the post-race desserts on offer while her husband fielded questions from the press.
Somehow I can't imagine Corinna Schumacher letting go in quite the same way... Welcome back Ashley.
In the pits with Danica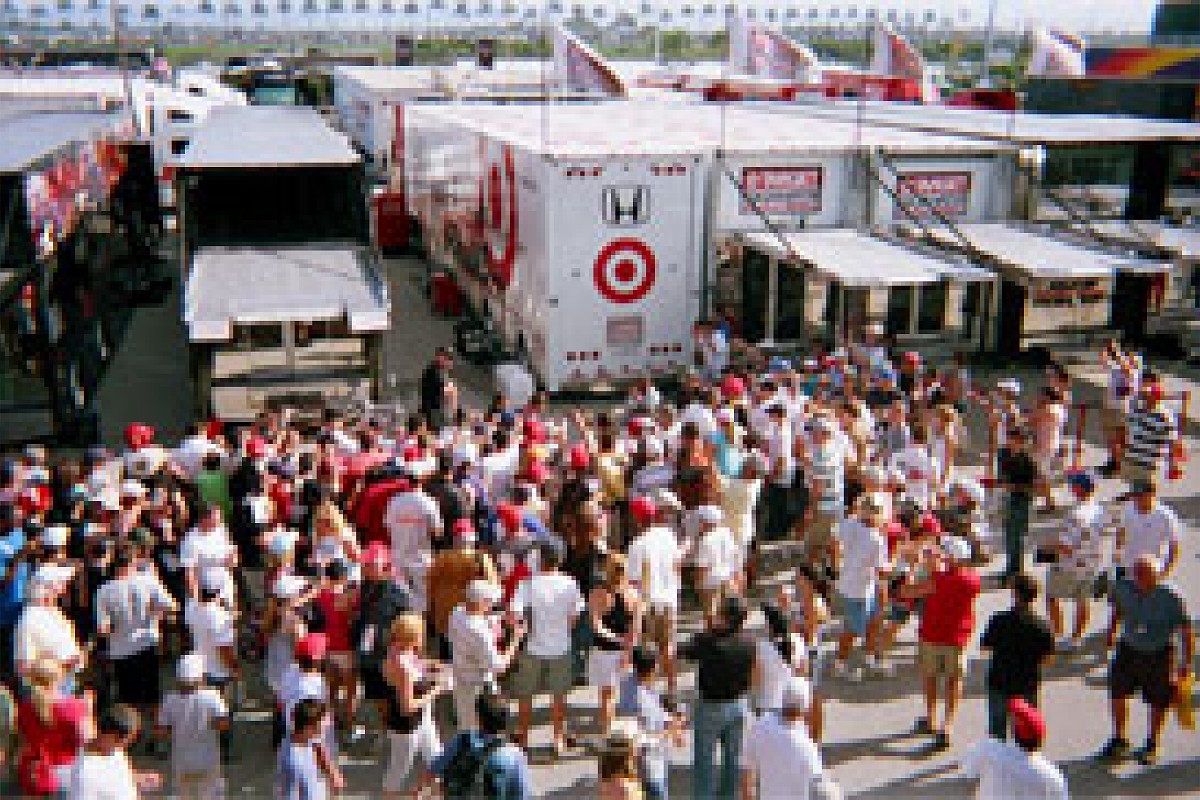 Danica Patrick is mobbed as she makes her way through the paddock © Tom O'Keefe
But the IndyCar paddock is not Hollywood and the real star is still the pint-sized 27-year-old Danica Patrick, whose fan base is wide, deep, and still growing, as is apparent from watching her black and orange #7 truck in the paddock where there are always dozens of people hanging out waiting for a glimpse of her.
Still the only woman to have won an IndyCar race, Danica wields a mean Sharpie pen and carries it from point to point in the paddock. But the intensity of the public interest Danica generates - particularly for girls and young women for whom she is clearly a role model - has got to the point that at Homestead Danica ended up going from her trailer to the grid at Homestead chauffeured by the boss's son, team-mate Marco Andretti, who picked Danica up on his scooter. She jumped on the back seat and the two of them headed for the pit wall where their pits are side by side, Marco navigating through the crowd, inch by inch, as best he could.
Amazingly, the same magnetic attraction to Danica you see in the paddock happens off the race track. One morning after the Indy 500 I ran into her at an airport Au Bon Pain where she and her husband, Paul Hospenthal were attempting to wolf down some breakfast before catching a plane. A grandfatherly race fan spotted her and came over to her table with his 10-year-old granddaughter and politely asked for a picture. Danica immediately put down her plastic fork and went into action, brushing her hair back a bit and standing up next to the young girl for a picture. The-10 year-old was surprised to see that she was taller than Danica, who has the look of a dancer or gymnast up close.
Face of thunder in parc ferme
But Danica does not have the gentile temperament of a gymnast, and she never has. The first time I saw her race was at Donington Park on 24 April 2000 in a Formula Ford Zetec race (Marino Franchitti, Dario's younger brother, was also in that race, as was Hideki Mutoh, one of Danica's teammates) and as the only girl among the 31 testosterone-laden boys, she took quite a beating. Northern Ireland's Gary Turkington hounded Danica's Mygale most of the race, ramming her transmission tunnel coming out of Redgate so hard and so often, lap after lap, that in parc ferme the needle nose of Turkington's Van Dieman was completely crushed. Danica was furious and when she returned to her tent at Andy Welch Racing she had the 'face of thunder' that all of us have now seen in her various altercations with Dan Wheldon or Duno or her team-mates, or just being mad at herself for blowing a pitstop or making a mistake.
Her temper comes directly from her father, TJ Patrick, an extremely knowledgeable ex-racer himself (and mechanic on Danica's karts) and normally gregarious, but who gets so wound up watching Danica's races that he cannot bear to watch it from Danica's pits and resorts - like former vice-president Dick Cheney - to an undisclosed location at each racetrack, even at the Indianapolis 500 where it is pretty hard to hide.
Danica's mother, Bev Patrick, is the cool-headed one in the family, the one whose temperament prevails when Danica is behind the wheel: wired tight but controlled and imperturbable. Bev is right down in the pits for every race, sometimes watching the timing monitors across from AGR's principal, Michael Andretti.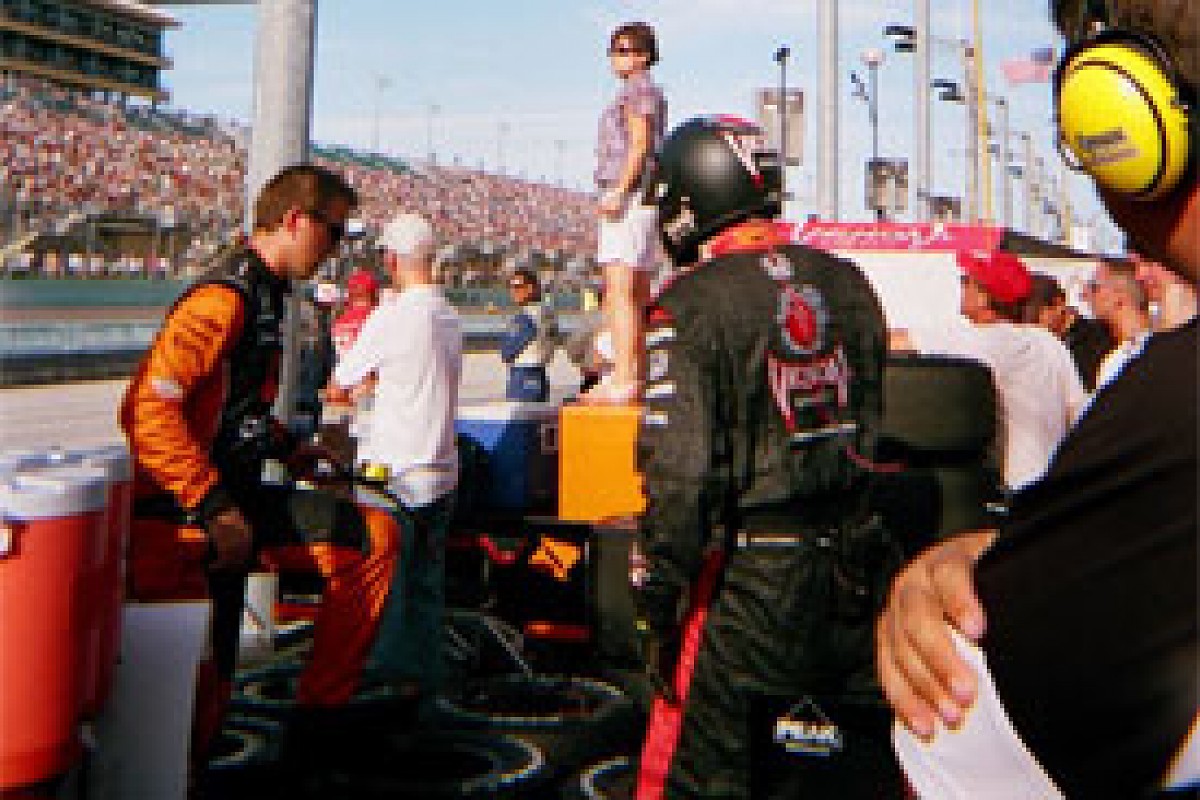 Bev Patrick watches from atop the Andretti-Green toolbox © Tom O'Keefe
At Homestead, although Bev could have access to headphones and TV monitors if she wished, she preferred to watch the whole race standing out in the blazing sun on top of a tool chest, as engaged as her daughter was in every second of the race. The pitlane tangle with Wheldon that ruined Patrick's race happened right in front of Bev and she instinctively jumped down from her elevated perch on the toolbox and looked like she was actually going to go over the pitwall to rescue Danica or throttle Wheldon for wrecking Danica's race. But she caught herself and climbed back up to her observation post.
Wheldon and Danica are like Kimi Raikonnen and Adrian Sutil in F1: somehow they always end up occupying the same piece of racetrack and it all ends in tears. Wheldon has never got over the fact that although he was the winner of the 2005 Indy 500, all everyone seems to remember is that Danica was out in front for 19 laps (Wheldon began wearing a t-shirt that summer saying 'Actually won the Indy 500'), became the first woman to lead the Indy 500 and was that year's Rookie of the Year.
Everyone began to notice. Bernie Ecclestone sent Danica a wedding present when Danica married sports physiotherapist Hospenthal in 2005 (Bobby Rahal referred Danica to Hospenthal to relieve the pain from an exercise injury when Danica was driving for Rahal-Letterman and things clicked immediately between the couple). The 'Out in Front' picture Bernie sent Danica captures the moment she took the lead in #16 Rahal-Letterman car she made famous.
Although a latecomer to the family, Danica's husband is every bit as committed as TJ and Bev to Danica's career, and was actually the lollipop man in her pitstops when Patrick drove for RLR. These days he kibitzes with the AGR crew and stays in Danica's line of sight on the grid as she gets strapped in and puts down her visor.
The Future: Danica and IndyCar
Danica was only 12 years old when the Indy Racing League was created, and yet she is now very much identified with IndyCar. Luckily for the series, she likes it that way.
But rumours all summer long have been that she would join ex-single seater racers Juan Pablo Montoya, Tony Stewart and Sam Hornish Jr and bolt for NASCAR. Something along those lines is in the works long-term, Danica having consulted her celebrity counterparts in NASCAR: Dale Earnhardt Jr and Tony Stewart.
Patrick could have been in GP2 the first year it ran as a series and then perhaps moved on to F1 but this is a true-blooded American girl who wants to win the Indy 500 and having had a taste of leading the race in 2005, she will not rest until she wins the race or at least gets herself back in a car that permits her a credible second bite at the apple. Judging from the way Michael Andretti treated her on race weekend, he seems determined to get her (and his son) that equipment.
All in all the weekend at Homestead painted a promising picture for all concerned. I hope the IndyCar Series and the Indy 500 continue to prosper in these hard times and that everyone from Nelson Philippe to Danica Patrick will get their chance in this most open of open-wheel series.