Action Express Racing's Pipo Derani landed pole position for the IMSA SportsCar championship's Sebring Grand Prix, beating the Team Penske Acura of defending series champion Juan Pablo Montoya.
Circuit specialist Derani, a three-time winner of the Sebring 12 Hours, lapped the 3.74-mile circuit in 1m46.733s to score his and Cadillac's first pole of the season.
Derani, who once again has regular co-driver Felipe Nasr alongside after the 2018 series champion was forced to miss the last round at Daytona with COVID-19, was 0.216s ahead of Montoya to ensure that a different manufacturer has taken pole for each of the first three rounds of the season.
Mazda's Oliver Jarvis took pole for the Daytona 24 Hours in January, while the Acura of Helio Castroneves topped the timesheets for the series' resumption at the same track earlier this month.
Behind Montoya, Daytona 24 Hour winner Renger Van der Zande was third in the Wayne Taylor Racing Cadillac he shares with Ryan Briscoe, with Jarvis's team-mate Nunez fourth in the Multimatic Mazda.
Sebastien Bourdais and Stephen Simpson were fifth and seventh in the two JDC-Miller Motorsports Cadillacs, split by Castroneves' second Acura, while the second Mazda of Daytona 240 winner Jonathan Bomarito went down a set-up blind alley and will start from the back of the eight-car DPi field.
In LMP2, Patrick Kelly's PR1/Mathiasen Motorsport ORECA took top spot by over half a second from Henrik Hedman's identical DragonSpeed entry.
Kelly is sharing with IndyCar racer Spencer Pigot this weekend due to travel problems for Swiss co-driver Simon Trummer, who is instead contesting the European Le Mans Series race at Paul Ricard, while Hedman is paired with World Endurance Championship racer Gustavo Menezes as his regular partner Ben Hanley is also competing in the ELMS.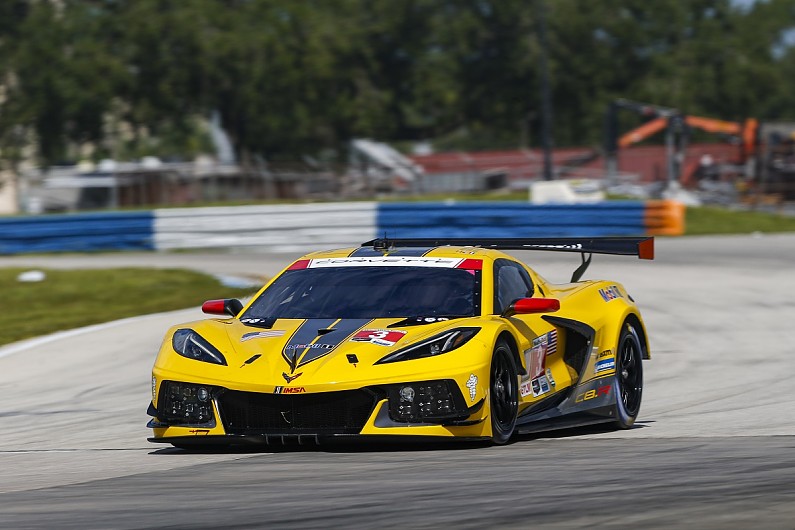 Jordan Taylor set a new GTLM class record to deliver the second straight pole for the Corvette Racing team, which scored its first victory with the new C8.R in the last round at Daytona.
Taylor, who shares with Antonio Garcia, clocked a 1m55.634s to eclipse his Daytona pole-winning team-mate Oliver Gavin by 0.381s.
Porsche's Fred Makowiecki fell less than a tenth short of splitting the Corvettes but still outpaced team-mate Laurens Vanthoor by 0.3s.
Jesse Krohn was in the quicker of the two Rahal Letterman Lanigan-run BMW M8s, almost three-tenths faster than team-mate Bruno Spengler, but over a second slower than Taylor.
The GT Daytona scrap came down to a two-car battle between the Lexus RC Fs of AIM Vasser Sullivan.
Frankie Montecalvo edged Aaron Telitz by 0.067s, the pair almost a full second ahead of third-placed Cooper MacNeil's Scuderia Corsa Ferrari 488 and the Turner Motorsports BMW M6 of Robby Foley.
Qualifying Result
| Pos | Class | Driver | Team | Car | Gap |
| --- | --- | --- | --- | --- | --- |
| 1 | DPi | F.Nasr, P.Derani | Whelen Engineering Racing | Cadillac | 1m46.733s |
| 2 | DPi | D.Cameron, J.P.Montoya | Acura Team Penske | Acura | 0.216s |
| 3 | DPi | R.van der Zande, R.Briscoe | Konica Minolta Cadillac DPi-V.R | Cadillac | 0.377s |
| 4 | DPi | O.Jarvis, T.Nunez | Mazda Team Joest | Mazda | 0.467s |
| 5 | DPi | J.Barbosa, S.Bourdais | JDC-Mustang Sampling Racing | Cadillac | 0.543s |
| 6 | DPi | H.Castroneves, R.Taylor | Acura Team Penske | Acura | 0.692s |
| 7 | DPi | S.Simpson, T.Vautier | JDC-Miller Motorsports | Cadillac | 1.091s |
| 8 | DPi | J.Bomarito, H.Tincknell | Mazda Team Joest | Mazda | 1.123s |
| 9 | LMP2 | P.Kelly, S.Pigot | PR1/Mathiasen Motorsports | ORECA/Gibson | 4.793s |
| 10 | LMP2 | H.Hedman, G.Menezes | DragonSpeed | ORECA/Gibson | 5.352s |
| 11 | LMP2 | C.Cassels, K.Masson | Performance Tech Motorsports | ORECA/Gibson | 5.948s |
| 12 | LMP2 | J.Farano, R.Dalziel | Tower Motorsport by Starworks | ORECA/Gibson | 8.205s |
| 13 | LMP2 | D.Merriman, K.Tilley | Era Motorsport | ORECA/Gibson | 8.279s |
| 14 | GTLM | A.Garcia, J.Taylor | Corvette Racing | Chevrolet | 8.901s |
| 15 | GTLM | O.Gavin, T.Milner | Corvette Racing | Chevrolet | 9.282s |
| 16 | GTLM | N.Tandy, F.Makowiecki | Porsche GT Team | Porsche | 9.346s |
| 17 | GTLM | E.Bamber, L.Vanthoor | Porsche GT Team | Porsche | 9.665s |
| 18 | GTLM | J.Krohn, J.M.Edwards | BMW Team RLL | BMW | 9.887s |
| 19 | GTLM | B.Spengler, C.De Phillippi | BMW Team RLL | BMW | 10.176s |
| 20 | GTD | F.Montecalvo, T.Bell | AIM Vasser Sullivan | Lexus | 14.457s |
| 21 | GTD | J.Hawksworth, A.Telitz | AIM Vasser Sullivan | Lexus | 14.524s |
| 22 | GTD | C.MacNeil, T.Vilander | Scuderia Corsa | Ferrari | 15.336s |
| 23 | GTD | R.Foley, B.Auberlen | Turner Motorsport | BMW | 15.365s |
| 24 | GTD | C.Fergus, P.Holton | Compass Racing | McLaren | 15.470s |
| 25 | GTD | G.Robinson, L.Aschenbach | Riley Motorsports | Mercedes | 15.638s |
| 26 | GTD | R.Hardwick, P.Long | Wright Motorsports | Porsche | 15.996s |
| 27 | GTD | T.Bechtolsheimer, M.Miller | Gradient Racing | Acura | 16.494s |
| 28 | GTD | R.Ferriol, S.Pumpelly | Team Hardpoint | Audi | 17.610s |
| 29 | GTD | A.Lally, J.Potter | GRT Magnus Racing Team | Lamborghini | 17.691s |