In association with
Mike Walker, once a rising star of British single-seater racing, made his Formula 3 comeback at the Oulton Park Gold Cup after an absence of 51 years.
The 73-year-old returned to racing in Historic Formula Junior five years ago and has had a Brabham BT21 prepared for Historic Formula 3 over the last two years.
After a qualifying accident at Cadwell Park in June, he finally raced the car at Oulton Park last Sunday, 51 years after his last race in a one-litre Formula 3 car and his last regular appearances in the category.

"I definitely have a soft spot for the one-litre F3 cars," said Walker, who went to star in Formula 5000 - pictured below alongside Peter Gethin at Brands Hatch - and get close to a Formula 1 drive before walking away from the sport in the mid-1970s.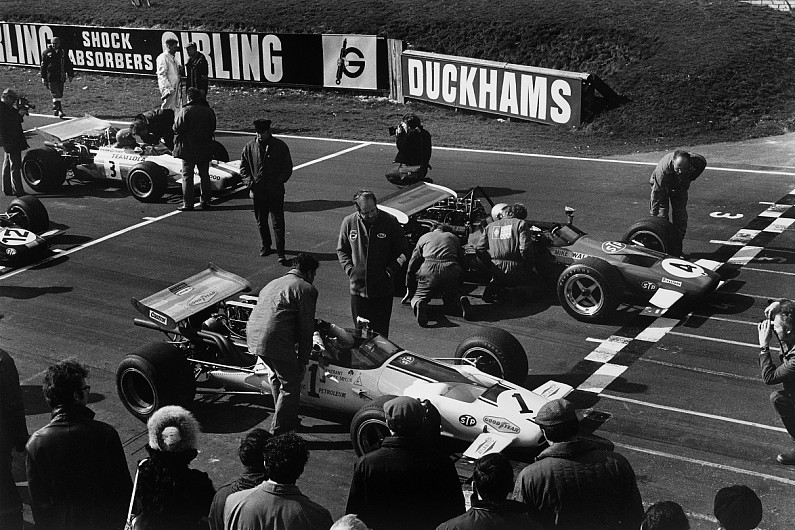 "They were just so pretty and it is a treat to see the cars out. They have a very special place in my heart."
Walker's current car is chassis BT21-28, while the car he raced in 1967 was BT21-29.
"My old car went to America but it has been lost and not traced, as yet," he explained.
"This particular car left the Brabham factory about one week and one chassis number before my own car.
"It was delivered new to Mike Knight at Winfield Racing and I raced against Mike in this car on many occasions during 1967."
Back in 1967, Walker contested the British Les Leston Championship plus the British Grand Prix support race and other key European races at Monaco, Pau, Reims and Clermont Ferrand.
"It was a very full season and we had some good placings and I finished the season with a couple of lap records," he said.
"At the end of 1967 I was fortunate enough to be offered the drive for the Chequered Flag.
"Unfortunately, that did not work out as well as we'd hoped. The McLaren was not the right choice for a number of reasons and Bruce McLaren was so busy with his other commitments that the promised development never really happened.
"So 1967 was my big season with the Brabham BT21 and 1968 was the season with the Chequered Flag McLaren in F3.
"I think I can claim to be the only person to win a Formula 3 race in a McLaren, which was at Oulton Park."