Georgian team ArtLine's Sergej Afanasiev and Shota won the Pro-Am class in the final race of the first day of the Lamborghini World Finals at Vallelunga.
In the setting sun, they took the win ahead of Loris Spinelli and JC Perez (P1 Motorsport) and VS Racing duo Takashi Kasai and August MacBeth.
There was drama in the Pro class with the long-time race leader Giacomo Altoe (sharing with Daniel Zampieri) forced to come into the pits with just under three minutes of the race remaining with a suspected left-front puncture - dropping him to fourth at the flag.
Altoe had inherited the lead when British driver James Pull was forced to retire when his right-rear tyre blew and he stopped on track.
The winner of the Pro category of the Super Trofeo Europe race was the Leipert Motorsport duo of Frederik Schandorff and Niels Lagrange.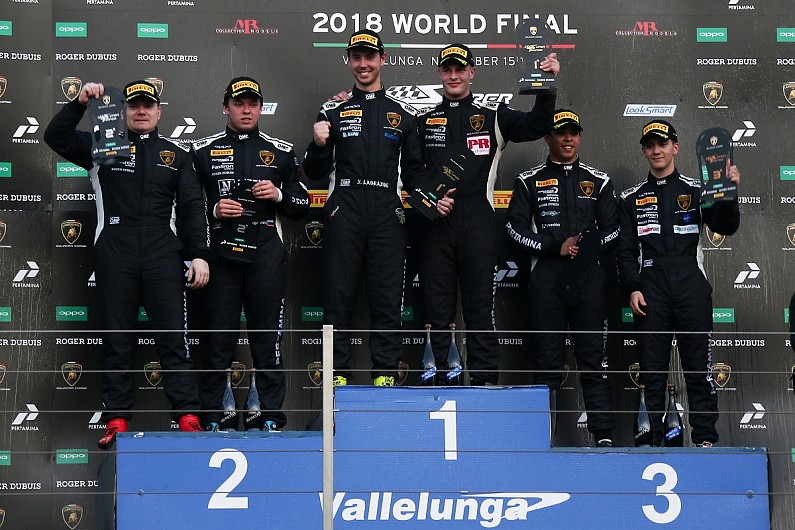 They were second on the road to Timur Boguslavskiy and Victor Shaitar, but the latter pair picked up a time penalty so conceded the position to the Leipert team in the final classification.
Third in Pro class was the Konrad Motorsport pairing of Fabian Vettel (younger brother of Ferrari F1 driver Sebastian) and Axcil Jefferies.
They were under investigation after an opening lap incident with the Leipert machine of Lagrange, but neither car was punished by the stewards.
Prior to the driver swap, the early stages of the race were led by Edoardo Liberati in the Pro-Am category, but after the pitstop, Hans-Peter Koller just finished off the podium places in fourth.
The safety car made an appearance late in the race when Pavel Lefterov crashed, unharmed, into the barriers at Turn 6.
This is the sixth running of the Lamborghini World Finals where the regional championships of Europe, Asia and North America have their final rounds. Racing continues at Vallelunga on Saturday and Sunday.