WRT's Stuart Leonard and Frederic Vervisch converted pole into Blancpain GT Series Sprint Cup victory at Brands Hatch in their Audi R8 LMS, becoming the fourth different winners in as many races.
Despite missing the Zolder season-opener, there was no rust for Vervisch to shake off as he survived an attempted undercut during the pit window from WRT team-mates Alex Riberas and Christoper Mies.
Leonard rejoined the track narrowly in front of Mies but looked vulnerable to the #2 Audi driver, who had had three laps to settle into his stint.
Going into Druids, Leonard managed to survive a challenge from Mies and held on to win by an eventual margin of 0.5 seconds, with Attempto Racing duo Kelvin van der Linde and Steijn Schothorst third in an Audi 1-2-3.
Vervisch had made a flying start and led into Paddock Hill Bend, his getaway flattered by the sluggish progress of ASP's Rafaele Marciello, who was caught napping by Mies in his Audi R8 LMS.
The WRT driver relegated the Mercedes-AMG GT3 at the first corner before Marciello then slid wide onto the gravel, which allowed van der Linde an easy ride into third.
But Marciello was given respite when the safety car was deployed for a first lap crash that forced both Team Parker Bentley Continental GT3s into retirement.
When Mercedes driver Jack Manchester caused British GT racer Callum Macleod to spin, the latter's team-mate Aron Taylor-Smith was left with nowhere to go.
An awful weekend for Alexey Korneev - a crash in practice, finishing last in qualifying and a spin in race one - was completed as his Mercedes was also collected in the incident.
When Vervisch made a strong restart as the safety car pulled into the pits, the lead WRT car looked on for a comfortable victory.
In an effort to challenge that authority, Mies dived for the pits as soon as the window opened and handed over to Riberas, with van der Linde following suit.
But a momentary delay as Riberas struggled to restart his R8's engine maintained the order as they emerged behind Leonard.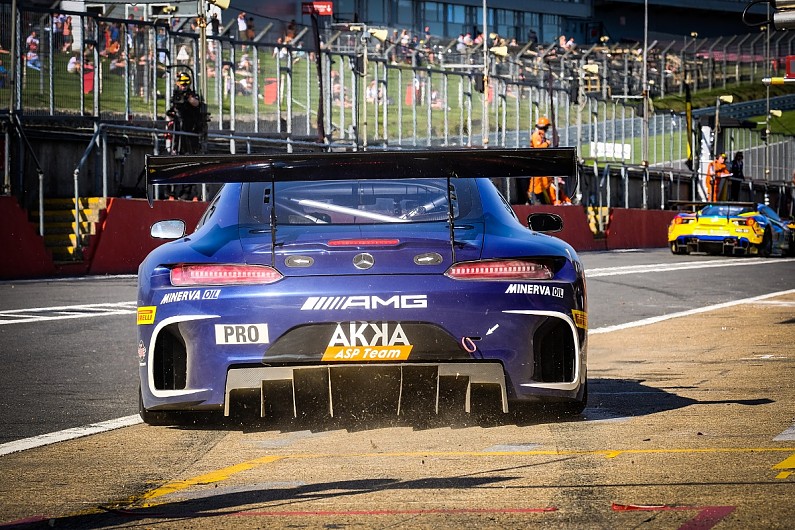 By contrast, Marciello ran deep on his stint as he attempted to undo the first lap damage.
But he carried far too much speed into the pits and glanced the barrier.
Marciello was able to continue and Michael Meadows took over the car, rejoining back in a distant and eventual fourth place.
Mirko Bortolotti brought the Grasser Racing Lamborghini Huracan GT3 he shared with Christian Engelhart home in fifth, ahead of ASP duo Felix Seralles and Nicolas Jamin.
Ex-Formula 1 driver Will Stevens, who sealed a win for WRT in the day's earlier race through stout defending after taking over from team-mate Dries Vanthoor, retired with rear-wheel issues during the pitstop phase.
Championship race result
| Pos | Driver | Team | Car | Laps | Gap |
| --- | --- | --- | --- | --- | --- |
| 1 | S.Leonard, F.Vervisch | Belgian Audi Club Team WRT | Audi | 39 | 1h01m14.089s |
| 2 | A.Riberas, C.Mies | Belgian Audi Club Team WRT | Audi | 39 | 0.586s |
| 3 | S.Schothorst, K.van der Linde | Attempto Racing | Audi | 39 | 1.280s |
| 4 | M.Meadows, R.Marciello | Akka ASP Team | Mercedes | 39 | 12.646s |
| 5 | C.Engelhart, M.Bortolotti | GRT Grasser Racing Team | Lamborghini | 39 | 12.882s |
| 6 | N.Jamin, F.Serralles | Akka ASP Team | Mercedes | 39 | 14.739s |
| 7 | L.Hezemans, F.Perera | GRT Grasser Racing Team | Lamborghini | 39 | 35.731s |
| 8 | S.Gachet, C.Haase | Sainteloc Racing | Audi | 39 | 37.286s |
| 9 | N.Siedler, S.Ortelli | Emil Frey Lexus Racing | Lexus | 39 | 38.117s |
| 10 | A.Watson, L.Moraes | 3Y Technology | BMW | 39 | 49.947s |
| 11 | N.Stievenart, M.Winkelhock | Sainteloc Racing | Audi | 39 | 1m01.914s |
| 12 | P.Schothorst, P.Kaffer | Attempto Racing | Audi | 39 | 1m02.103s |
| 13 | P.B.-Bhakdi, C.van Dam | Kessel Racing TP12 | Ferrari | 39 | 1m02.663s |
| 14 | C.Klien, A.Costa | Emil Frey Lexus Racing | Lexus | 39 | 1m04.482s |
| 15 | N.Bastian, J.Manchester | Akka ASP Team | Mercedes | 39 | 1m05.853s |
| - | D.Vanthoor, W.Stevens | Belgian Audi Club Team WRT | Audi | 17 | Retirement |
| - | E.P.Companc, A.Caldarelli | GRT Grasser Racing Team | Lamborghini | 0 | Retirement |
| - | J.Caygill, A.T.-Smith | Team Parker Racing | Bentley | 0 | Retirement |
| - | I.Loggie, C.MacLeod | Team Parker Racing | Bentley | 0 | Retirement |
| - | V.Atoev, A.Korneev | SMP Racing by AKKA ASP | Mercedes | 0 | Retirement |