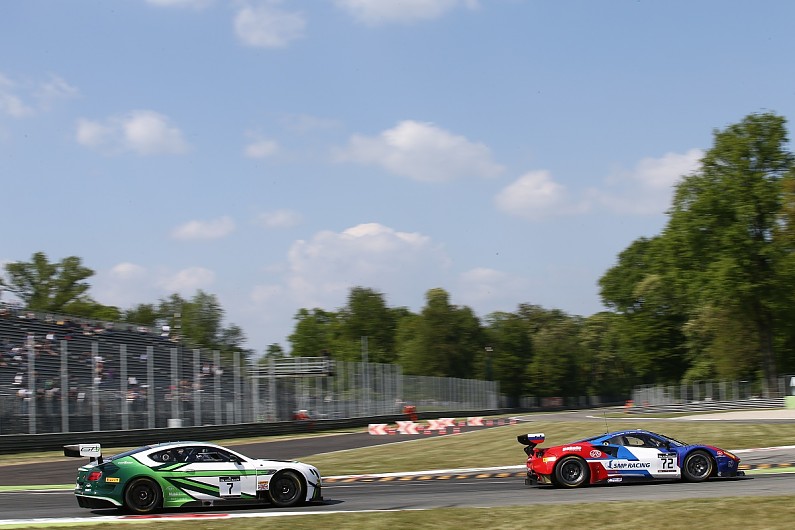 Bentley has claimed a miscommunication with race officials caused Guy Smith to be black-flagged and excluded from last weekend's Blancpain GT Series round at Monza.
The #7 Bentley Continental GT3 was shown the black flag early in Sunday's BGTS Endurance Cup event after Smith and the M-Sport factory team ignored instructions for the car to take a 15-second stop-go penalty.
Bentley motorsport boss Brian Gush revealed that M-Sport believed it had been given permission by the race stewards to appeal the penalty, which was handed to Smith after he was deemed to have triggered a multi-car startline accident that resulted in the race being stopped.
Gush told Autosport: "The stewards said you can appeal and we went away to do the paperwork and gather the data, but when we went back we were told that we couldn't actually appeal.
"There was definitely a miscommunication up there and they told us that the clock had been set clicking."
M-Sport attempted to get Smith's penalty overturned, even though stop-go and drive-through penalties cannot be appealed under the FIA international sporting code.
The stop-go became a black flag because the instructions for Smith to take the original penalty had been ignored, which included presenting a board to the driver five times.
When he did stop after passing the black flag, Smith drove through the pits and then rejoined the race in the car he shared with Steven Kane and Oliver Jarvis.
Smith explained that he had been expecting to see someone with a board at the penalty box area at the start of the pitlane.
The black flag was shown to Smith again and he stopped after a further four laps.
Smith believed that he had been hit by Ezequiel Perez Companc as he tried to squeeze between the Grasser Lamborghini and the pole-winning AF Corse Ferrari started by Pasin Lathouras.
"I got a touch and you can see me counter-steer on the in-board [video]," he said.
Onboard footage from a following car showed that Smith had moved over slightly on Perez Companc, the first impact resulting in a second, heavier contact as Smith collected his slide.
This put the Lamborghini Huracan GT3 on the grass, from where it speared back across the pack.
A total of 10 cars were taken out of the race in following incident and another car retired in the pits as a result of accident damage.
The track was partially blocked by seven of the damaged cars, and the race was red-flagged after one lap behind the safety car.
Autosport has produced a standalone special magazine to celebrate our 70th birthday. All current print subscribers will receive a copy for free. To order your copy of the 196-page Autosport 70th Anniversary issue, please go to: autosport.com/autosport70th