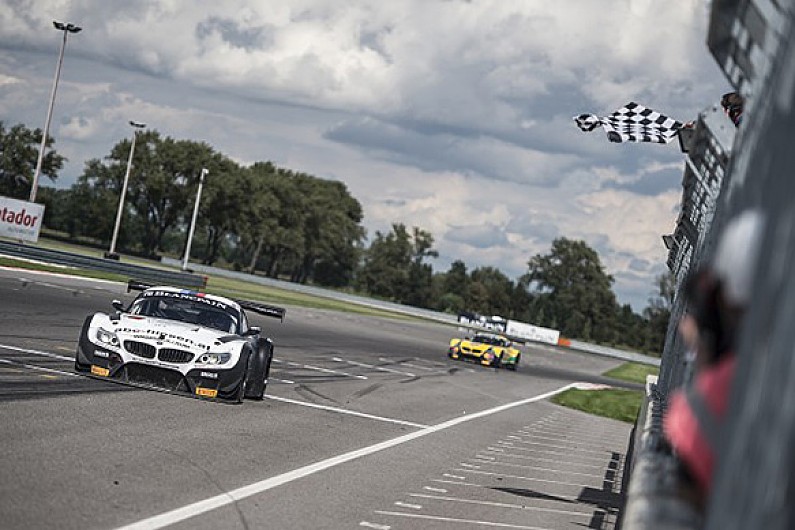 Schubert drivers Thomas Jager and Dominik Baumann claimed victory in the main Blancpain Sprint Series race at the Slovakia Ring from the back of the grid.
Jager jumped to fifth at the end of the opening lap from a starting position of 19th following their BMW Z4's retirement in the opening race.
A quick turnaround by the Schubert team got Baumann out in third place after the mandatory pitstops and the Austrian was able to move past the HTP Mercedes of Maximilian Gotz and then overtake Sergio Jimenez's BMW Team Brazil entry with two laps to go to take the victory.
Baumann said: "The car was brilliant in the race; there was nearly no drop off in the tyres, which meant we must have got the pressures just right."
Jager benefited from a second chaotic start of the weekend after WRT Audi team-mates Cesar Ramos and Enzo Ide made contact.
Nico Verdonck led out of the first corner in the HTP Motorsport Mercedes-Benz SLS AMG he shared with Gotz and was able to keep Caca Bueno, Jimenez's team-mate in the Brazilian BMW Z4, at bay through the opening stint.
Gotz resumed in the lead in the HTP Mercedes after the pitstop, but quickly lost it after getting on the kerbs as he powered onto the start/finish straight on lap 17.
Baumann, who had been 10s behind the Mercedes after the stops, passed his rival three laps later and then closed down a four-second deficit to Jimenez in the space of half a dozen laps.
Third place went to the WRT Audi R8 LMS that Rene Rast shared with Ide, who had dropped as low as 13th after the first-corner incident.
A quick pitstop put Rast back out in fourth, albeit 20s behind the leader Gotz.
The German moved past Alessandro Latif's Phoenix Audi with eight laps to go and was then able to overturn a 12s deficit to take third from Gotz on the final lap.
The other two HTP Mercedes rounded out the top six: Lucas Wolf and Luca Stolz claimed fifth and Silver Cup honours, and Sergey Afanasiev and Stef Dusseldorp were sixth.
Latif faded to seventh at the finish but the Phoenix Audi he shared with Marc Basseng was still the first car home in the Pro-Am class.
Qualifying race winners Cesar Ramos and Laurens Vanthoor ended up 11th with a damaged car after an unscheduled pitstop to clean out the radiator ducts.