When the call comes from Ferrari, it's difficult to say no. Especially if you are Italian. That's why Giancarlo Fisichella jumped ship from the Force India team with which he'd just claimed only the fourth pole of his Formula 1 career - and very nearly a fourth victory - to contest the final five races of the 2009 season with the Scuderia.
"It was impossible to say no to Ferrari," says Fisichella of the invitation to race for the team straight after he'd finished less than a second behind future team-mate Kimi Raikkonen in the Belgian Grand Prix at Spa. "Especially for me, because I was coming to the end of my career. It was going to be my only chance to drive for Ferrari in F1.
"I was in a difficult position because at that moment the Force India was competitive. I'd been on pole at Spa and finished second, and even if I didn't have good results in the final five races with Ferrari, I still think it was the choice of my life."
Fisichella reckons that his stand-in role at Ferrari in place of the injured Felipe Massa provided the perfect exit to F1, despite only earning a best finish of ninth and failing to score a point. It was time to call it quits, he reckons.
"Maybe if I could have found a top drive, my choice would have been different," he explains. "There was a possibility to continue to race in F1, but not with Ferrari. I didn't want to stay in F1 with a small team and fight for 14th, 15th or 16th position.
"I was almost 37 and had done nearly 230 grands prix. I'd won a few races, made a few pole positions, I thought it was time to decide to go a new way."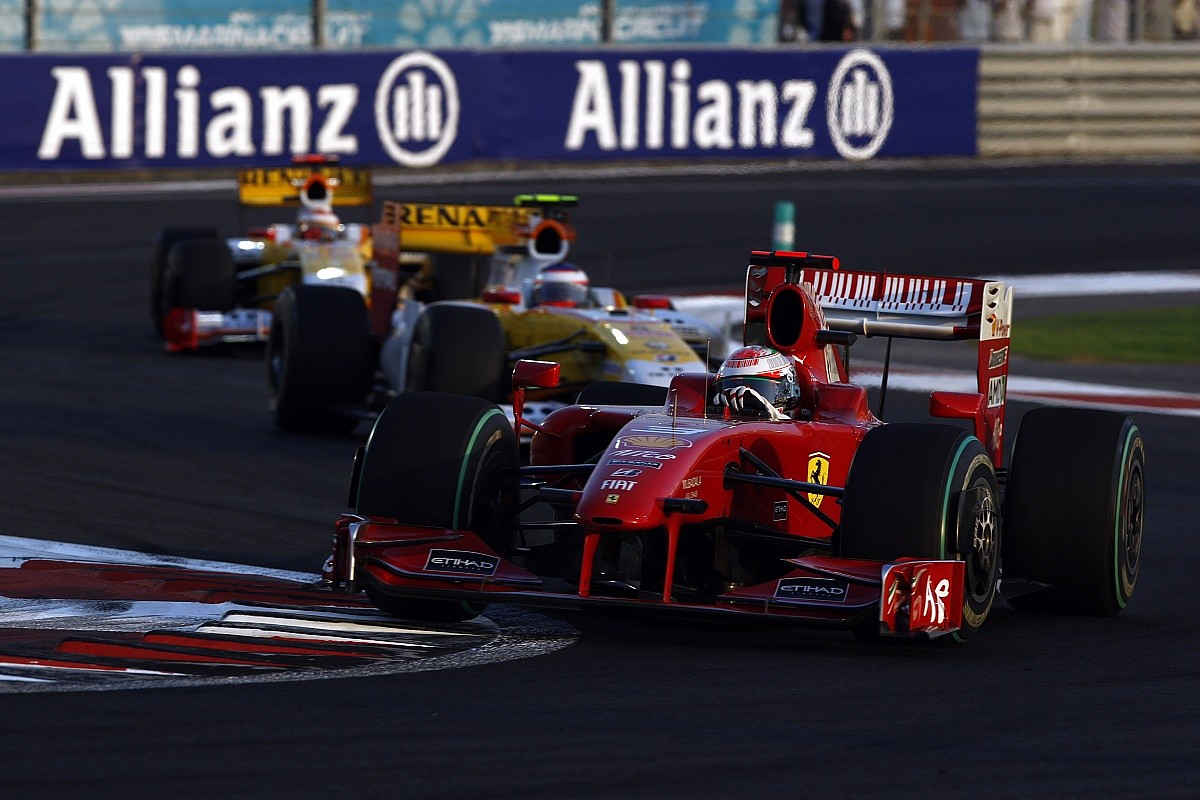 Fisichella's decision was to stay with Ferrari and dovetail F1 testing duties with a GT programme, initially racing an AF Corse Ferrari 430 GT2 in the Le Mans Series in Europe alongside Jean Alesi.
"I'm happy with my decision and have no regrets," he says. "It gave me this opportunity to keep racing with Ferrari. I'm an Italian, so racing for Ferrari is great.
"When I'm at home for more than a month, I start to miss racing."
That sentence explains why eight years into his post-F1 career as a sportscar driver, Fisichella is still going strong and, for the past couple of years at least, racing almost as regularly as he did when he was lining up on the grand prix grid.
Fisichella can now be regarded as a stalwart of the GT racing scene with Ferrari. His appearance in the GT ranks back in 2010 has turned out to be much more than a pension-boosting farewell tour that many suspected it would be. Eight years on and he's competing on both sides of the Atlantic and has notched up multiple class victories in the world's big endurance races as part of the Italian manufacturer's roster of factory drivers.
If you doubt Fisi's motivation as he moves deep into what might be termed his second racing career, you only have to look at his 2017 schedule.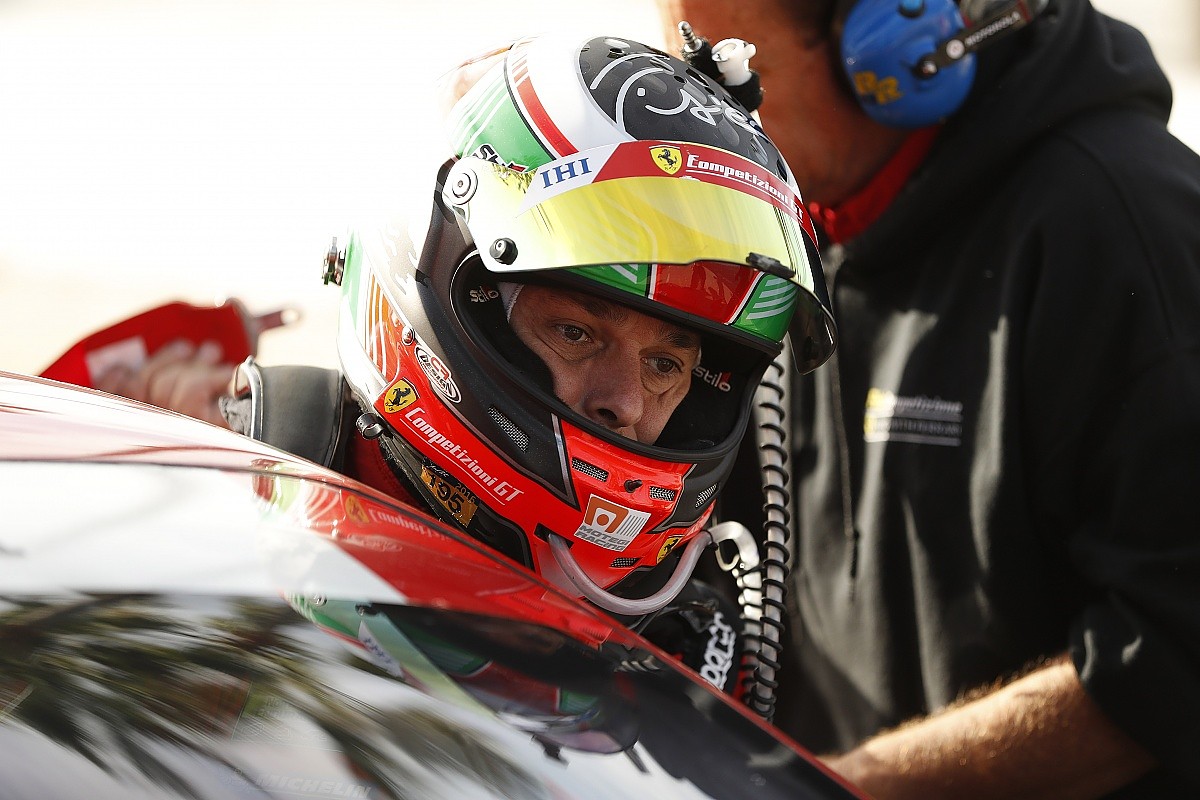 At the start of this year, pencilled into his diary were 17 race weekends across the IMSA SportsCar Championship with the Risi Competizione squad, the Blancpain GT Series Endurance Cup at Kaspersky Motorsport, plus a return to the Le Mans 24 Hours. Or, to put it another way, about the same number of races that made up an F1 season when he started out in grand prix racing in the 1990s.
"It's more or less like an old F1 programme, but without the testing," he says. "But I like racing - I just like being a racing driver. I still like coming to the tracks, the motivation of fighting for victory.
"I like the atmosphere, but these days things are a little bit cooler for me. There's no pressure compared with F1. The approach to the weekend is a bit different."
But the Italian's 2017 schedule hasn't turned out to be quite so busy as planned. The massive crash that put the Risi Ferrari 488 GTE out of Le Mans late in the fifth hour, which followed on from a couple of shunts in IMSA, resulted in the American team taking time out from its North American campaign to regroup.
"The best circuits are in America. Maybe they are a little bit dangerous in places because there is no runoff, but the challenge is huge"
Giancarlo Fisichella on his latest GT adventure
But it was back after missing four rounds, which means Fisichella's final race tally this season should end up at a less-demanding 13 events. It could yet go up one should he return to the low-key Rome 6 Hours at Vallelunga in November, an event he has contested six times in the past seven years.
The original extended schedule came about when Fisichella was asked to contest all five BGTS endurance events with the AF Corse-run team that runs under the name of Ferrari F1 sponsor Kaspersky. That was a step up from the three BGTS events in which he competed last year as part of a pro-am line-up. He has no qualms about undertaking two programmes this season, even with the intercontinental travel required by the IMSA campaign.
"I don't mind the travel, even if it isn't always easy," he explains. "It would have been a busy season, now a little bit less busy, but, as I say, I like to race. I'm happy doing two championships.
"I like the Blancpain series. It's an important championship for Ferrari and Kaspersky - and really quite difficult. It's so close. If you don't qualify on the first three or four rows, it's over for you."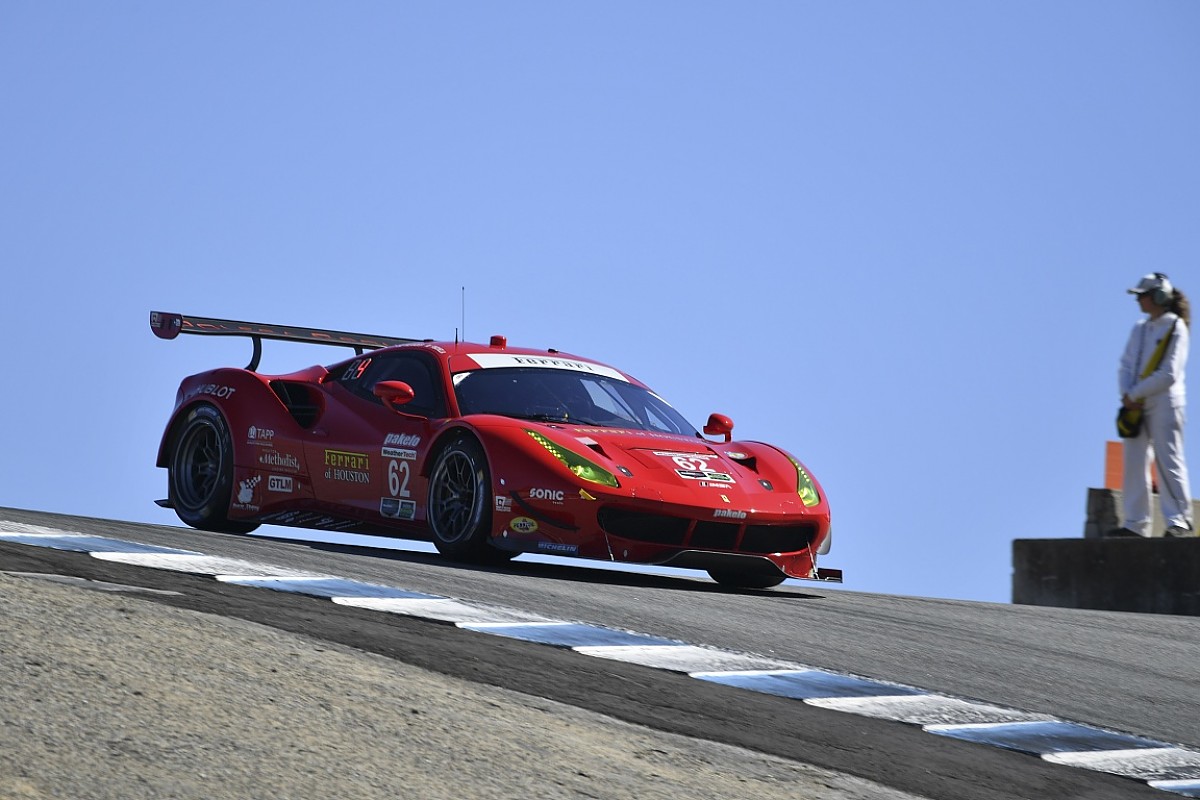 Fisichella switched from competing full-time in the World Endurance Championship with AF Corse to a North American programme in 2014 with Risi, the team for which he'd first driven in a handful of American Le Mans Series events in his maiden year of sportscar racing. He joined up with Ferrari's long-time Stateside representative for a campaign in IMSA's new United SportsCar Championship, which was born out of Grand-Am's takeover of the ALMS.
"I like racing in America - I like the championship and I like the atmosphere," he says. "All the teams and all the drivers are really strong. You really have to fight in the races.
"When you score a good result you know you have really done the best. I was offered the chance to go to America. Ferrari told me it was an important market and said that my name might create a bit of interest."
Fisichella is glad he said yes to the move. "I like the IMSA championship more than the WEC," he explains. "It is more relaxed, but also more competitive. And the best circuits are in America, I tell you.
"Maybe they are a little bit dangerous in places because there is no runoff, but the challenge of tracks like Watkins Glen, Road America, Virginia International Raceway and Mosport is huge."
But he admits that he found the prolific use of the safety car in North American racing baffling at first.
"It's strange, but once you get used to it, it's better," he says, before taking a swipe at the yellow-flag slow-zones employed at Le Mans. "The safety car gives you the chance to come back at the leaders if you have a problem. It's a different approach, but I like it."
Results appear to bear out Fisichella's proclaimed liking for American racing and American teams. He notched up his first win in one of the blue-riband endurance races at Petit Le Mans back in 2011. AF Corse took in the Road Atlanta event, which was a points-counter for the pre-WEC Intercontinental Le Mans Cup, and triumphed with a line-up made up of Fisichella, Gianmaria Bruni and Pierre Kaffer aboard the then-new 458 Italia.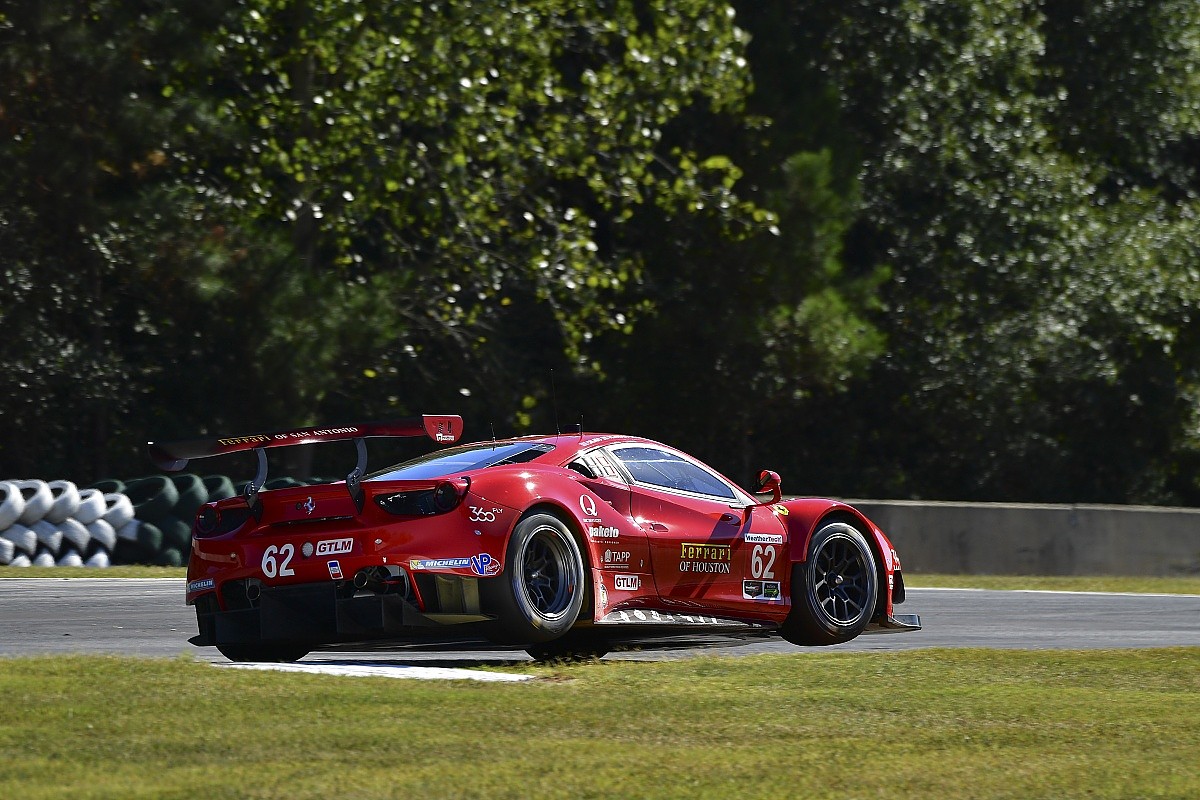 Petit last year produced arguably one of the greatest drives of Fisichella's GT career so far. It was the perfect way to put to bed a season of frustration for Risi and make amends for its defeat by Ford at Le Mans. Fisichella, regular partner Toni Vilander and James Calado came out on top by just 16 seconds in the GT Le Mans class after 10 hours of thrilling racing.
Fisichella had been equally impressive in what was ultimately futile pursuit of the winning Ford GT with second place in GTE Pro at Le Mans four months earlier.
"I'm 44 now, which is not so old. I have a few years left" Giancarlo Fisichella
"We drove like it was a 24-hour qualifying session," recalls Fisichella, who was partnered by Vilander and Matteo Malucelli. "What we achieved was a miracle, but second was the best the car could do. It was easy for Ford because they had a better Balance of Performance."
It would have been a hat-trick of Le Mans class wins for Fisichella. He triumphed in 2012 and '14, both times driving an AF Corse-run 458 Italia with Vilander and Bruni. The first of those wins came from the back of the grid after Fisi crashed heavily in qualifying at the Porsche Curves, the car having to be built up around a spare chassis.
"Any time you win Le Mans, it is memorable, but that was a fantastic race," remembers Fisichella. "It was so tough, physically and mentally. The car was good, the mechanics did a fantastic job in the pitstops, the strategy was perfect. Everything must be perfect to win Le Mans."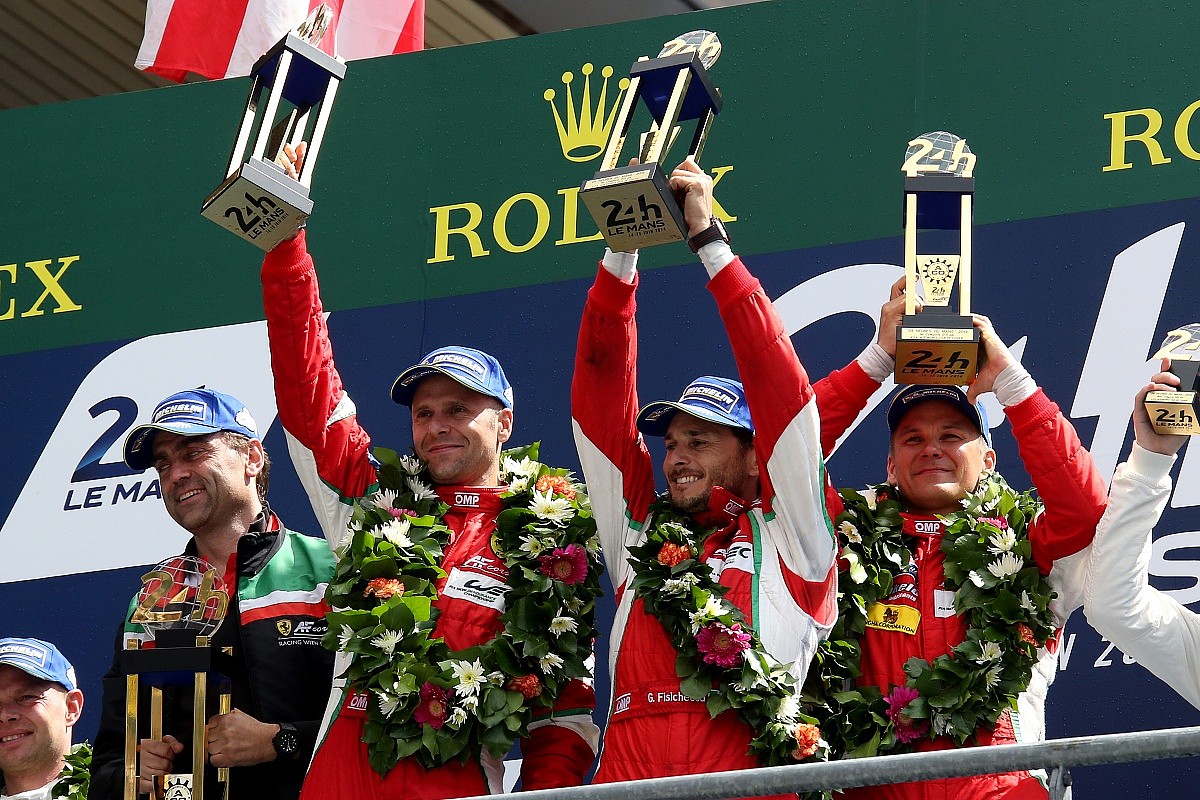 There has been championship success for Fisichella during his sportscar sojourn. He claimed the Le Mans Series GTE Pro crown in 2011 after being promoted to a front-line seat at AF Corse alongside Bruni for his second season in GT racing. Yet what he can't do is call himself a world champion. The vagaries of sportscar racing have seen to that.
He won GTE Pro in four of the eight WEC races in 2012 and finished second in two of the others. But there was no drivers' class title awarded in the first year of the reborn championship.
And when there was one up for grabs in '13, Ferrari chose to split up its lead pairing of Fisichella and Bruni to maximise its championship chances at the Bahrain finale. Bruni and Vilander won the race, while Fisichella and Kamui Kobayashi took third. The title, therefore, went to Bruni.
Fisichella is nevertheless proud of his successes. "They are important to Ferrari," he says, "but also important to myself."
He hopes to continue adding to his sportscar CV in the seasons to come. Fisichella insists that he is as motivated as ever as he moves into his mid-forties. He still loves racing and is up for another dual programme straddling the pond in 2018.
"I'm 44 now, which is not so old," he says. "As long as I feel fit, physically and mentally, and as long as I enjoy it and can win, I'll continue to do this. I think I have a few more years left."