The season started terribly - you could even say embarrassingly. Then they went downhill in the middle of the year, before a series of flashy qualifying performances that weren't backed up with results thanks to poor strategy calls. In the end, there was a degree of respectability, with a few top 10 finishes and a grand total of 10 points and 15th in the championship. Running a grand prix team is not an easy business.
So it is in the world of iGP Manager, just as it is in reality. Autosport's team at least had the excuse of being iGP Manager rookies, and just as in the real world it's difficult to gain a foothold against such strong and well-established opposition. But having started the season firmly at the back and ended it at least in the hunt for consistent points, the team's campaign has to go down as a qualified success.
iGP Manager does not put the player at the heart of driving, as with most racing games, but instead is at the forefront of the immersive grand prix management genre. Available for iOS, Android and browser, it has a community of two million team bosses all fighting it out in its many online leagues.
Autosport faced many challenges during its debut season up against strong opposition in our exclusive league. Just as with real grand prix teams, the decisions include the allocation of limited resources, driver and personnel signings, engine, fuel and tyre supply deals, and what performance characteristics of the car to enhance.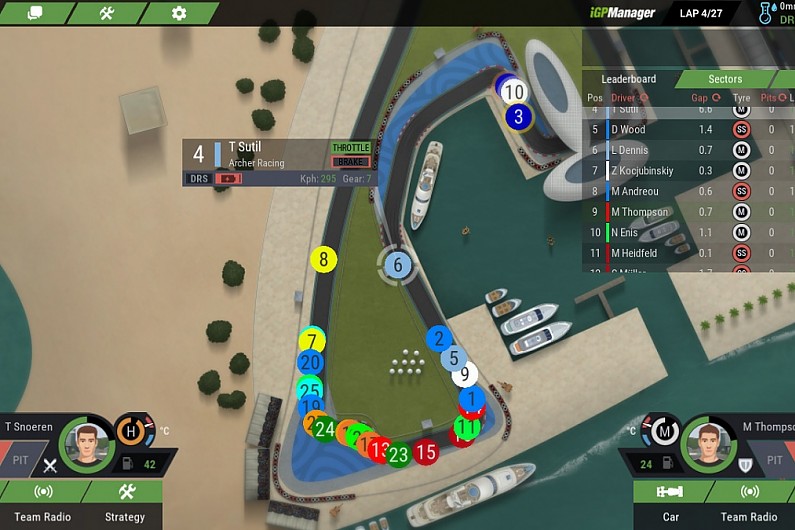 When it came to the weekly races, it was about fine-tuning the set-up and managing the strategy. This was perhaps the area where Autosport struggled, particularly in the closing stages of the season, when strong grid positions weren't always backed up with good results. But it's a measure of the quality of iGP Manager that it was possible to learn from the many mistakes and gradually improve as the first season progressed.
That led to a significant breakthrough in the Japanese Grand Prix at Suzuka, finishing sixth and for the first time not slumping backwards in the race. But while this represented solid progress, history is written by the winners, and the Ross Brawn of the league was the manager who triumphed - Peter Man.
"I got into iGP Manager back in September 2017," says Man. "I was looking specifically for an online motorsports manager game at the time, to help relax and de-stress after a day's writing up of a business start-up plan. A quick search on Google later, and behold, iGP Manager came up! I have been playing it ever since."
Man's performance in Autosport's league showcases the skillset needed to be successful in iGP Manager. Just as in reality, it's possible to make up for a slight performance deficit with clever strategy, and there are clear rewards for good preparation.
He picks out three races - Hungary, Britain and Germany - as the ones that stand out. Each showcases what it is that makes iGP Manager so immersive.
"Great Britain really stands out for me, as I did not have the strongest car and driver combination," says Man. "I had opted, tactically, to develop my car to be stronger towards the end of the season for the crunch races in the championship. With around a 0.2s per lap deficit to the leading teams, I had to think deeply.
"I came up with five viable strategies, three of which I took into the race - Plan A, B and C. Which one was utilised depended on the delta to the nearest soft-tyre runner. I used Plan B in the end, and still remember how hard I pushed on every single lap to win!
"Germany was memorable due to the battle I had with Nicolas Morales in the first two stints. I managed to jump him after the first stop and an epic KERS battle followed. I couldn't get the win, but I really enjoyed that race.
"Hungary will go down as my signature race. In mixed conditions, a lot more variables are in play and the crucial strategy points were the crossover points from wets to intermediates and intermediates to dry.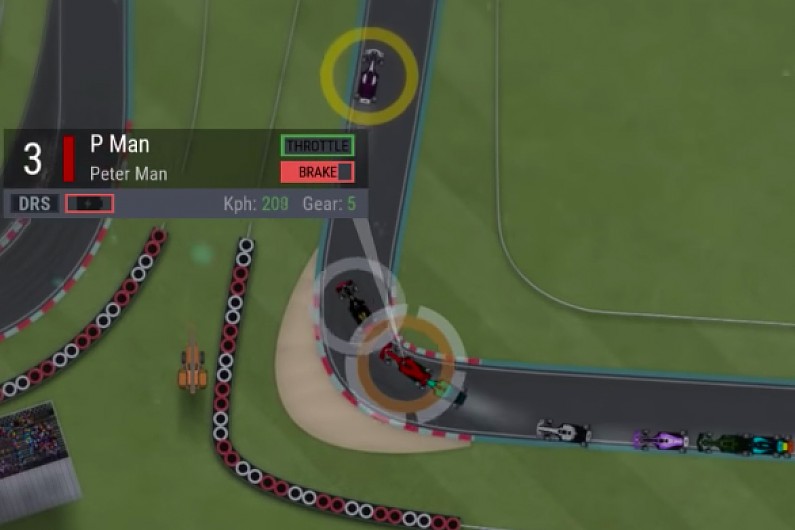 "From reading various motorsport strategy books, including Ross Brawn's philosophies, I knew I had to put a sizeable fuel load into the car once I changed to inters on lap three. This heavier fuel load would give more strategy options later in the race, all-important should the rain reappear.
"The crossover from inters to dry tyres was and is still very memorable. I was doing some furious calculations from lap 13 onwards. It worked out just as I calculated in the end, from a 4.5s deficit to a 6.9s lead. I was particularly happy with my thought process and decision making in that race."
Three memorable races, but crucially three very different kinds of races. This is one of the strengths of iGP Manager, in that you can't simply identify one strategy for success and apply it to every race. It's what keeps players coming back to iGP.
But what's clear from Man's Brawnesque pitwall activities is that there is a clear reward for those willing to put that little extra thought into how to go about winning. While iGP Manager doesn't require a vast time commitment, it does reward those who want to immerse themselves that little bit more.
"Abraham Lincoln famously said, 'Give me six hours to chop down a tree and I will spend the first four sharpening the axe,'" says Man. "I apply this directly and prepare many strategies and scenarios.
"A good example was Great Britain. The delta to the nearest soft runner determined the strategy to maintain track position and, more importantly, ensure my car would come out ahead after the final stop.
"A one-second delta was calculated, so to ensure I met that target I had to really push. Michael Schumacher laps!"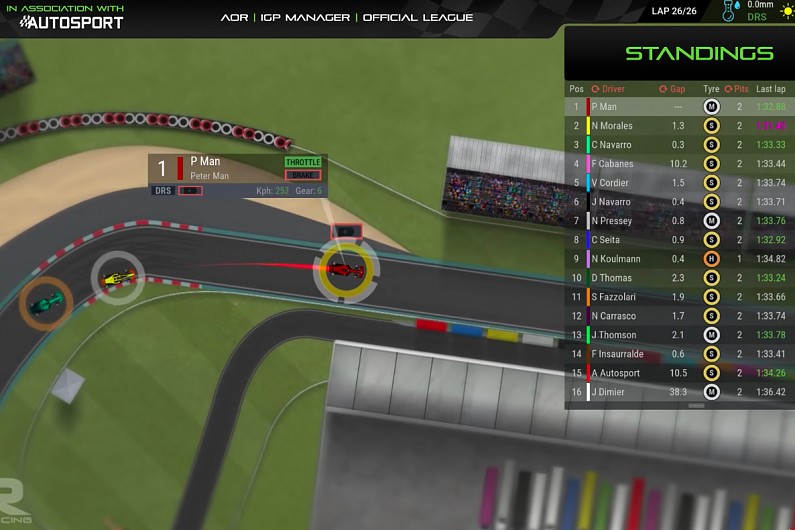 But iGP Manager is not only about the decisions made during the races. There are also big choices to be made off-track in between. These have a big impact on the car performance and, just as for a real F1 team, can make the team significantly stronger long term.
"Regarding investments in facilities and staff, the design building and, later on, the technology building were the two key areas to upgrade over the course of the season. The design building allows more car improvement points to be made available after each race, increasing your base car performance.
"For staff, I would always try to sign 4.5/5 star-rated personnel. This was particularly important for the doctor, as with one race per week much of the driver's performance would come from training.
"For the chief designer you should aim to get one rated at 4.5/5 stars, with one of the 'big four' car performance attributes - acceleration, braking, handling and downforce - as the chief design strength. You can have the chief design weakness as reliability or cooling."
Man's strategies act as something of a guide for any aspiring iGP Manager. He has put significant thought into how car strengths impact performance at different races, and this shows how closely the interaction of car and track characteristics impact upon what happens on track. In the real world of grand prix racing, 'track sensitivities', as they are known, explain much of the performance variations from circuit to circuit.
"Every track requires a slightly different set-up, which of the 'big four' stats will have more weighting," he says. "Bahrain has five sizeable braking zones with four medium-to-long straights. With these track characteristics, the braking and acceleration stats will have more of an impact on the car's maximum potential lap-time performance than handling or downforce.
"The key here is to look carefully at each of the tracks, and their respective layouts, to best judge which stats would be more important. Thankfully, I do have good technical understanding of formula cars, and the various detailed set-up parameters required, so I was able to work out quite quickly which car performance attributes were going to give me the most lap-time gains over the course of that lap and circuit.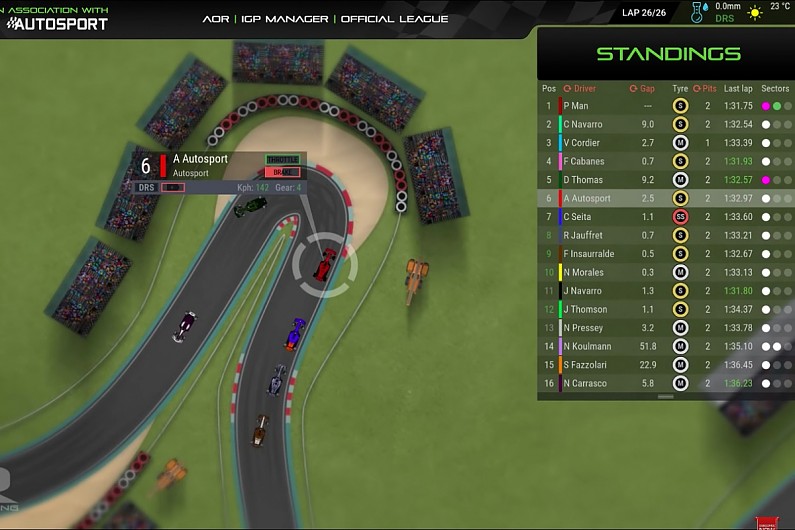 "Tyres are also very important. Although not as important as the 'big four' car stats, tyre economy can win you races, such as in Germany.
"As a general rule, I would advise iGP Manager players to race the tyres until around 37-38%. After this percentage of tyre, the next harder compound will be faster overall, up to the all important 50% tyre cliff.
"Avoid racing your tyres to lower than 25% tyre, as you will be losing far too much time with old, low-tread tyres."
There's plenty there for Autosport, and any player of iGP Manager, to digest in a bid to up their game. It says much for the broad challenges of the game, and its strength as an immersive experience, that after one difficult season you want to get going again and perform more strongly.
"I honestly didn't think it was terrible," says Man, generously, of Autosport's debut season. "There were many positives to take from the initial season, especially the sixth place in the race in Japan.

"Advice for next season? I would say never give up. This is the key for success. Not just on iGP Manager but in all walks of life. Learn from this first season, and come back into the next season stronger, and win!"
Sound advice. After its first taste of iGP Manager, Autosport is certainly determined to improve. The sign of a compelling and immersive game is one that keeps bringing you back, and that's exactly what iGP Manager does.
To take on the challenge of iGP yourself, check it out here.