Tom Dillmann says he knew NIO would have a difficult 2018/19 season during ABB FIA Formula E's pre-season testing at Valencia.
NIO is bottom of the manufacturers' standings after 10 races, having only scored points in Santiago and Hong Kong through Oliver Turvey's eighth- and ninth-place finishes.
Manufacturers are only able to conduct 15 days of private testing and powertrains must be homologated in August, meaning software and set-up are the primary areas of development during the season.
NIO's long-run pace in particular had looked promising in pre-season testing but it has struggled in qualifying and race trim this season.
Asked if NIO expected to find gains through software and set-up, Dillmann told Autosport: "In Valencia I already felt something that was not there, we were already a bit far [away] on the lap times and following the cars I felt it [NIO's package] was not very good and it has been confirmed now.
"It's three-quarters of the season [through] so it's confirmed.
"We made a really good step in a way. We have been missing the pace and we worked really hard to squeeze [improvements] in other areas - software, set-up - really detailed [work].
"Maybe [we found] more than the other teams that had good pace straight away. I'm confident that the day we have strong hardware we will be competitive."
When pressed as to what NIO's weakness is, Dillmann said: "It's a bit hard to say where it is exactly, I can't really comment on that.
"But in both scenarios [qualifying and efficiency] we are missing [performance] and when the races are energy races it's even worse for us. So, we're probably not efficient enough.
"It's tough, there's also a trend that tracks that are less sensitive to power such as Paris - our best weekend in qualifying, the race was OK as well before retiring - and Monaco, a short but high-power track, were OK."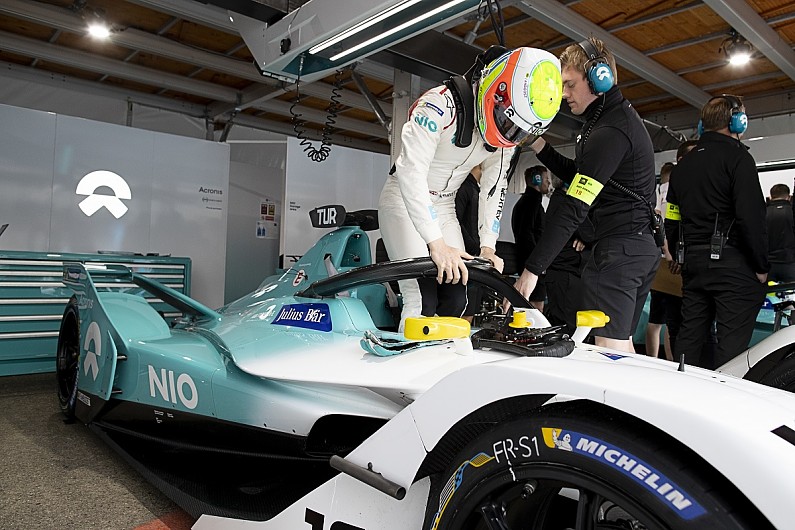 Dillmann's team-mate Turvey said it was "tricky to pinpoint one area" where the package was weak.
He added: "You really need everything to be competitive in Formula E and I think qualifying has been tough this season. The races have been tough.
"We have to keep improving and in Formula E, the package you start with at the start of the season is homologated so it's difficult to make progress after that.
"The Gen2 car is a bit different. The whole brake-by-wire system and things. It's a bit tricky in some ways.
"As I say, during the season it's hard to get on top of things with limited running.
"It's been tough to keep making progress, but we have made progress each weekend and qualifying in the last two races has been better but if you miss a little bit now... there are so many places [lost on the grid]."