Mitch Evans set the fastest time across the two practice sessions for the 2019 ABB FIA Formula E race in Paris, with the first heavily disrupted by crashes.
The 45-minute opening session was wet throughout after rain overnight and drizzle continued as dawn broke.
Several drivers had moments during the early running, with Audi's Lucas di Grassi almost immediately losing his car's nose against the walls after he lost the rear on a bump, but it was the two Envision Virgin Racing drivers who had the biggest incidents.
First Robin Frijns hit the wall at the tight right-hander of Turn 3, which will be the first corner for the race due to the track's offset grid set-up, midway through the session.
He broke the front wing off his car and brought out the red flags before he was able to drive away.
The action resumed after a delay, but in the closing minutes of the session, Sam Bird crashed at the same spot and ripped the left-front from his car. That brought out the red flags again and the session was not restarted.
Bird did not appear in the second session as although his team fixed the damage on his car - which required a whole new front left corner to be rebuilt - there was not enough time left to dial in a set-up to allow him to run again in practice.
The track had dried for practice two, with times improving by over 10 seconds as a result.
Evans ultimately topped the session with a 1m00.226s after several drivers had enjoyed turns in first place.
Nissan e.dams' Oliver Rowland was among them and he ended up second, 0.103s slower than Evans, with di Grassi in third a further 0.039s back.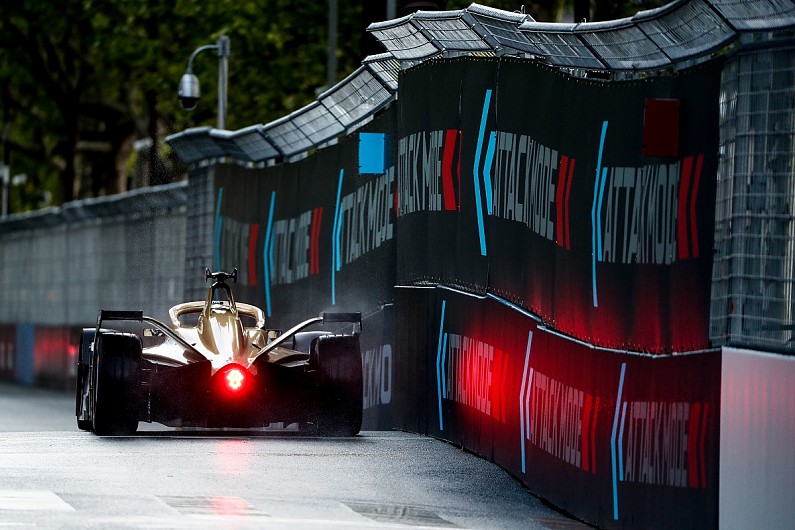 Andre Lotterer, who had topped first practice for DS Techeetah, was fourth ahead of Sebastien Buemi. Both drivers finished within 0.2s of Evans's time.
Buemi was handed a reprimand after clipping Bird at Turn 10 during the first session, which spun the Virgin driver around.
Daniel Abt ended practice two sixth for Audi ahead of 2018 Paris winner Jean-Eric Vergne, BMW Andretti's Antonio Felix da Costa and current championship leader Jerome d'Ambrosio (Mahindra Racing).
Stoffel Vandoorne rounded out the top 10.
Although the track was dry in the second session, several drivers had moments.
Alex Lynn (Jaguar) and Dragon Racing's Jose Maria Lopez hit the barriers close to the pitlane entrance head on - although both were easily able to reverse away and ended up 17th and 20th respectively.
Buemi also lost the rear of his car further around the final corner at the pitlane entrance and briefly blocked the track.
Practice one times
| Pos | Driver | Team | Car | Time | Gap | Laps |
| --- | --- | --- | --- | --- | --- | --- |
| 1 | Andre Lotterer | DS Techeetah | DS | 1m10.667s | - | 20 |
| 2 | Sebastien Buemi | e.dams | Nissan | 1m10.900s | 0.233s | 18 |
| 3 | Oliver Rowland | e.dams | Nissan | 1m10.922s | 0.255s | 19 |
| 4 | Gary Paffett | HWA | Venturi | 1m11.276s | 0.609s | 19 |
| 5 | Sam Bird | Virgin | Audi | 1m11.277s | 0.610s | 12 |
| 6 | Pascal Wehrlein | Mahindra | Mahindra | 1m11.417s | 0.750s | 19 |
| 7 | Jean-Eric Vergne | DS Techeetah | DS | 1m11.474s | 0.807s | 17 |
| 8 | Edoardo Mortara | Venturi | Venturi | 1m11.571s | 0.904s | 18 |
| 9 | Tom Dillmann | NIO | NIO | 1m11.808s | 1.141s | 17 |
| 10 | Jose Maria Lopez | Dragon | Penske | 1m11.853s | 1.186s | 19 |
| 11 | Alex Lynn | Jaguar | Jaguar | 1m11.921s | 1.254s | 19 |
| 12 | Daniel Abt | Audi | Audi | 1m11.937s | 1.270s | 18 |
| 13 | Mitch Evans | Jaguar | Jaguar | 1m12.056s | 1.389s | 19 |
| 14 | Stoffel Vandoorne | HWA | Venturi | 1m12.119s | 1.452s | 19 |
| 15 | Felipe Massa | Venturi | Venturi | 1m12.129s | 1.462s | 19 |
| 16 | Maximilian Guenther | Dragon | Penske | 1m12.439s | 1.772s | 17 |
| 17 | Jerome d'Ambrosio | Mahindra | Mahindra | 1m12.514s | 1.847s | 20 |
| 18 | Antonio Felix da Costa | BMW | BMW | 1m12.831s | 2.164s | 16 |
| 19 | Oliver Turvey | NIO | NIO | 1m12.853s | 2.186s | 18 |
| 20 | Alexander Sims | BMW | BMW | 1m12.938s | 2.271s | 17 |
| 21 | Robin Frijns | Virgin | Audi | 1m13.066s | 2.399s | 11 |
| 22 | Lucas di Grassi | Audi | Audi | 1m13.414s | 2.747s | 13 |
Practice two times

| Pos | Driver | Team | Car | Time | Gap | Laps |
| --- | --- | --- | --- | --- | --- | --- |
| 1 | Mitch Evans | Jaguar | Jaguar | 1m00.226s | - | 19 |
| 2 | Oliver Rowland | e.dams | Nissan | 1m00.329s | 0.103s | 21 |
| 3 | Lucas di Grassi | Audi | Audi | 1m00.368s | 0.142s | 22 |
| 4 | Andre Lotterer | DS Techeetah | DS | 1m00.397s | 0.171s | 27 |
| 5 | Sebastien Buemi | e.dams | Nissan | 1m00.407s | 0.181s | 22 |
| 6 | Daniel Abt | Audi | Audi | 1m00.430s | 0.204s | 23 |
| 7 | Jean-Eric Vergne | DS Techeetah | DS | 1m00.454s | 0.228s | 24 |
| 8 | Antonio Felix da Costa | BMW | BMW | 1m00.532s | 0.306s | 20 |
| 9 | Jerome d'Ambrosio | Mahindra | Mahindra | 1m00.598s | 0.372s | 16 |
| 10 | Stoffel Vandoorne | HWA | Venturi | 1m00.711s | 0.485s | 18 |
| 11 | Pascal Wehrlein | Mahindra | Mahindra | 1m00.850s | 0.624s | 20 |
| 12 | Maximilian Guenther | Dragon | Penske | 1m00.892s | 0.666s | 19 |
| 13 | Edoardo Mortara | Venturi | Venturi | 1m01.019s | 0.793s | 20 |
| 14 | Gary Paffett | HWA | Venturi | 1m01.079s | 0.853s | 17 |
| 15 | Oliver Turvey | NIO | NIO | 1m01.113s | 0.887s | 18 |
| 16 | Robin Frijns | Virgin | Audi | 1m01.119s | 0.893s | 11 |
| 17 | Alex Lynn | Jaguar | Jaguar | 1m01.126s | 0.900s | 16 |
| 18 | Tom Dillmann | NIO | NIO | 1m01.138s | 0.912s | 19 |
| 19 | Felipe Massa | Venturi | Venturi | 1m01.262s | 1.036s | 19 |
| 20 | Jose Maria Lopez | Dragon | Penske | 1m01.293s | 1.067s | 14 |
| 21 | Alexander Sims | BMW | BMW | 1m02.302s | 2.076s | 8 |
| 22 | Sam Bird | Virgin | Audi | - | - | 0 |