ABB FIA Formula E debutant Felipe Nasr says his Mexico City race was compromised by "awful" handling issues resulting from an early clash with NIO's Oliver Turvey.
Nasr was competing in his first race for Dragon in Mexico and had only completed simulator work before arriving at the circuit, but he quickly impressed by outqualifying his experienced FE team-mate Jose Maria Lopez by 0.083 seconds.
In the race, Nasr was caught up in opening lap mid-pack battles through the long braking zone of Turn 1 and the slow Turn 3 chicane.
Nasr attempted to use his first attack mode on lap three but as he entered Turn 8 off-line, Turvey hit the rear of the Dragon car and forced Nasr into a spin.
The Brazilian, who went on to finish 19th, told Autosport: "I was able to hold position and it was a pretty messy Turn 1 and 3 with all the cars cutting the chicane or whatever.
"I was able to go through it and everything was looking fine, I followed the train.
"At lap three I wanted to activate the attack mode and I got hit from behind by Turvey and that completely damaged the rear of the car: The suspension, the diffuser, the floor.
"The team wanted me to complete the race which I think was positive from this side.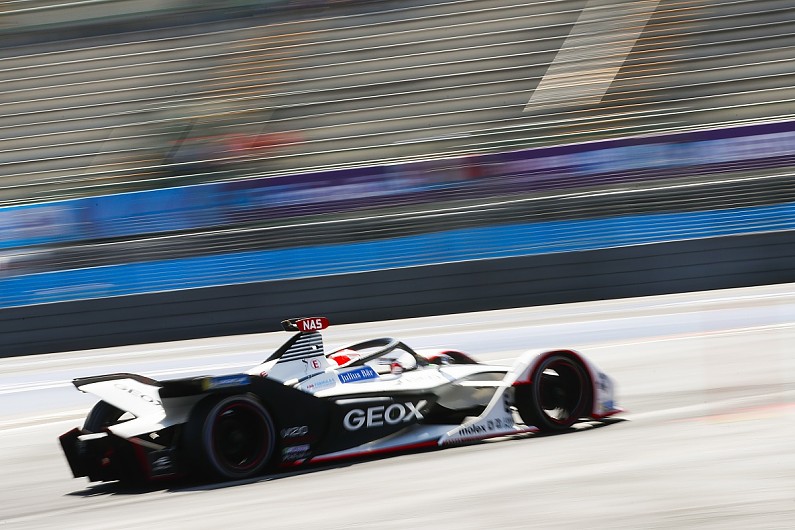 "I had no experience coming here this weekend, I needed the laps, I'd only done the simulator coming here before.
"I think we did the right steps in practice, qualifying and it's a shame the race didn't come our way.
"It was so difficult to drive the car with all the damage.
"The handling was awful, I couldn't brake properly."
Formula E's Gen2 car has prompted less of a focus on energy management in favour of flat-out racing, but the Mexico round proved an anomaly as cars struggled to finish even after a red flag early into the race.
Asked how he had found the challenge of energy management, Nasr said: "As soon as you get the car badly damaged you can't brake properly, regen properly, and you can't do an efficient lap within the targets."