Sebastien Buemi says his Nissan e.dams team has solved the energy management issues that hampered it at the 2018/19 ABB FIA Formula E season opener in Saudi Arabia.
Buemi finished eighth in the second round of the season in Marrakech earlier this month, two places behind where he finished in the first race in Ad Diriyah, but had to fight back from 16th at the end of the first lap after he was caught up in the first-corner melee.
But the 2015/16 FE champion was upbeat about his team's progress despite the low-profile result.
Buemi felt he could have been in the hunt for a podium place without the first corner delay and a regen problem - a result of the changes Nissan made ahead of the Marrakech race.
"The pace was good [in Marrakech], not like the deficit we had in Riyadh," Buemi told Autosport.
"We changed a lot of things on the energy management [Nissan made software changes] that we understood were wrong and then we were much more competitive - clearly, by far.
"Sometimes, like I've said [before], by trying to get rid of problems you create others and we created a problem on when the regen comes in.
"[That was for] the first seven laps, but once it was stabilised we had much better pace. Basically, even if P8 looked bad, I'm happy because the pace was there.
"The pace in qualifying seems to be there because we qualified third twice.
"So it was not only luck in Riyadh [Ad Diriyah]. And then the pace in the race was much better than Riyadh.
"I hope that finally in Santiago we put everything together."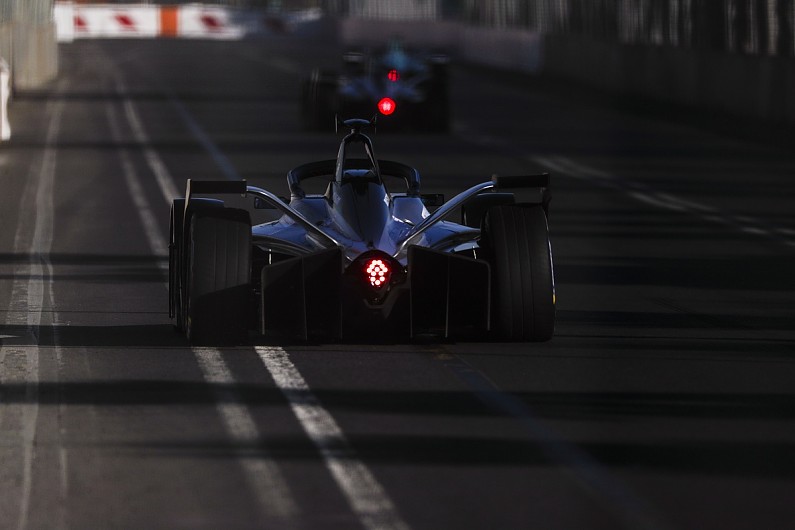 DAMS managing director Francois Sicard, who attended the Marrakech event alongside Nissan e.dams team principal Jean-Paul Driot, explained that Nissan had worked to further understand its powertrain after the first event and to fix a "little issue" that impaired its Ad Diriyah race.
"It's a brand new power unit developed by Nissan so we have to accept that we all have to work on how to fine-tune and understand better how to exploit this power unit better," said Sicard.
"The result [in Marrakech] was not the one we were really expecting but once again we are optimistic that it should be good very soon and I hope we will be powerful for the forthcoming event.
"I hope we have another step in Santiago."