Ex-Formula 1 driver Kamui Kobayashi could continue with the Andretti Formula E team this season after replacing nominated driver Tom Blomqvist for the opening weekend in Hong Kong.
Blomqvist, who raced for BMW in the DTM this year, was named on the FIA's entry list for the 2017/18 ahead of last weekend's double-header.
But Toyota LMP1 driver Kobayashi partnered Antonio Felix da Costa instead in Hong Kong, to the satisfaction of the series and Andretti's main backer MS&AD, a major Japanese insurance company.
Kobayashi had no on-track FE experience prior to the race weekend but qualified 13th and 16th, then finished 15th and 17th after a pair of problem-hit races.
The expectation had been for Blomqvist to make his FE debut in Marrakech, but Andretti co-team principal Roger Griffiths told Autosport Kobayashi's performance had "not made the decision any easier".
Griffiths said: "The plan was always, 'We'll do this weekend and we'll make no promises to anybody'.
"We've got to review how he got on, look at his qualifying performance and his race pace, his ability to save energy.
"I'm sure there'll be a number of telephone calls [with BMW].
"We know he's keen to do more races, we've just got to see how that fits with the overall programme."
Andretti must confirm its Marrakech drivers by the end of 2017.
It used one of its two permitted driver changes drafting Kobayashi for Hong Kong, but reverting to Blomqvist will not count as another.
BMW motorsport boss Jens Marquardt told Autosport it wants Blomqvist to gain experience in FE and "the sooner he can do that the better", but said the call is Andretti's.
How good was Kobayashi's debut?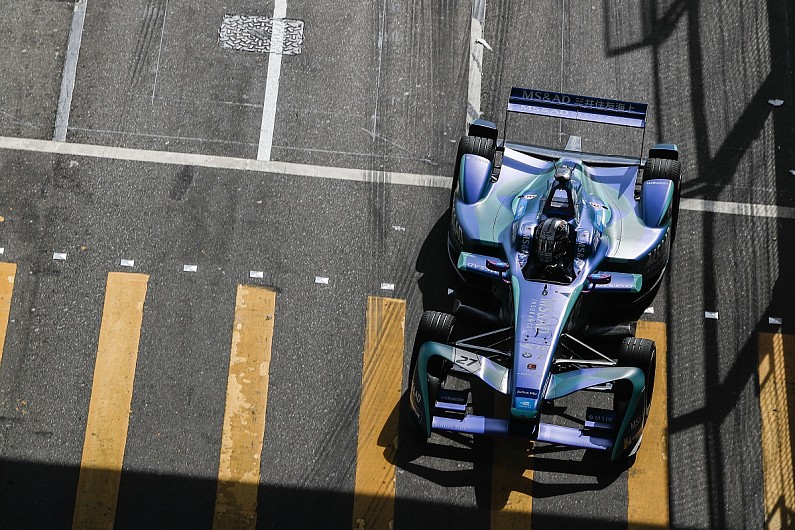 Andretti called Kobayashi's Saturday a "baptism of fire".
After qualifying 13th, nine tenths slower than da Costa, a radio communication problem in the race meant he didn't use all his energy and finished a lonely 15th, 30 seconds behind da Costa in sixth.
Sunday was better. Kobayashi slashed his qualifying deficit to da Costa to just half a second as the field compressed, but unsurprisingly still has a lot to learn in race trim.
Over the final half-dozen laps of his first stint Kobayashi went from dropping just half a second to da Costa in three laps to haemorrhaging 4.5s over the next three.
It meant he had already fallen 25 seconds adrift of his team-mate before needing to pit a lap earlier to swap cars.
A problem starting his second car led to Kobayashi getting lapped and shortening his second stint, but he came alive in the final 10 laps and was one of the fastest on track.
Whether that was because he had a surplus of energy through being lapped or being too conservative at the start of the stint is unknown.
Kobayashi's peaks were enough to make Andretti's decision for Marrakech harder than it probably wanted.
If he returns, his challenge will be to hit those heights in qualifying and over a complete stint in the race.