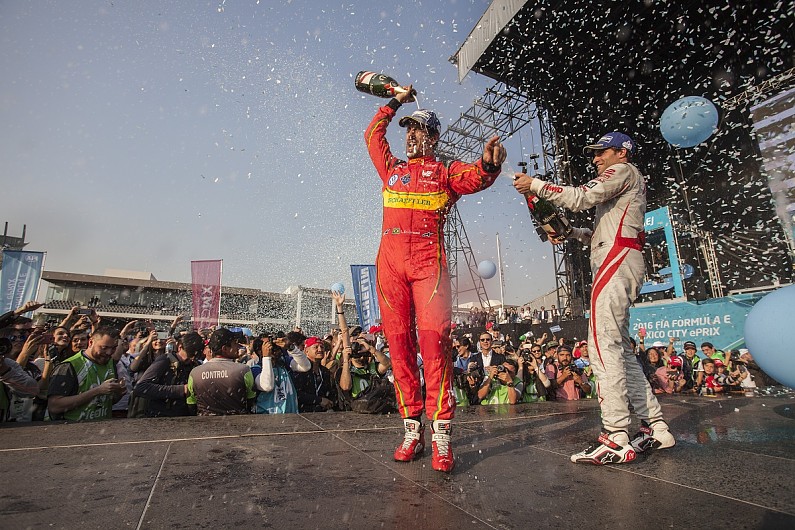 Lucas di Grassi has been excluded from the Mexico City ePrix, handing Jerome d'Ambrosio a second Formula E victory.
The Abt Schaeffler FE01 di Grassi used in the first half of the race weighed in at 886.2kg, 1.8kg under the minimum weight limit.
The Brazilian loses the championship lead he had assumed with the win, with Sebastien Buemi - promoted to second - now 22 points clear of the Abt Audi Sport driver.

REPORT: Di Grassi wins wild race on track
It means both of Dragon driver d'Ambrosio's victories in the series are the result of a di Grassi exclusion, the first being the Berlin ePrix last season.
The Belgian has lost two points he earned for fastest lap though, because he set the time after cutting a chicane.
D'Ambrosio's team-mate Loic Duval should have inherited third but has been handed a 15-second penalty for not respecting track limits.
That drops him to fourth, behind Buemi's Renault e.dams team-mate Nico Prost.
Robin Frijns assumes fifth, ahead of Sam Bird, Daniel Abt, Nick Heidfeld, Stephane Sarrazin and - promoted to a point-scoring position by di Grassi's exclusion - Bruno Senna.
UPDATED RESULTS - 43 LAPS:
| Pos | Driver | Team | Car | Time | Gap |
| --- | --- | --- | --- | --- | --- |
| 1 | Jerome d'Ambrosio | Dragon | Venturi | 48m28.409s | - |
| 2 | Sebastien Buemi | e.dams | Renault | 48m28.515s | 0.106s |
| 3 | Nicolas Prost | e.dams | Renault | 48m53.946s | 25.537s |
| 4 | Loic Duval | Dragon | Venturi | 48m54.767s | 26.358s |
| 5 | Robin Frijns | Andretti | Spark | 48m56.886s | 28.477s |
| 6 | Sam Bird | Virgin | Virgin | 48m57.337s | 28.928s |
| 7 | Daniel Abt | Abt | ABT Schaeffler | 48m58.460s | 30.051s |
| 8 | Nick Heidfeld | Mahindra | Mahindra | 49m04.782s | 36.373s |
| 9 | Stephane Sarrazin | Venturi | Venturi | 49m05.700s | 37.291s |
| 10 | Bruno Senna | Mahindra | Mahindra | 49m06.012s | 37.603s |
| 11 | Oliver Turvey | China | NEXTEV TCR | 49m07.007s | 38.598s |
| 12 | Mike Conway | Venturi | Venturi | 49m07.199s | 38.790s |
| 13 | Nelson Piquet Jr. | China | NEXTEV TCR | 49m10.760s | 42.351s |
| 14 | Simona de Silvestro | Andretti | Spark | 49m12.380s | 43.971s |
| 15 | Salvador Duran | Aguri | Spark | 49m31.491s | 1m03.082s |
| 16 | Jean-Eric Vergne | Virgin | Virgin | 48m32.784s | 1 Lap |
| - | Lucas di Grassi | Abt | ABT Schaeffler | 48m22.993s | Disqualified |
| - | Antonio Felix da Costa | Aguri | Spark | 37m49.401s | Accident |
DRIVERS' CHAMPIONSHIP:
| Pos | Driver | Points |
| --- | --- | --- |
| 1 | Sebastien Buemi | 98 |
| 2 | Lucas di Grassi | 76 |
| 3 | Sam Bird | 60 |
| 4 | Jerome d'Ambrosio | 58 |
| 5 | Loic Duval | 44 |
| 6 | Nicolas Prost | 38 |
| 7 | Robin Frijns | 31 |
| 8 | Stephane Sarrazin | 30 |
| 9 | Nick Heidfeld | 27 |
| 10 | Antonio Felix da Costa | 16 |
| 11 | Daniel Abt | 16 |
| 12 | Bruno Senna | 12 |
| 13 | Oliver Turvey | 10 |
| 14 | Jean-Eric Vergne | 6 |
| 15 | Nelson Piquet Jr. | 4 |
| 16 | Nathanael Berthon | 4 |