With FE announcing a packed schedule of six races in nine days to conclude its 2019-20 season, Autosport revisits a feature written last year by ALEX KALINAUCKAS which looks at how Berlin Tempelhof circuit could be adapted to create multiple layouts
There's a certain criticism that can be directed at motorsport that's quite hard to argue against. The point that, really, racing ultimately boils down to cars going around in a series of circles in a seemingly never-ending quest to see who has won the motorsport, with hundreds of events every year, each more climactic than the last. There's never a really definitive winner, the cycle begins again every season. Variations of the same point can really be levelled at any sport.

But while that argument may have a core of truth, it's the combination of everything that goes around the racing that adds up to why people follow motorsport. The technology, the spectacle, the money, the personalities, the danger, the myths, the glamour, the adrenaline, the humanity and, of course, the venues.
In a series such as Formula 1, the calendar, by and large given the number of new tracks that have held races in recent years, is still made up of the same core events. These have become icons and would be sorely missed. Think Monza, Suzuka, Monaco.
These venues, naturally, use the same layout every year - they simply wouldn't be them without that constant asphalt story etched in their grounds. On one, very strong and sensible, hand this makes utter sense. But at the same time, watching the same events play out year after year (there's always the chance of rain in the build up to the Monaco Grand Prix that everyone must speak, tweet and broadcast about, right?) can become stale.
It must be accepted that to function as successfully as it does, motorsport must retain broadly the same aspects every year. But, at the same time, there's nothing wrong with taking a different approach every now and again - shaking things up, as it were. Different, as much as many motorsport fans may find this hard to accept, does not mean bad.
There's already a series that's trying to do things a bit differently. With fanboost, championship-order qualifying and attack mode, ABB FIA Formula E is pretty far from F1 when it comes to its sporting rules. This is deliberate - it is not trying to replace grand prix racing, merely exist and thrive in the same world.
But there's one very specific place where even FE could try to be a bit more experimental. Given its natural habitat is urban and one of its core principals is to race in cities, FE tracks can occasionally feel repetitive - 90-degree corner follows 90-degree corner - although this is much less the case with the current calendar. There's not a lot the series can do about this sometimes - it can't move buildings.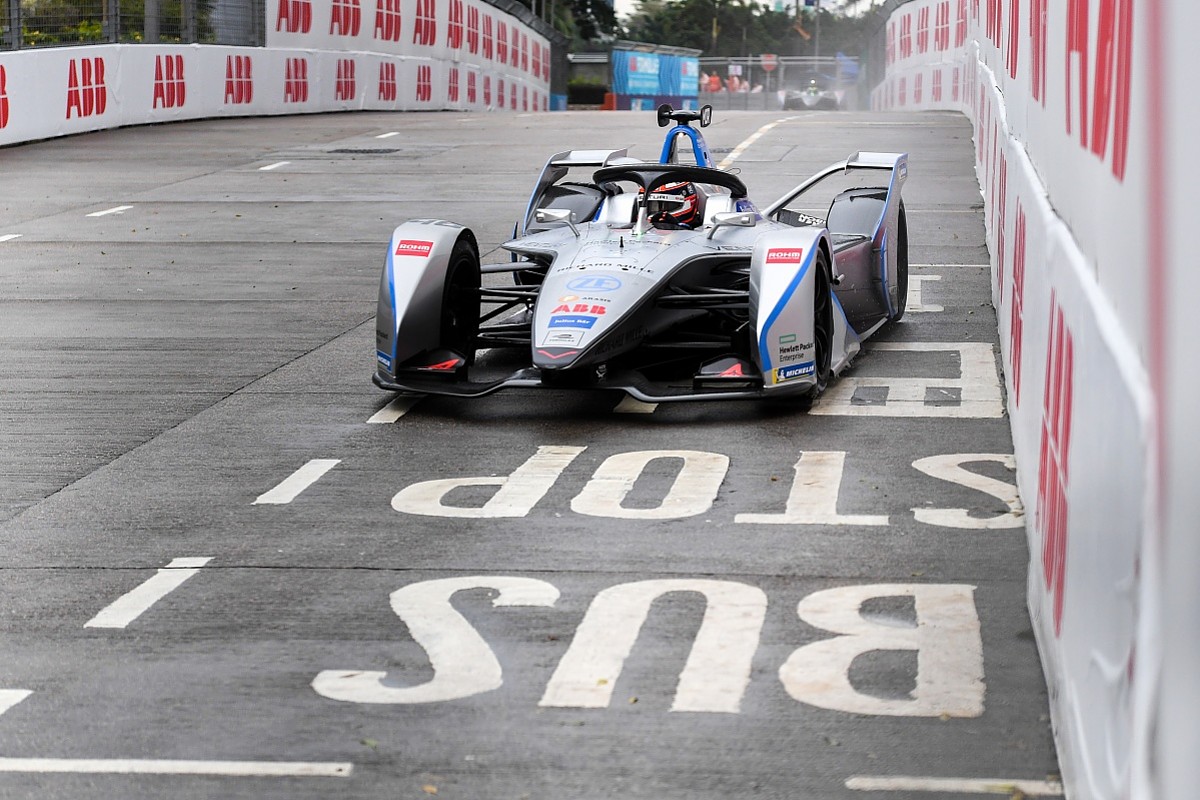 There is, though, one track where that will never be a problem, which the series visited last weekend: Berlin's Tempelhof Airport circuit. The FE track is laid out on the sprawling concrete apron in front of the gigantic former active terminal building.
There is just so much space, especially behind the grandstands at the first few corners, where disused runways and taxiways give way to former airfields that are now a public park. Inside the half-open terminal building, FE houses its E-Village fan display, while temporary grandstands, much larger than those used at other FE races, line the main straight and surround the near-circular Turn 1.
The track has changed over the years. The original layout for the race - used just a single time in FE's inaugural season - came much closer to the terminal, was nearly 100m longer and had seven more corners. When the series returned to Tempelhof following a one-year hiatus - a result of the venue being used to house refugees and the event subsequently moving to a street course near Berlin's Alexanderplatz square for season two - the current layout was adopted.
"We can still adapt the track to the event Formula E wants to have. Maybe we have the chance to have that blank sheet again" Agustin Zomeno
The starting point on the design of the 1.4-mile circuit was a feature that had disappeared for the 2019 event.
"When we arrived in season three we had a massive tent here - it was semi-permanent," says Agustin Zomeno, FE's senior track and overlay manager. "Our idea was to come back to the design [used] in season one. And then at some point we said, 'let's bring the track through that tent'."
And that is exactly what FE did. It created a section of track around the double-decker tent, and then used that area for its main 'Emotion' hospitality club. Inside, guests at the Berlin race were treated to a high, close view of the action, which also provided a different spectacle for fans watching on TV.
FE track designer Rodrigo Nunes explains that to get this right, the circuit needed a "tricky entrance on the tunnel".
"So [the cars] were very slow in the tunnel to make sure the Emotion guests were safe," he continues. "Because there was a balcony - they entered very slow, they go fast, and then they go strong on the brakes. It was a good excuse for a good moment for the Emotion guests."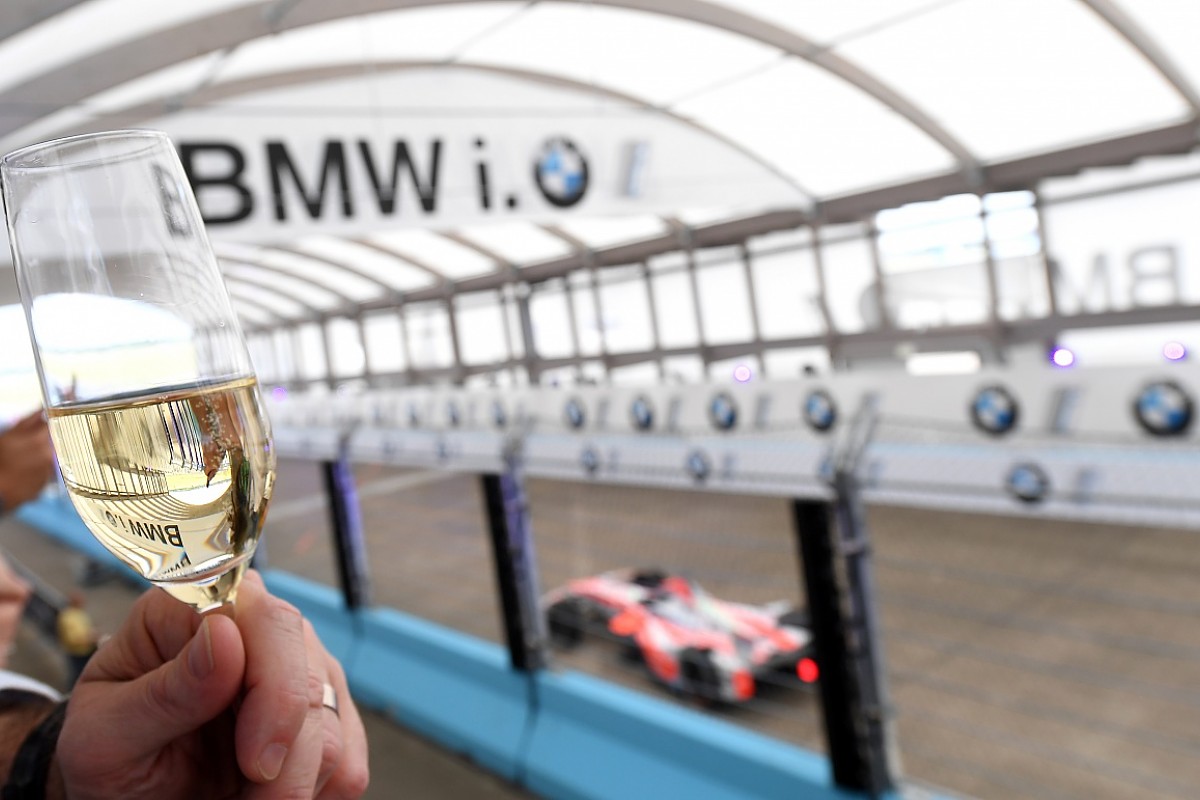 The area of the circuit this tent housed was a short straight that still runs between the tight right-hander of Turn 3 on Berlin's current layout, and the even tighter left of Turn 4, which flows into Turn 5 and the track's backstraight. But the sequence immediately before the tent, which was not present for last weekend's race because it was owned by Tempelhof and the venue decided to get rid of it ahead of this year's event, was also designed with a distinctive consideration in mind.
The long left of Turn 1, which forms nearly a whole circle before feeding directly into the abrupt right of Turn 2 and then the former tented run, was designed to test the drivers intensely. Its long and wide nature (almost all of the Berlin track bar the run from Turns 3 to 4 is unusually broad for an FE track) means there are several racing lines. Watching trackside at this area during the practice sessions, it was possible to see the drivers fighting the rear of the their cars as they hit the brakes, then coping with the rear further still as they tried to keep the speed up while hitting several apex points in one turn. It also makes for a great overtaking spot - as evidenced by Sebastien Buemi's pass on Antonio Felix da Costa last Saturday.
"The tunnel was a good excuse to do something different - it works," says Nunes. "[But] the overtaking points in Turn 1 - they overtake very slowly [there]. Slow motion overtaking points."
"There is not a natural trajectory that the cars can take," adds Zomeno. "The drivers can take [different lines there] - like Sebastien Buemi in qualifying, he did something different to the rest and he was in first position.
"We can still adapt the track - to the event Formula E wants to have, and to the growth that Formula E has. And now that we don't have the tunnel, which was the key point for this [current] design, maybe we have the chance to have that blank sheet again."
This is an interesting point, one that demonstrates just what a special venue FE has with Tempelhof. Given its facilities and sheer scale, there is the possibility of doing something different. A different layout every year perhaps, banked corners, going inside the terminal building through the E-Village. With the special demands of attack mode - offline, slowing the drivers but offering higher power - and the complaints its placement sometimes attracts from the FE grid, this is the perfect place to get even more radical.
Why not have a special attack mode joker lap section at future Tempelhof races? It would cross one of the best strategic sporting innovations FE has introduced with a format that adds a further interesting dynamic in other categories. There's no indication that a joker corner is something FE is considering introducing for future iterations of attack mode, but if there is one place to try it out, it's at Tempelhof.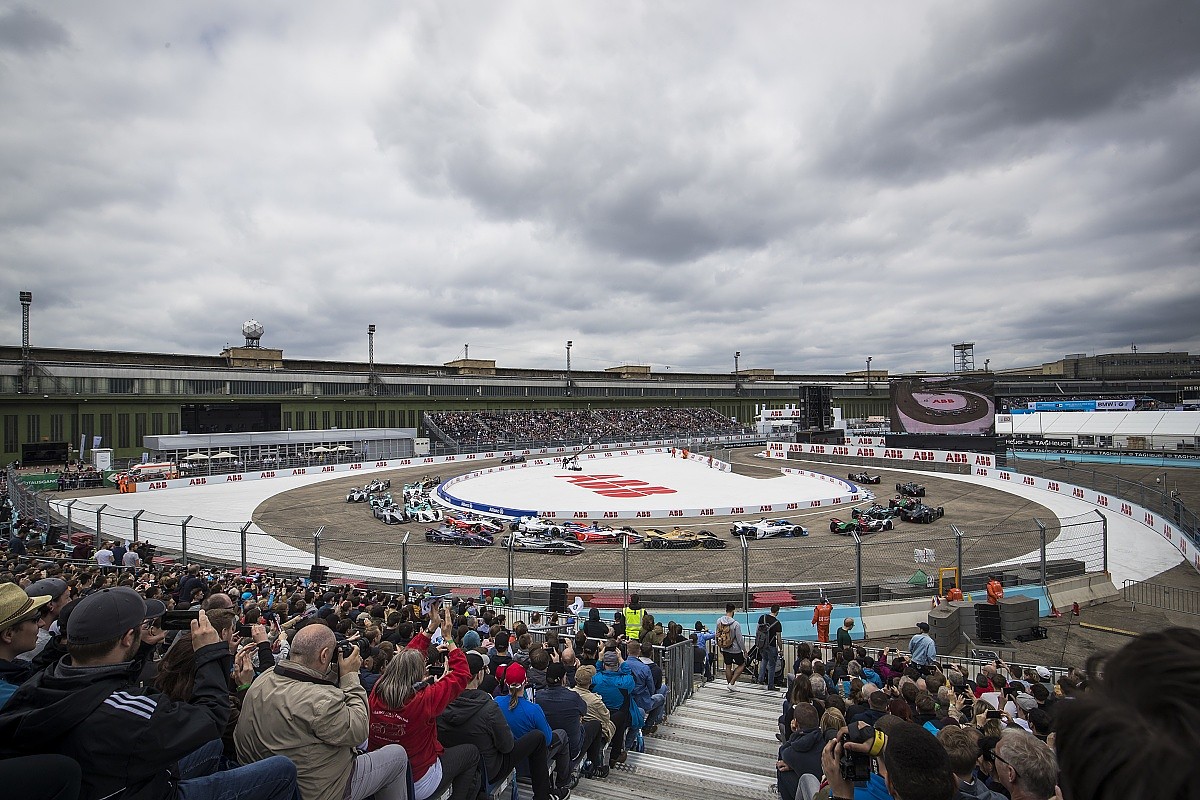 There are simpler, and probably cheaper, ideas that would work too.
"[It was] actually proposed that they should reverse the layout, if you had the double-header here," says Audi team principal Allan McNish. "One way, one direction, one way the other. I proposed that a few years ago, but they're all single-header races [in Berlin] so that's not possible. It is a fantastic facility."
Tempelhof isn't universally popular, though. Envision Virgin Racing driver Robin Frijns would "rather see some buildings when I'm driving".
"I don't [like this track]," he says. "Formula E is really [a] build-up of street tracks, driving between big buildings, big cities. And here you're just driving on an airport - so, for me, I don't like the track in that sense.
FE is trying to build 'event equity' with its venues by keeping the same layouts, broadly similar dates and positioning on the calendar
"Also, the layout, I don't really like. Obviously for the racing it's pretty good because overtaking is much easier than Monaco, which is a good thing. [A new track every time] would be nice. I always like to explore new tracks. They just could completely change the track from one year to another and it also makes it more exciting, unpredictable."
Audi's Lucas di Grassi, who won the race last weekend, is "totally in favour" of changing the Berlin layout regularly, as long as the new versions are exciting.
"I said that during my track walk," he continues. "If I was supposed to design a track like this with all this open space, I would have designed a very different track. [I'd have made it] much more crazy, much more technically interesting than currently.
"So yes, we could come up with a new track every time. It would just cost more for simulator work - because you'd have to re-do it every time - but otherwise it could be very interesting."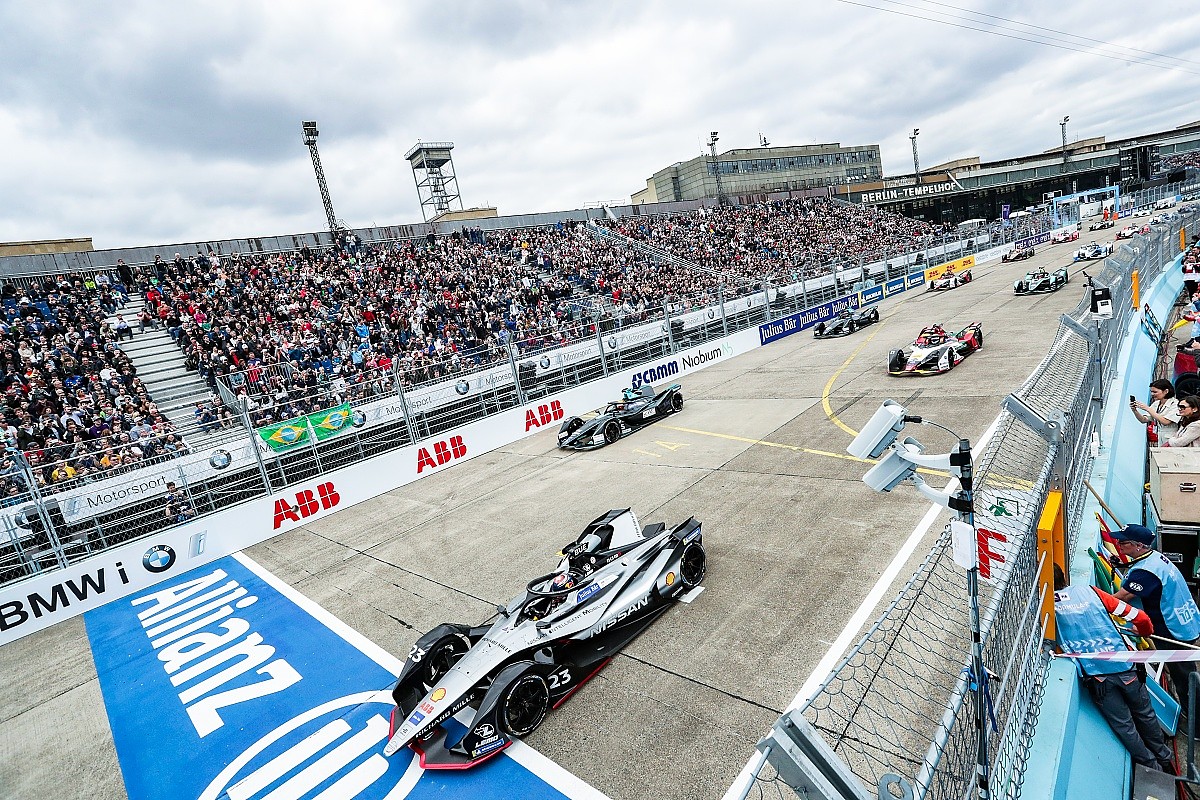 Cost is one understandable argument against changing a track just for the sake of having something new because one can. And FE is also trying to build 'event equity' with its venues. By keeping the same layouts, broadly similar dates and positioning on the calendar, it aims to build event recognition with fans - along the lines of F1's Monaco, Suzuka and Monza familiarity. The same layout also showcases the advances the teams are making with electric technology - the fastest 2019 lap time (a 1m07.295s set in the superpole session by Buemi) was 2.143 seconds better than the fastest lap from last year.
The spark for such hypothesising about varying track layouts where it's possible comes from the recent Berlin round itself (as well as the processional racing in the last two F1 events, even if Monaco did feature a superb tension-filled battle for victory between Lewis Hamilton and Max Verstappen).
The timetable for the 2019 Berlin event was a new one for the series, with the practice sessions taking place on Friday, followed by qualifying on Saturday morning and then the race at 1pm - all to avoid a clash with the build-up to the German football cup final, which also took place in Berlin last Saturday (and was won 3-0 by Bayern Munich over RB Leipzig).
But it also felt bigger and better. The E-Village was packed with displays from FE's sponsors and manufacturers, with Nico Rosberg adding a further hefty dose of Silicon Valley-ness with his inaugural Greentech Festival being housed in the gigantic hanger between the E-Village and the Jaguar I-PACE eTrophy support paddock.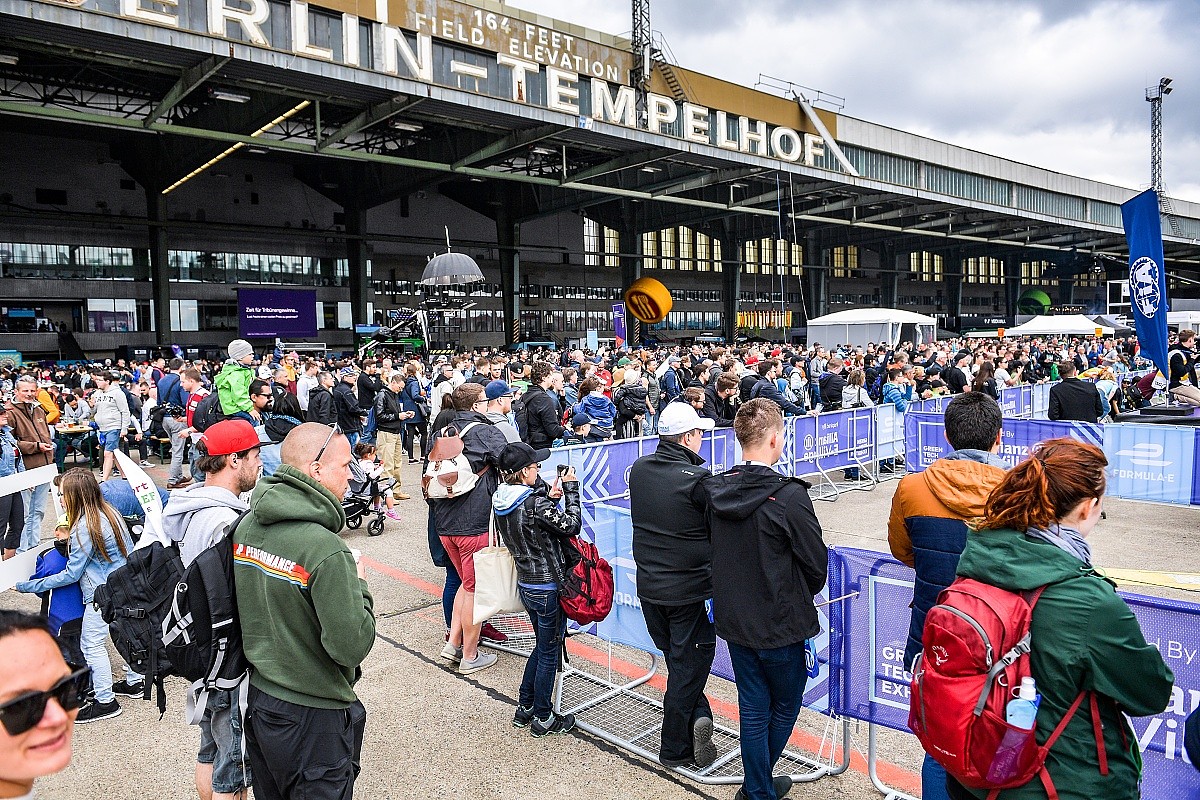 Even if the Tempelhof layout never changes again, it still has a nature worth celebrating. And in many ways, it's not alone in not being a 'traditional' FE circuit. The new races in Saudi Arabia and China also had a bespoke-facility feel, and the Mexico City and Monaco rounds take place on adapted circuits at existing motorsport venues. The New York track is similar to Berlin in terms of the space FE's track designers have to play with - and that track was adapted ahead of the championship's second visit.
"I'm a big supporter and I'm a lot in favour of having these hybrid events," says di Grassi. "I don't think all events should be like this, we should have key city events - like Paris, Hong Kong - where we race in confined spaces but in the middle of the city. But these hybrid events, the structure is much better.
"If you look at Mexico - for me it's a hybrid - Marrakech is a hybrid, Berlin is a hybrid. For me, this type of events, which are close to the city but not in the city-centre [where] you have more space and you build a track around it, I think we should maybe have half-half in the season."
The FIA may not want direct comparisons between FE and F1, which was the reason why the electric championship did not use the full Monaco layout this season. But, as electric technology progresses, there is surely going to come a time when it makes sense to compare them. Ross Brawn even said last year that there is "nothing to stop" F1 switching to electric power in the future, although FE CEO Alejandro Agag then pointed out FE has "exclusivity until at least 2039" to run the FIA's electric single-seater championship.
That line of thinking is certainly well off in the distance, and indeed it may never happen. But FE at least has something unique that it can adapt and develop as its cars become ever more sophisticated. In Berlin's Tempelhof circuit, it has a perfect playground at which to experiment. Motorsport may indeed be cars racing in circles, but the circles don't have to stay the same.