During a visit to the Geneva International Motor Show - as a paying punter, not a wined-and-dined media member - it became apparent that motor manufacturers are, publicly at least, shying away from the bragging rights endowed by motorsport successes and usually seized upon by victorious brands, for both image purposes and as proof of engineering prowess.
The Volkswagen Group rolled out not a single competition car there, yet the VW roundel and Audi's Four Rings were on display - on a Formula E racer on performance partner Abt's stand. Indeed, FE cars outnumbered the various Formula 1 chassis on display, including historic grand prix machinery.
In Geneva, Renault gave its F1 and FE cars equal billing. Equally, the only current reference to Renault's racing pedigree at its flagship shop situated on the Champs-Elysees in Paris is a Formula E show car. F1? Relegated to toy shelves, where black/yellow models vie for space with Red Bulls.
Citroen's DS premium brand partners Virgin Racing in FE, and used Geneva to show off its electric E-Tense concept car, displaying the two side-by-side. True the parent brand showed a championship-winning C-Elysee World Touring Car on its stand - one of the few 'traditional' motorsport displays in Geneva.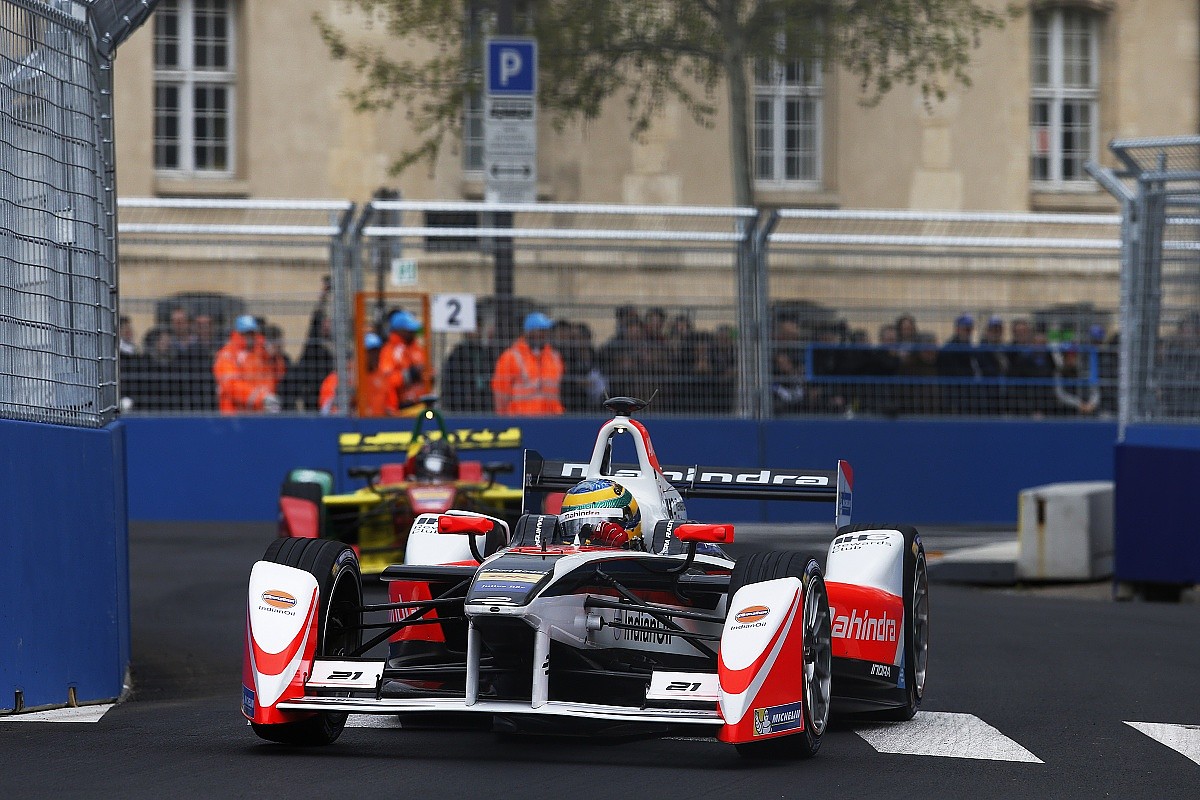 Where is all this leading? Simply put, to illustrate the growing presence of carmakers in FE, with such as Indian firm Mahindra and NEXTEV of China also on the grid during last week's Paris ePrix, staged at the Place les Invalides (aka Military Academy/Museum, site of Napoleon Bonaparte's tomb) in Paris's 7th Arrondissement near the banks of the Seine River.
Saliently, during the pre-race media session Alejandro Agag, the 'Bernie Eccelstone of FE' - although, in real terms such a comparison is superfluous for the former European Parliament member, who sat on the EU Monetary Commission aged 28 - stressed that Anna Hidalgo, mayor of the City of Light, made clear there was no way internal combustion engines would race on Paris's streets.
"We were in her office because we are electric," said Agag, a racing man who owned the Addax GP2 team and had toyed with entering F1.
He believes two main elements attract motor manufacturers to FE: "One is that we're the only ones in the space, so for anybody doing electric cars there's nowhere else to go. They have to come here, we are the obvious choice for them.
"Once they have us in front of them as a choice, they need to make the decision if they want to come or not.
"For that, what really helps is cost control. Manufacturers know they can come here, we have a pretty nice product, they can invite guests, go to the village, showcase, can activate, can do whatever [they] want for relatively small money."
Hence Jaguar's pending entry in partnership with Williams.
In 2016/7, the number of manufacturers represented on FE grids (Renault, DS, Audi, VW, NEXTEV, Mahindra, Jaguar, with Nissan possibly joining off the back of alliance partner Renault) could outnumber automotive brands currently in F1 by eight to five, if, that is, one views McLaren-Honda as two entities.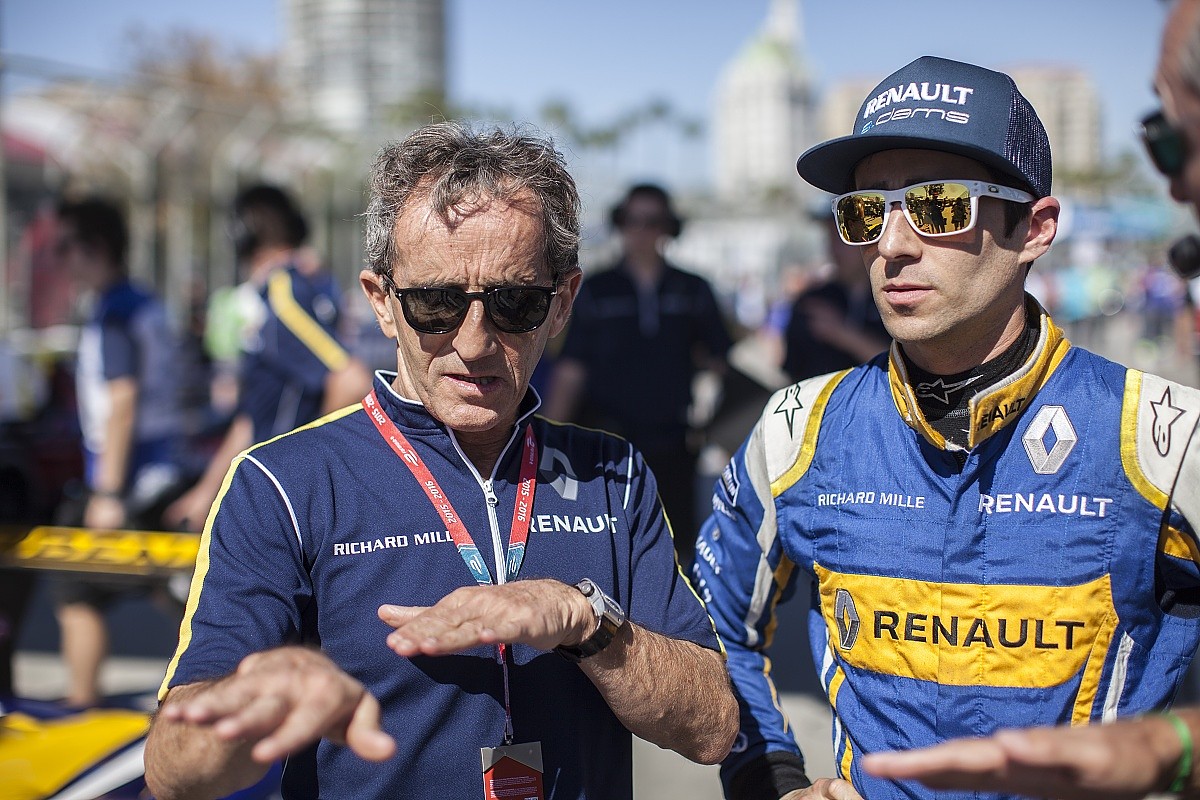 Renault ambassador Alain Prost is not surprised.
"It's very simple. The exposure of Formula E is getting better and better. Also you can attract a different kind of people. We know that Formula 1 [attracts] people from 40 to 60 years old, but with Formula E you get a younger generation," he told Autosport.
"I am sure that maybe one or two more [manufacturers] will come in next year."
Jerome Stoll, Renault's chief performance officer, readily agrees with Prost: [The] electric vehicle is a proper answer for carmakers to the emission [issue]. And Renault have clearly officialised the strategy of the group, which is to be deeply involved in the EV business.
"And since we are in the DNA of the competition, it was obvious we are going to be involved also in the competition of Formula E, to illustrate our competence in technology."
Stoll also views FE as both a marketing platform - Renault operated a huge hospitality facility in the park opposite Les Invalides - and is clearly of the opinion that the two activities are complementary.
"The [FE presence] is two-fold: for marketing purpose and technology purpose. Formula E is just born, two seasons, but I have big expectations for the development of this competition."
As in F1, companies partner race teams for disparate reasons. NEXTEV, the tech start-up overseen by an impressive array of automotive and internet entrepreneurs intent on building a one-megawatt (1340 horsepower) supercar off the back of a billion dollar kitty, considers FE to be the ideal platform upon which to recruit people, and the perfect showcase for its EV performance technology.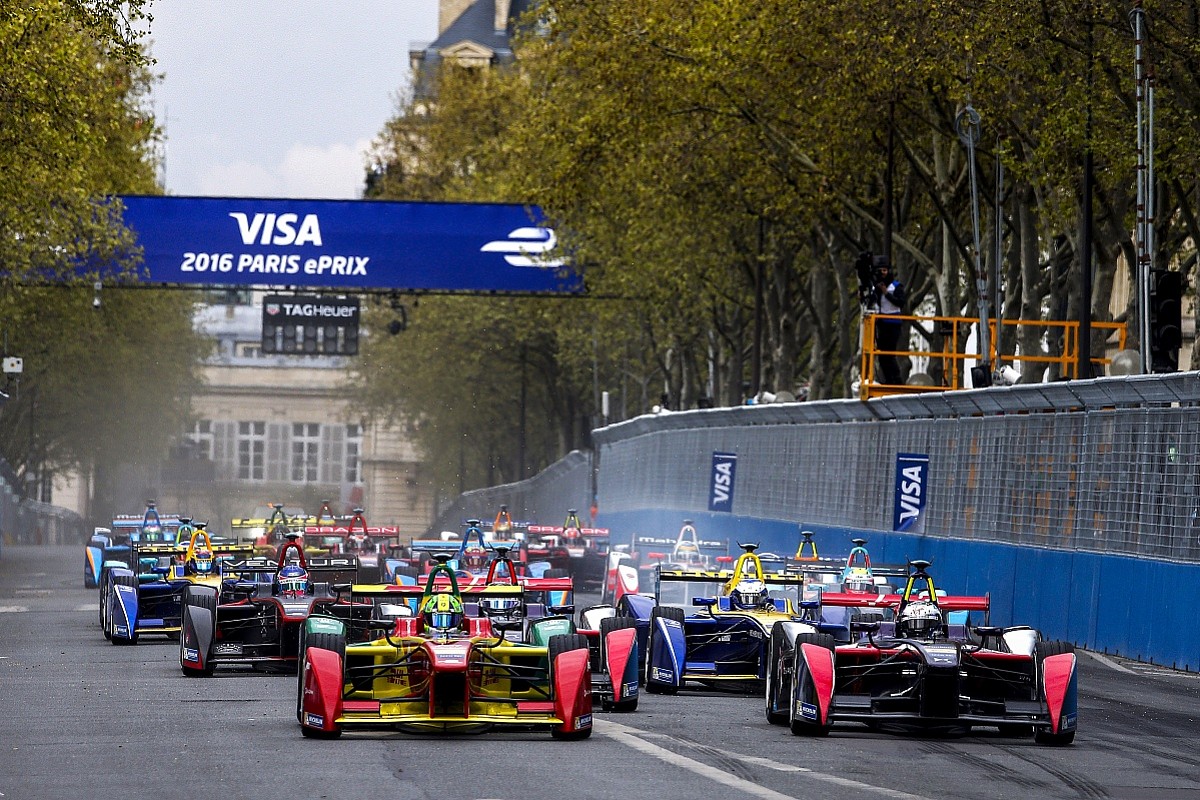 "Manufacturers are attracted to this series because it offers first of all a platform to showcase EV technology," believes dyed-in-the-wool motorsport enthusiast Dr Martin Leach, a former Ford of Europe president, Maserati and Mazda CEO, and highly regarded 'Car Guy', now NEXTEV co-president.
"We have a situation now where the global market for light vehicles is around 90 million units per year. It's going to be up to 110 million within a few years, so it's a huge market. The electrification part of that is minuscule, so the address for market is huge. The issue is: how do you get customers to adopt electric vehicles?
"Having a platform whereby you can create visibility of electrification on a global scale, where you can also develop the technology is very attractive. The present state of the series is not so expensive, not so prohibitively expensive, as F1 can be at a manufacturer level. It's a bit of a no-brainer for manufacturers, to be honest."
Leach, on whose watch the Blue Oval won rallies with Colin McRae, foresees EV technology moving into other motorsport genre, for example rallycross - where EV's instant torque and ease of adaptation for four-wheel drive should stand this spectacular category in good stead, while range would pose no problem.
"The next step would be for something like an electrical rallycross series, which could be incredibly exciting," believes Leach. "Once you get significantly greater energy densities, you can start thinking about maybe a endurance-type rally format, but I think that's a long way down the road."
Clearly the elephant on the grid is range, plus the fact that - much as FE likes to brag about sustainability - the lithium (used in contemporary Li-ion batteries) is far from an infinite resource, nor is its supply guaranteed, for the world's largest suppler is Bolivia, with an estimated 50 per cent of the globe's reserves.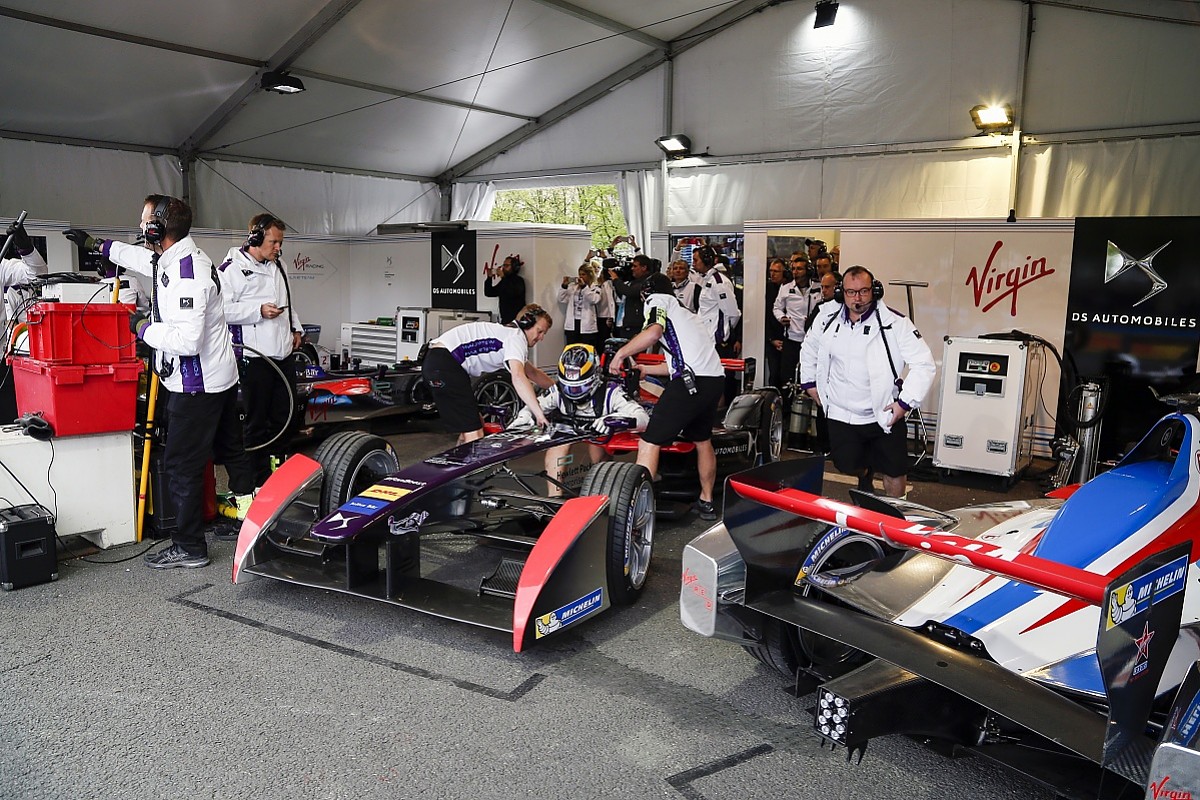 Leach, awarded a doctorate in science by Hertfordshire University in 2000, is a certified automotive engineer with experience of the energy market's booms and busts, and so knows of what he speaks when he says motorsport could contribute to solving these issues. Equally, he believes a solution to the thorny issue of swapping cars mid-race is just a few years away.
Then there is, of course, the issue of airfreighting 12 tonnes (300 kilogrammes per car, 40 cars spread over 10 teams) of lithium battery across the globe every fortnight or so. Already certain airlines ban Li-ion batteries on passenger flights due to volatility and that trend is expected to increase.
"I guess we should all continue to be aware of external shocks and generally when they happen, they're big ones," Leach says. "So one shouldn't sort of say 'nothing is possible', but I think we'll continue to investigate the chemistry in the cells, whether or not they'll find a way to not be dependent on lithium.
"The human mind is a wonderful thing, very inventive. I am sure there's somebody working in a lab somewhere who's probably close to coming up with a great idea."
Does he, though, seriously believe a solution to the range issue is on the horizon, or will car-swaps be a feature of FE for the foreseeable future?
"At the moment we've got 28 kW/hour energy batteries," he explains. "You need 50 to 60 to do a race of the current duration. There's a lot of money going into [cell technology] R&D. So I think it's feasible from what we can see today, we're only a few years away from having [batteries capable of delivering a race distance]."
Range anxiety is but one challenge, the other is cost control, which could be exasperated by manufacturers coming in in droves. Clearly Agag and his merry men need to ensure FE's regulations are framed such that an 'arms race', similar to that faced by F1 when all and sundry joined the grid during the noughties, is prevented.
Already there is talk that seasonal budgets for two entries (in real terms four cars) run in at €6-8million (without activation), and that Renault spent at least that again on its power unit by outsourcing development to its F1 division. Small beer by global motorsport standards, yes, but FE cannot afford to wait until the horsepower has bolted before slamming the door.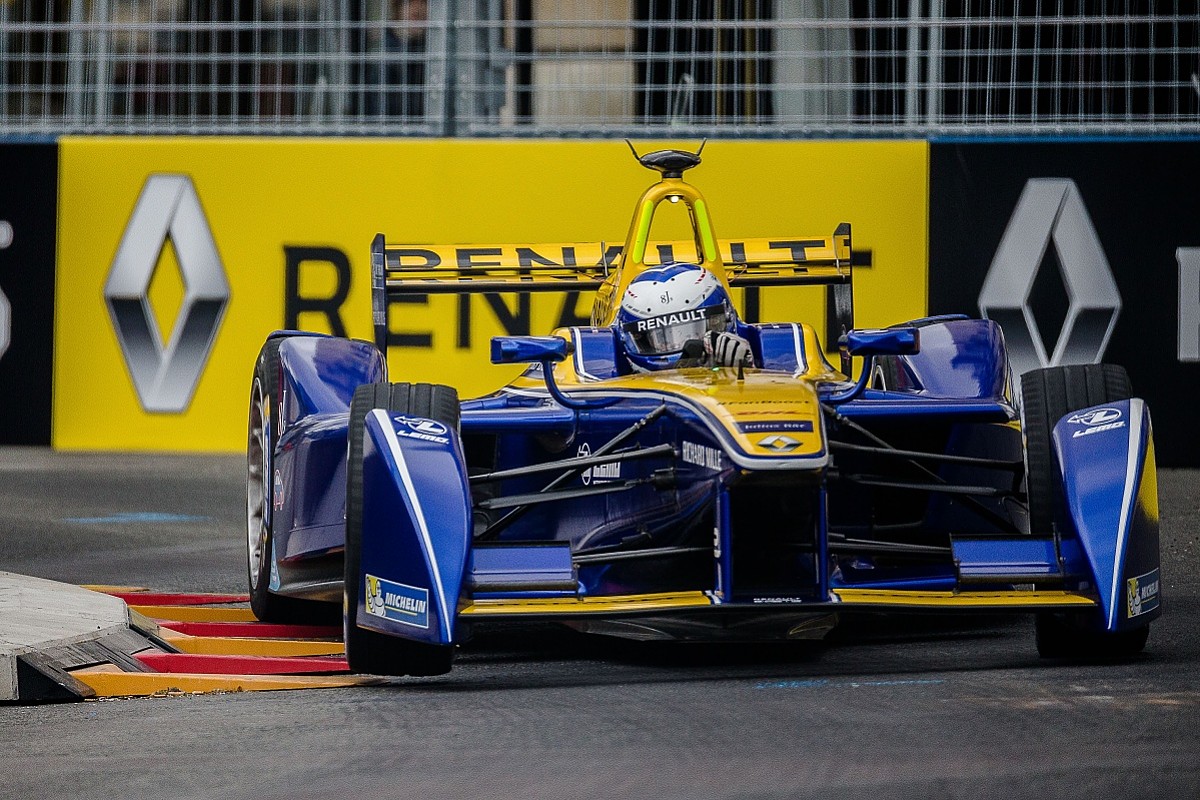 A cost spiral is, though, the price manufacturers are willing to pay to win. When it is put to Stoll that Renault has sparked a price war, he replies: "No, I think that we are in the [budget] range of the others, there is no reason we should be far above the others," then adds: "But we want to win."
However, one of the most intriguing marques on the grid is DS, for it is perceived as more a luxury brand than out-and-out technology chaser. Xavier Mestalan Pinon, performance director for the Citroen offshoot, is clear that DS intends chasing Audi in the marketplace - and that means taking on the Four Rings on quality, comfort, and on technological expertise that manifests itself through top-rung performance.
"[DS] are in charge of all technical aspects to develop the car, then Virgin Racing makes the race," he explains. "So, DS Virgin Racing, it's one part English and the other part is French. We are in charge of the technical aspects, and for DS Automobiles this is very important compared to other series, because we [are in] this series to accelerate the development of technology. Not only for the race car, but for the road car."
Peugeot Group CEO Carlos Tavares expects each of the brands to compete, and therefore Peugeot chases Dakar glory while Citroen celebrates WTCC victory before returning to the World Rally Championship with the C3 - making FE a no-brainer for DS, particularly as the electric series has warmly embraced city racing.
"We sell our cars in all the bigger cities all over the world, the same, so for us this is another key [to] why DS Automobiles is involved in this championship," says Pinon. "Maybe it's the future. Look here in the middle of Paris, it's a very big message to be here."
Indeed it is, and explains why, in the build-up to the ePrix DS demonstrated its E-Tense and FE car in tandem on Parisian streets - and why FE recently signed a commercial deal with Charge!, a British manufacturer of electric trucks, which in turn supplies logistics partner DHL with HGVs to move cars and kit.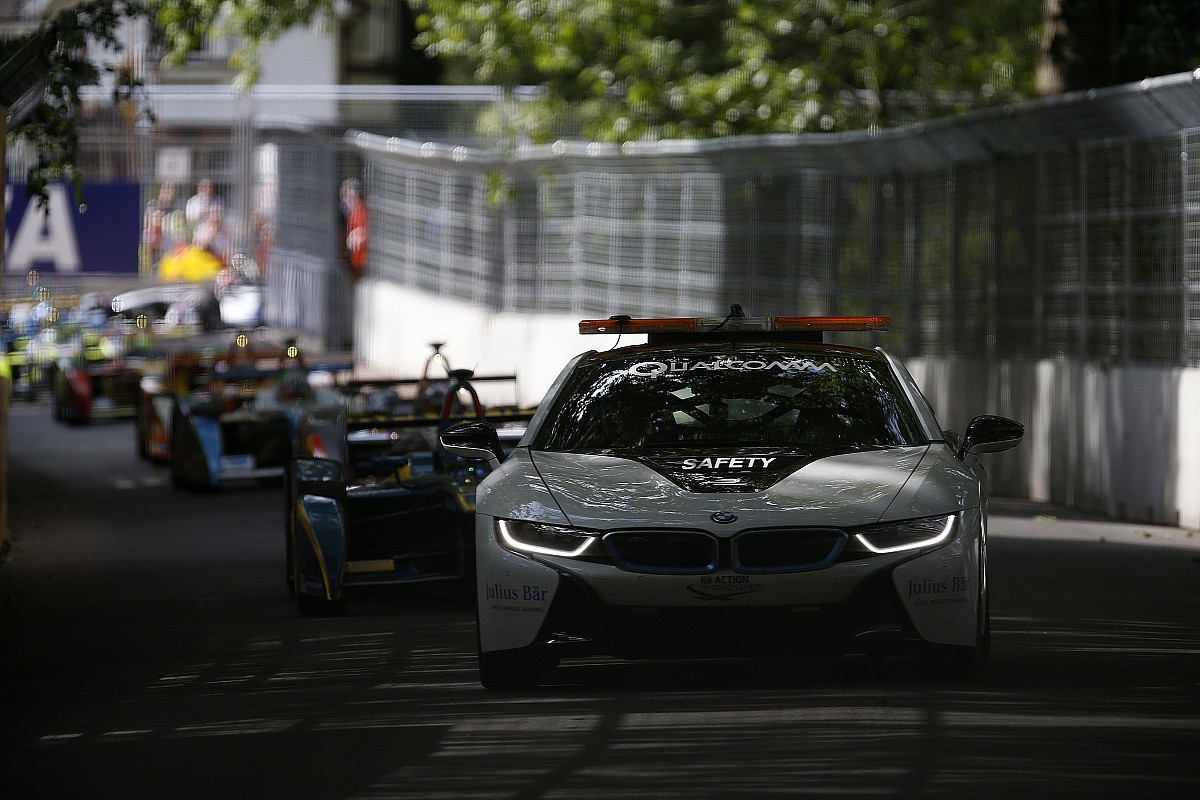 Ironically, the only internal combustion engines about the place were those fitted to BMW X5s used for extraction - sending a message that "when you get into shit, petrol provides the solution", as one hack indelicately put it. And, the safety car is a BMW i8 - a full hybrid - so why not Tesla or a NEXTEV prototype for this duty too? Indeed, many find it puzzling that BMW embraces FE through commercial deals, yet shies away from competition - at least for now.
There is no doubt, though, that FE is racing into the future, and while TV coverage is, at a realistic figure of 80m viewers per year when measured against F1's metrics, around 20 per cent that of the "pinnacle of motorsport" as FIA president Jean Todt refers to F1, even a worst-case scenario has costs coming in at about five per cent of F1 and a quarter of the cost required to field a full-on WRC or DTM team.
When this writer first interviewed Agag in November 2012 he made a comment that bears repeating:"I myself, for example, am a great fan of Formula 1 and I will always be a great fan of Formula 1. But this electric competition is different, standalone. We don't want comparisons."
Comparisons will, though, always be made with F1, and these will not always be favourable given the "pinnacle's" status and reach. That said, when it comes to manufacturer involvement FE is now (city) streets ahead of F1, and the gap is likely to increase.
The challenge facing FE is to contain costs without dumbing down any emerging technology, all while gradually growing the demographic. A daunting task, yes, but nowhere near as daunting as Agag's original challenge, namely establishing FE in the first place.
FE is truly racing into the future by dragging manufacturers in its wake.