A grid of around 20 cars is expected for Euroformula Open's first season with the new halo-equipped Dallara 320 racer.
While there have been few announcements from teams, Autosport sources suggest that seats are being filled - including at Dutch team Van Amersfoort Racing, which is returning to the old philosophy of Formula 3 for the first time since the death of the F3 European Championship at the end of 2018.
Top team Carlin has already confirmed reigning British Formula 4 champion Zane Maloney, with the Barbados talent joined by Israeli Ido Cohen, who contested two Euroformula Open rounds with the team in 2019 alongside his German/Italian F4 programme.
VAR has nominated Frenchman Alexandre Bardinon, who raced with the team in last year's Formula Regional European Championship (pictured testing below), in which VAR will continue to run two cars.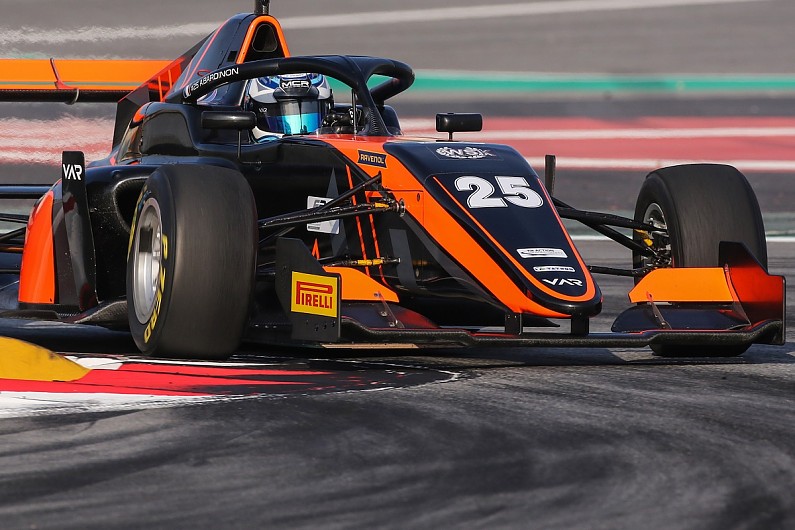 In Euroformula Open, VAR is expecting to run three of the new Dallara chassis, powered by the HWA (formerly Mercedes-badged) engine.
British squad Double R Racing will also use HWA powerplants, and is reportedly close to announcing two drivers who have won races in lower categories for what is planned as a three-car effort.
Motopark, which carried Marino Sato to the 2019 title, is reported to be running as many as six Spiess-powered machines, although team boss Timo Rumpfkeil would not confirm or deny this.
The team has been linked with American Cameron Das and German F4 graduate Niklas Krutten, both of whom it ran in some Euroformula rounds last year, as well as BRDC British F3 race winners Manuel Maldonado and Pavan Ravishankar.
Fortec Motorsport switches from HWA to Spiess power for 2020 and has confirmed British F3 graduate Kris Wright, but is yet to fill its second car.
Dutch single-seater organisation MP Motorsport is said to be lining up an entry to the series alongside its programmes in FIA Formula 2, FIA F3, Formula Renault Eurocup and Spanish F4.
This is most likely to be via a satellite organisation run from separate premises.
Drivers "mega-positive" in Japanese run
Motopark is also planning to run five cars in Japan's Super Formula Lights series - formerly Japanese F3 - in its continuing link-up with B-Max Racing.
FIA F3 racer Simo Laaksonen and 2019 Japanese F3 regular Ameya Vaidyanathan did the first 'public' running of the Dallara 320 in the pre-Christmas Suzuka test, and Finnish racer Laaksonen could join the team this year.
"Out of the box it was the same pace, and even a little bit quicker than the old car," said Rumpfkeil.
"It's transferred all the positive aspects of the old car, being educational to the driver, and the drivers have been mega-positive about it.
"The look is fairly different, but it's clearly an evolution of the previous car."
The team also ran former Honda prospect Sena Sakaguchi and another FIA F3 racer, Raoul Hyman, at Suzuka.
Among the B-Max/Motopark opposition will be Toyota juniors Ritomo Miyata and Kazuto Kotaka, who have been kept on for another season with TOM'S, plus Honda protege Teppei Natori, who returns to Japan after a year in FIA F3 to drive for Toda Racing.