Formula Regional European champion Frederik Vesti will replace the injured Jehan Daruvala in the Prema Racing team for the Macau Grand Prix.
Daruvala - third in the FIA Formula 3 Championship this season - announced earlier this week that a knee injury in training meant he would miss out.
Vesti has taken 13 wins on his way to the inaugural Formula Regional European title this year, and tested the Prema FIA F3 car in the post-season test at Valencia earlier this week.
The 17-year-old Dane made his Macau debut last year, finishing 15th with Van Amersfoort Racing.
"I am incredibly happy to step to FIA F3 for the Macau Grand Prix," said Vesti.
"I am very proud to race with SJM Prema Theodore Racing in the biggest F3 race of the year.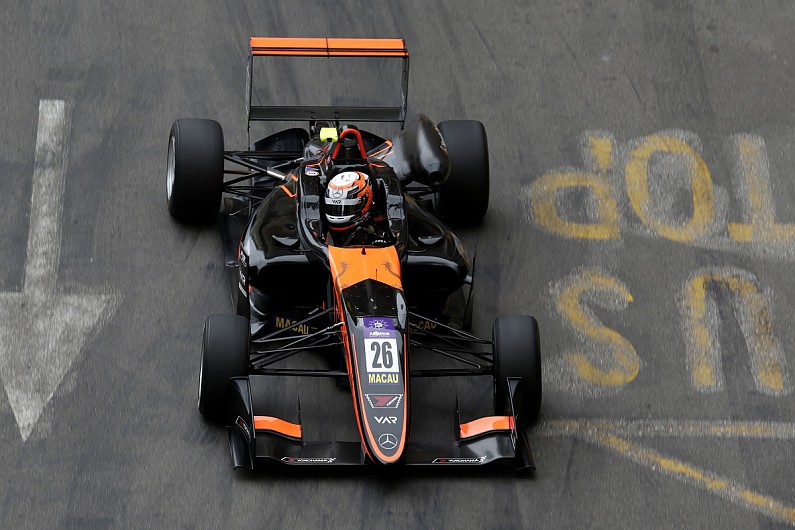 "I can learn a lot from my team-mates and my main focus will be on improving lap by lap since the FIA F3 is completely new for me.
"Obviously the situation with Jehan being injured is very unfortunate, and I wish him a fast recovery.
"With that said, I am very excited to go to the Macau GP and I can't wait for the green flag! Thank you to Prema and my sponsor for believing in me."
This year will be the first for the FIA Formula 3 car competing at Macau after the new championship was formed by merging GP3 and the European Formula 3 Championship in 2019, the latter's cars being used at Macau before this year.
Prema won the teams' championship two rounds early in the 2019 FIA F3 series, and its three drivers locked out the top three positions in the drivers championship with Robert Shwartzman victorious over his fellow Ferrari junior Marcus Armstrong.
Vesti will compete alongside Shwartzman and Armstrong in Macau in the team's third car.