Pedro Piquet became the eighth winner of the FIA Formula 3 season at Spa, while Robert Shwartzman aided his title hopes with a storming drive through to second.
Piquet scarpered away at the start as carnage ensued behind, Jake Hughes the big loser as he was spun out of fifth by Logan Sargeant, while Alex Peroni ended up in the wall after turning in on seventh-place starter Devlin DeFrancesco.
The melee triggered a virtual safety car.
Piquet jumped the restart perfectly and his gap reached almost five seconds at one point, reduced to 2.2 seconds by the finish in what was a textbook drive. It is Trident Racing's first win of the year at a track it won at in GP3 in 2018.
Prema Racing's Shwartzman started fourth and fell back initially, but worked his way back through the order, the Ferrari and SMP junior crucially passing his polesitting, title-contending team-mate Jehan Daruvala for second on lap 14 of 17.
On the first lap after passing Daruvala, Shwartzman took 1.2s out of Piquet's lead but struggled to make further inroads.
Daruvala held on for third after a battle in the closing stages allowed the incredible Christian Lundgaard to take fourth.
Honda junior Yuki Tsunoda had his best starting spot of the season in third for Jenzer Motorsport and battled hard against Leonardo Pulcini, Daruvala and Shwartzman but ultimately he had to let them go.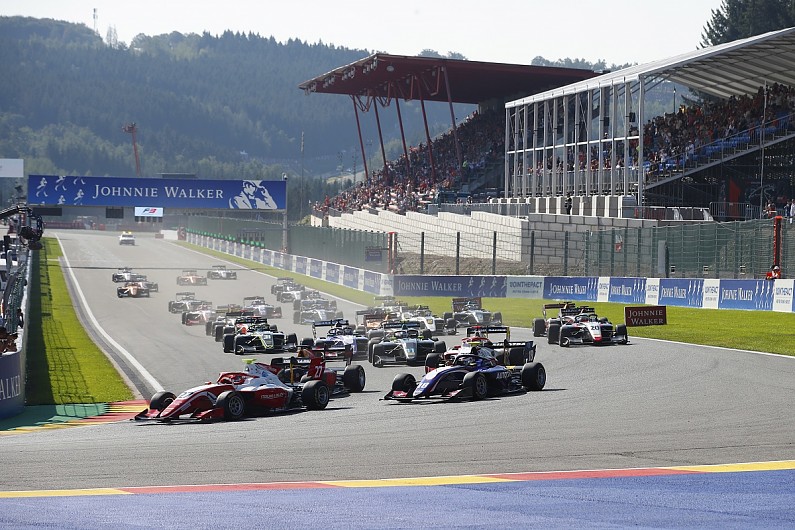 Tsunoda had held fellow Red Bull junior Juri Vips at bay and held fifth behind Pulcini comfortably until the last two laps.
Vips had a nightmare start and was only really saved by being promoted after the Hughes/Sargeant incident at Turn 7, and sat behind Tsunoda in sixth for most of the race.
Vips went three-wide with Tsunoda and the charging Christian Lundgaard at Turn 7 on the final tour as all three jumped Pulcini.
In the three-wide move, Lundgaard and Tsunoda went wide and allowed Vips through.
But on the last lap, Renault junior Lundgaard - who started 14th for ART Grand Prix - put Hitech Grand Prix's Vips under pressure. Vips locked up into the final turn on the last lap and gifted Lundgaard fourth, with Tsunoda and Hitech's Pulcini sixth and seventh.
Marcus Armstrong made sure all three Prema-run cars reached the top eight, having started 19th after a scruffy qualifying.
The Kiwi Ferrari junior starts from the reversed-grid pole in Sunday's race after scything through the field on Saturday morning.
The ARTs of Max Fewtrell and David Beckmann - who won this race in GP3 last year - rounded out the top 10.
| Pos | Driver | Team | Car | Laps | Time | Gap | Code |
| --- | --- | --- | --- | --- | --- | --- | --- |
| 1 | Pedro Piquet | Trident | Dallara/Mecachrome | 17 | 37m40.863s | - | CLA |
| 2 | Robert Shwartzman | Prema Racing | Dallara/Mecachrome | 17 | 37m43.085s | 2.222s | CLA |
| 3 | Jehan Daruvala | Prema Racing | Dallara/Mecachrome | 17 | 37m48.484s | 7.621s | CLA |
| 4 | Christian Lundgaard | ART Grand Prix | Dallara/Mecachrome | 17 | 37m55.700s | 14.837s | CLA |
| 5 | Juri Vips | Hitech GP | Dallara/Mecachrome | 17 | 37m56.361s | 15.498s | CLA |
| 6 | Yuki Tsunoda | Jenzer Motorsport | Dallara/Mecachrome | 17 | 37m57.010s | 16.147s | CLA |
| 7 | Leonardo Pulcini | Hitech GP | Dallara/Mecachrome | 17 | 37m58.587s | 17.724s | CLA |
| 8 | Marcus Armstrong | Prema Racing | Dallara/Mecachrome | 17 | 37m59.524s | 18.661s | CLA |
| 9 | Max Fewtrell | ART Grand Prix | Dallara/Mecachrome | 17 | 38m00.209s | 19.346s | CLA |
| 10 | David Beckmann | ART Grand Prix | Dallara/Mecachrome | 17 | 38m07.742s | 26.879s | CLA |
| 11 | Teppei Natori | Carlin | Dallara/Mecachrome | 17 | 38m13.328s | 32.465s | CLA |
| 12 | Liam Lawson | MP Motorsport | Dallara/Mecachrome | 17 | 38m14.044s | 33.181s | CLA |
| 13 | Logan Sargeant | Carlin | Dallara/Mecachrome | 17 | 38m16.401s | 35.538s | CLA |
| 14 | Keyvan Andres | HWA | Dallara/Mecachrome | 17 | 38m16.614s | 35.751s | CLA |
| 15 | Yifei Ye | Hitech GP | Dallara/Mecachrome | 17 | 38m17.584s | 36.721s | CLA |
| 16 | Giorgio Carrara | Jenzer Motorsport | Dallara/Mecachrome | 17 | 38m18.402s | 37.539s | CLA |
| 17 | Richard Verschoor | MP Motorsport | Dallara/Mecachrome | 17 | 38m21.869s | 41.006s | CLA |
| 18 | Felipe Drugovich | Carlin | Dallara/Mecachrome | 17 | 38m22.220s | 41.357s | CLA |
| 19 | Niko Kari | Trident | Dallara/Mecachrome | 17 | 38m22.305s | 41.442s | CLA |
| 20 | Bent Viscaal | HWA | Dallara/Mecachrome | 17 | 38m23.166s | 42.303s | CLA |
| 21 | Jake Hughes | HWA | Dallara/Mecachrome | 17 | 38m23.870s | 43.007s | CLA |
| 22 | Lirim Zendeli | Charouz | Dallara/Mecachrome | 17 | 38m24.672s | 43.809s | CLA |
| 23 | Andreas Estner | Jenzer Motorsport | Dallara/Mecachrome | 17 | 38m32.908s | 52.045s | CLA |
| 24 | Simo Laaksonen | MP Motorsport | Dallara/Mecachrome | 17 | 38m33.974s | 53.111s | CLA |
| 25 | Sebastian Fernandez | Campos Racing | Dallara/Mecachrome | 17 | 38m36.015s | 55.152s | CLA |
| 26 | Raoul Hyman | Charouz | Dallara/Mecachrome | 17 | 38m37.317s | 56.454s | CLA |
| 27 | Fabio Scherer | Charouz | Dallara/Mecachrome | 17 | 38m40.329s | 59.466s | CLA |
| 28 | Alessio Deledda | Campos Racing | Dallara/Mecachrome | 17 | 38m44.291s | 1m03.428s | CLA |
| 29 | Devlin Defrancesco | Trident | Dallara/Mecachrome | 17 | 39m17.569s | 1m36.706s | CLA |
| - | Alex Peroni | Campos Racing | Dallara/Mecachrome | 0 | - | Retirement | DNF |