Renault Formula 1 junior Christian Lundgaard led from lights-to-flag for ART Grand Prix to become the sixth different winner in nine races in FIA Formula 3 this season.
Lundgaard held the lead from the start and built a gap big enough to keep his team-mate Max Fewtrell, the reigning Formula Renault Eurocup champion, at arm's length.
Having won the first race of the season on the road before a penalty for a virtual safety car infringement dropped him to second, Lundgaard was supreme and charged into the distance, bringing Fewtrell with him in an ART one-two that cleared DRS range of the remaining pack.
This was ART's first win of the new F3 era, and Lundgaard added insult to injury for his rivals by setting the fastest lap on the last lap of the race, to take a hat-trick of pole, fastest lap and race win while also leading every lap.
Fewtrell's second helps him move into the top five in the championship at the expense of Pedro Piquet, who retired from the race with a suspected brake issue while in the top five.
The fight for third was a race-long battle; Piquet's Trident Racing team-mate Niko Kari jumped into third ahead of second-place starter Juri Vips.
Behind them, Jake Hughes jumped championship leader Robert Shwartzman and, along with Vips and Kari, established a fight for third - where a train of cars from third to 16th all remained within DRS range of each other for most of the race.
Lap after lap Vips pressured Kari, getting alongside on multiple occasions, but the Finn - despite making a number of errors at Turn 1 - defended excellently, while Vips also had to make sure he didn't attack at the expense of his place to Hughes.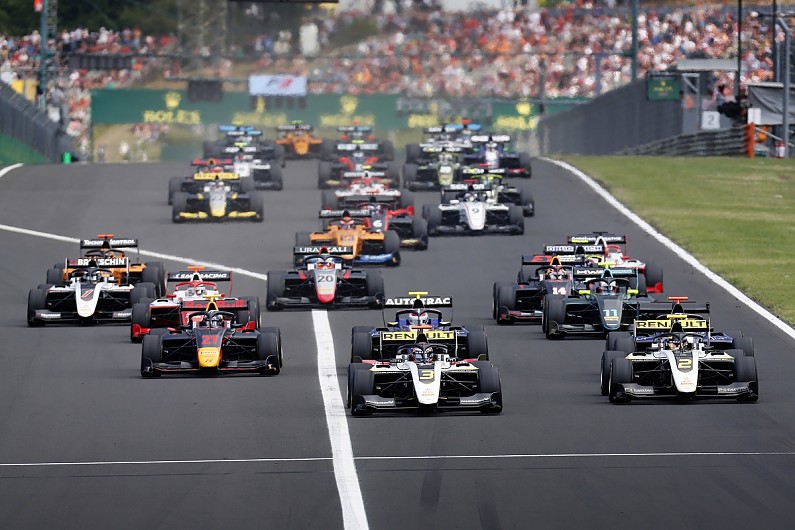 On lap 18 of 22, Kari finally cried enough as Vips overtook at Turn 1 and Hughes passed at Turn 2 to seal third and fourth in the order respectively.
Right at the end of the race, Hughes then jumped Vips to secure the final spot on the podium for HWA.
With four laps remaining, Shwartzman also passed Kari to take fifth and reduce the number of points lost to Vips, while extending his advantage to the rest of his close title rivals in a good recovery for the Prema Racing driver.
Felipe Drugovich took his and Carlin's best result in an FIA F3 race one with sixth in a consistent display, heading off Vips's Hitech Grand Prix team-mate Leo Pulcini in the closing stages.
Prema's Marcus Armstrong was eighth, who started 13th after traffic and a mistake in qualifying at Turn 4, made two sensational passes at Turn 12 in the final five laps to take Sunday's reversed-grid pole position.
Jenzer's Yuki Tsunoda sealed ninth and Logan Sargeant beat Jehan Daruvala to the last point and 10th place in a strong race for Carlin.
Daruvala - second in the championship before the race - started 17th after traffic issues, and was unable to take a consolation point for Prema.
Kari fell all the way to 15th in the closing stages, after spending the majority of the race in third.
Race result
| Pos | Driver | Team | Gap | Laps |
| --- | --- | --- | --- | --- |
| 1 | Christian Lundgaard | ART Grand Prix | 35m48.828s | 22 |
| 2 | Max Fewtrell | ART Grand Prix | 3.712s | 22 |
| 3 | Jake Hughes | HWA | 13.912s | 22 |
| 4 | Juri Vips | Hitech GP | 16.902s | 22 |
| 5 | Robert Shwartzman | Prema Racing | 18.793s | 22 |
| 6 | Felipe Drugovich | Carlin | 20.835s | 22 |
| 7 | Leonardo Pulcini | Hitech GP | 21.917s | 22 |
| 8 | Marcus Armstrong | Prema Racing | 24.223s | 22 |
| 9 | Yuki Tsunoda | Jenzer Motorsport | 24.627s | 22 |
| 10 | Logan Sargeant | Carlin | 27.997s | 22 |
| 11 | Jehan Daruvala | Prema Racing | 30.241s | 22 |
| 12 | Devlin Defrancesco | Trident | 30.344s | 22 |
| 13 | Sebastian Fernandez | Campos Racing | 33.097s | 22 |
| 14 | Niko Kari | Trident | 33.442s | 22 |
| 15 | Fabio Scherer | Charouz | 33.734s | 22 |
| 16 | Liam Lawson | MP Motorsport | 34.565s | 22 |
| 17 | Simo Laaksonen | MP Motorsport | 34.714s | 22 |
| 18 | Yifei Ye | Hitech GP | 34.997s | 22 |
| 19 | Bent Viscaal | HWA | 35.347s | 22 |
| 20 | Teppei Natori | Carlin | 38.182s | 22 |
| 21 | Andreas Estner | Jenzer Motorsport | 40.448s | 22 |
| 22 | Raoul Hyman | Charouz | 42.939s | 22 |
| 23 | Keyvan Andres | HWA | 49.753s | 22 |
| 24 | Alessio Deledda | Campos Racing | 51.464s | 22 |
| 25 | Giorgio Carrara | Jenzer Motorsport | 53.280s | 22 |
| 26 | Alex Peroni | Campos Racing | 1m02.313s | 22 |
| 27 | Richard Verschoor | MP Motorsport | 1 Lap | 21 |
| 28 | David Beckmann | ART Grand Prix | 3 Laps | 19 |
| - | Lirim Zendeli | Charouz | Retirement | 14 |
| - | Pedro Piquet | Trident | Retirement | 4 |