Red Bull Formula 1 junior Juri Vips won the first FIA Formula 3 race of the weekend at Silverstone from pole for Hitech Grand Prix.
Polesitter Vips made a solid start but came under heavy pressure from fast-starting Jehan Daruvala of Prema Racing, and was defensive even in the first quarter of the race.
A virtual safety car intervened on the seventh lap of 20, but after that Vips displayed sensational defensive driving ability, parking his Hitech Grand Prix car on the apex of most corners to hold off the charging Daruvala.
That brought Marcus Armstrong - Daruvala's Ferrari-supported Prema team-mate - into the mix in third after working his way back up the order following a slow start from second.
Daruvala attempted a move at around the outside of Brooklands on Vips for two consecutive laps, running wide on the second attempt which meant he had to defend from front-row starter Armstrong, the two side-by-side at Luffield.
But a full safety car for Raoul Hyman's crash at Copse curtailed the battle, the race restarting on lap 16, with three laps with DRS at the end of the race.
Vips backed the field up inches apart and then launched off Copse at the restart to move clear until lap 18 when DRS was reactivated.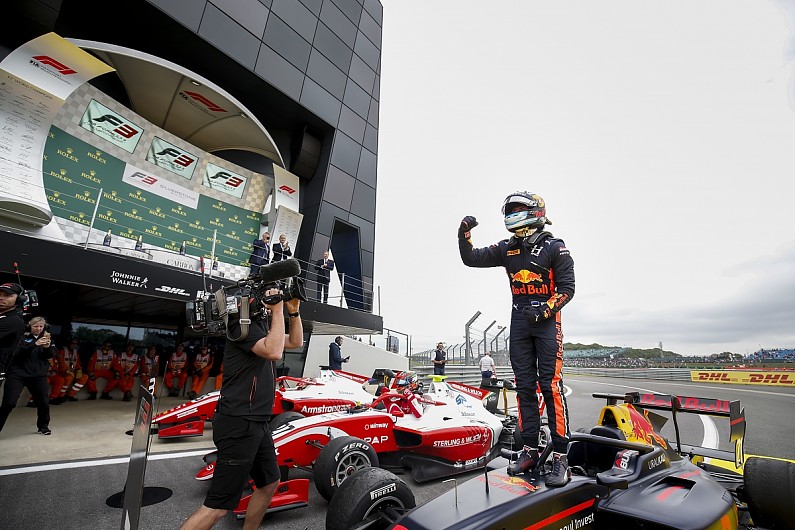 Daruvala was told under safety car to stay further back at Maggotts and Becketts to get a better run onto the Farm Straight by his engineer, but ultimately he was not able to get close enough to challenge Vips and the Estonian took a second win in as many weekends at a time when the spotlight is on the Red Bull junior programme.
Daruvala held on for second ahead of Armstrong and Vips' team-mate Leonardo Pulcini, setting fastest lap in the process and taking the points lead from Robert Shwartzman.
Pulcini was a pre-season title favourite but has struggled to deliver so far this year, but his third place continues his improved form from last time out at the Red Bull Ring.
Shwartzman rounded out the top five, passing ART Grand Prix's Christian Lundgaard late on.
Pedro Piquet also passed Lundgaard to take sixth for Trident Racing, Lundgaard stalling to seventh in the closing stages.
The youngest driver on the grid, Liam Lawson, will give Red Bull-backed drivers a chance at a double as he starts from reversed-grid pole in Sunday's race for MP Motorsport, holding off HWA's Jake Hughes in the closing laps.
Campos Racing's Alex Peroni rounded out the top 10, having started 21st.
Race result - 20 laps
| Pos | Driver | Team | Laps | Time | Gap |
| --- | --- | --- | --- | --- | --- |
| 1 | Juri Vips | Hitech GP | 20 | 41m12.477s | - |
| 2 | Jehan Daruvala | Prema Racing | 20 | 41m13.288s | 0.811s |
| 3 | Marcus Armstrong | Prema Racing | 20 | 41m13.790s | 1.313s |
| 4 | Leonardo Pulcini | Hitech GP | 20 | 41m14.415s | 1.938s |
| 5 | Robert Shwartzman | Prema Racing | 20 | 41m14.713s | 2.236s |
| 6 | Pedro Piquet | Trident | 20 | 41m17.778s | 5.301s |
| 7 | Christian Lundgaard | ART Grand Prix | 20 | 41m19.312s | 6.835s |
| 8 | Liam Lawson | MP Motorsport | 20 | 41m19.583s | 7.106s |
| 9 | Jake Hughes | HWA | 20 | 41m19.782s | 7.305s |
| 10 | Alex Peroni | Campos Racing | 20 | 41m20.793s | 8.316s |
| 11 | David Beckmann | ART Grand Prix | 20 | 41m21.313s | 8.836s |
| 12 | Yifei Ye | Hitech GP | 20 | 41m21.739s | 9.262s |
| 13 | Felipe Drugovich | Carlin | 20 | 41m23.738s | 11.261s |
| 14 | Yuki Tsunoda | Jenzer Motorsport | 20 | 41m26.181s | 13.704s |
| 15 | Lirim Zendeli | Charouz | 20 | 41m27.082s | 14.605s |
| 16 | Fabio Scherer | Charouz | 20 | 41m28.410s | 15.933s |
| 17 | Richard Verschoor | MP Motorsport | 20 | 41m31.004s | 18.527s |
| 18 | Niko Kari | Trident | 20 | 41m31.816s | 19.339s |
| 19 | Max Fewtrell | ART Grand Prix | 20 | 41m32.322s | 19.845s |
| 20 | Sebastian Fernandez | Campos Racing | 20 | 41m32.532s | 20.055s |
| 21 | Keyvan Andres | HWA | 20 | 41m33.046s | 20.569s |
| 22 | Bent Viscaal | HWA | 20 | 41m33.745s | 21.268s |
| 23 | Andreas Estner | Jenzer Motorsport | 20 | 41m33.996s | 21.519s |
| 24 | Simo Laaksonen | MP Motorsport | 20 | 41m34.255s | 21.778s |
| 25 | Teppei Natori | Carlin | 20 | 41m34.421s | 21.944s |
| 26 | Logan Sargeant | Carlin | 20 | 41m41.267s | 28.790s |
| 27 | Devlin Defrancesco | Trident | 20 | 42m07.933s | 55.456s |
| - | Raoul Hyman | Charouz | 10 | 19m14.902s | Retirement |
| - | Federico Malvestiti | Jenzer Motorsport | 6 | 11m13.452s | Retirement |
| - | Alessio Deledda | Campos Racing | 6 | 11m46.183s | Retirement |