DRS could be used for the first time at the Formula 3 Macau Grand Prix this year, pending the final FIA track homologation.
The GP3 Series and European Formula 3 merged to form the new FIA Formula 3 Championship for this year, which has a new single-make formula car that has also been adopted by Macau - announced last month.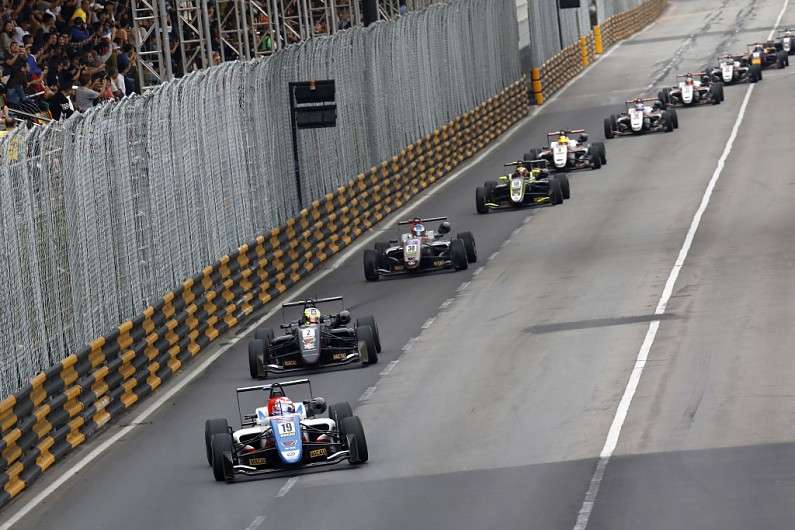 The previous homologation of the track expired at the end of last year, and owing to the higher power-to-weight ratio of the new F3 car, changes will be made to the Macau street track - including to Lisboa corner - to upgrade its homologation.
Changes to the circuit had been discussed to improve safety anyway, after the high-speed crash of Sophia Florsch in last year's Macau Grand Prix.
When asked by Autosport whether DRS would be implemented for the event, a spokesperson for FIA F3 - of which Macau is a non-championship round - said: "This information is pending the final track homologation by the FIA."
The FIA F3 Championship houses 10 teams of 30 cars, following Formula 1 on a similar calendar to that which the GP3 Series did the year before.
The Abu Dhabi race in November, which was the finale of the GP3 Series last year, has been dropped for the 2019 FIA F3 calendar to allow time for teams to prepare for Macau.
The 10 teams that contest the FIA F3 Championship are also set to compete in Macau, as the FIA F3 spokesperson added: "The 10 F3 teams will be racing with three cars each as normal, and the event is limited to 30 cars. So no additional cars or teams."
That means privateers for the Macau Grand Prix will not be able to buy their own car, and will have to hire from one of the current FIA F3 teams if a spot is available.
Last year 28 cars started the Macau Grand Prix.The event takes place on November 14-17 this year.