The new FIA Formula 3 car will compete at Macau in a non-championship event, with track changes to sections such as the iconic Lisboa corner also announced.
The FIA F3 Championship was launched this year and is an amalgamation of the Formula 3 European and GP3 Series championships for 2019.
The move meant the introduction of a new car based on the old GP3 Series car and the new-look championship remained on the F1 support ladder.
Questions regarding the suitability of the new F3 car at Macau were raised, as the new machine is significantly faster in a straight line than its predecessor but changes to the track are scheduled to combat those concerns.
Macau will not be a round of the FIA F3 Championship - which runs the cars - but a statement from the championship stated: "The circuit is undoubtedly one of the most challenging anywhere in the world, and safety remains the top priority for the FIA, with several updates being made ahead of the 2019 edition including the re-profiling of the barriers at Lisboa corner".
The promoters of the event itself had said that they wanted the new F3 car for 2019.

"The FIA F3 World Cup is one of the ultimate tests for young drivers, and we have worked hard to ensure it remains among the most prestigious events on the motorsport calendar," said FIA single-seater commission president Stefano Domenicali.
"We are currently enjoying a hugely competitive and hard-fought FIA Formula 3 Championship season, and the prospect of seeing this impressive grid line up in Macau is very exciting.
"These cars are more powerful than the previous iterations of F3 and have the latest safety features for single-seater machines.
"Couple this with the changes being made to the Guia Circuit this year, and I'm looking forward to a safe and spectacular FIA F3 World Cup."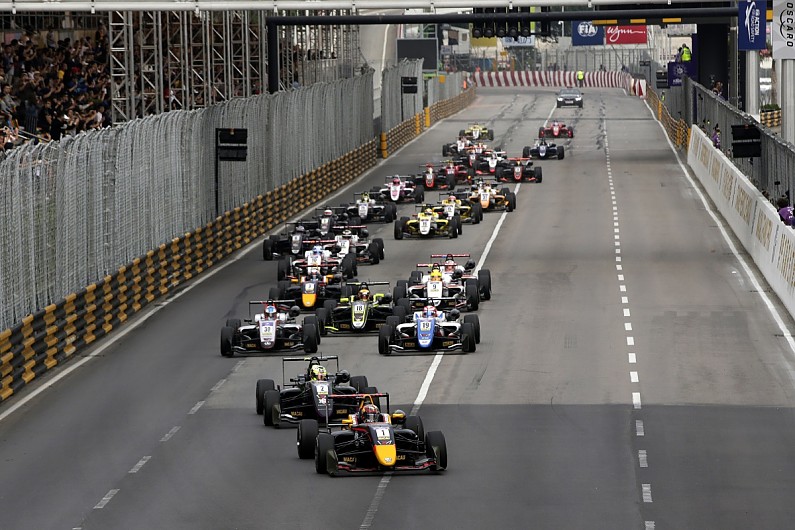 FIA F3 series boss Bruno Michel said: "I am extremely pleased to bring the new generation F3 car to race at such a prestigious and legendary Grand Prix, which is not part of the FIA Formula 3 Championship."
Michel had opened up the opportunity for Macau to run the new car by ending the FIA F3 season in September at Sochi.
That will allow enough time for teams to secure drivers and travel to Macau for the non-championship race, as the previous Abu Dhabi season finale in GP3 could have complicated the logistics.
It has not been announced if the Macau track has been homologated.
Macau's previous homologation ran out at the end of 2018 and it will need an upgrade due to the higher power-to-weight ratio of the new F3 cars.