Red Bull Formula 1 junior Juri Vips says radio issues cost him a podium in the Paul Ricard Formula 3 race, as he didn't hear a penalty had been rescinded.

Vips was fighting with Alex Peroni for seventh in the early stages, when he had to leave the track to avoid Peroni, cutting Turn 9.

Vips gave the place back to Peroni but was penalised by the stewards.
However, in an unusual move, later in the race the penalty was rescinded.

Vips claims he had a radio issue, which meant he didn't hear the team tell him the penalty was void, and that he didn't push to pass Robert Shwartzman and Pedro Piquet in the closing stages, settling instead for fourth.

"They [his Hitech Grand Prix team] told me I had a five-second penalty for leaving the track," Vips told Autosport.

"But the run-off area where you are supposed to pass the bollard was 50-metres behind me.

"I would have to U-Turn, which is ridiculous.

"They took it off [the penalty], and they told me on the radio, but the radio wasn't working.

"I thought until the chequered flag I had a penalty.

"It's a real shame because I had so much more tyre left than Piquet and Shwartzman ahead of me but I didn't attack because I thought I had the penalty. Because of a small radio issue we threw away a certain podium and maybe a second place."
Hughes penalised for Armstrong crash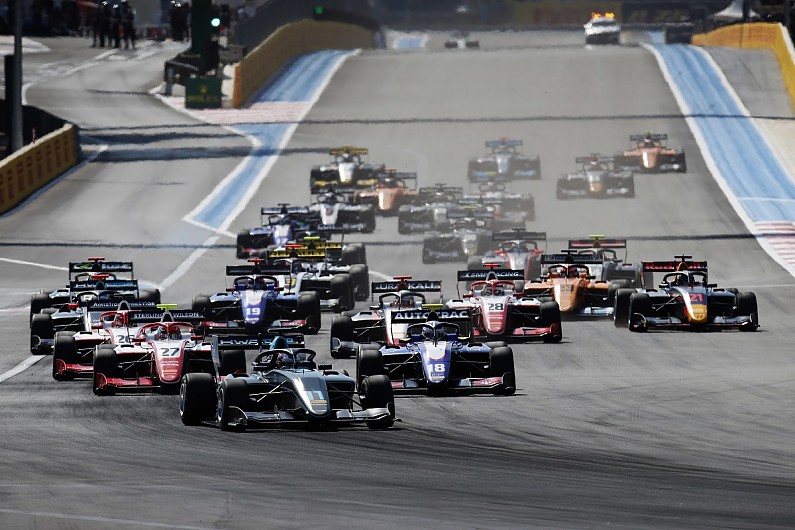 Jake Hughes has been given a three-place grid penalty for causing a collision, the race one Paul Ricard polesitter tagging Prema Racing's Marcus Armstrong at Turn 9 while the pair fought Shwartzman for second.

"I just measured myself to Robert, I braked just after him and was completely under control," Hughes told Autosport, after giving HWA its first junior single-seater pole on Friday.

"I was going wide but making the corner.

"At the last second I saw Marcus turn in and it was too late.

"It's a horrible feeling because it looks so rookie.

"In hindsight, I should have backed out. It's my mistakes. Sorry to the team. We should have scored some good points today."

When asked about the incident by Autosport, Armstrong replied: "I don't believe I did anything wrong.

"If I was in his place, I wouldn't have braked that late. There's a lot of marbles there, and with that entry angle to the corner it's never going to work.

"I'm cool with Jake and he's already apologised to me."

Armstrong limped home to sixth while the clash put Hughes out of the race and he was also handed two penalty points on his licence.
As well as Hughes, pre-season title favourite and Hitech Grand Prix driver Leo Pulcini has also been penalised.
He has received a five-place grid drop for the next race, and three points on his licence, after he was deemed to have caused a collision at Turn 1 with Teppei Natori of Carlin at the beginning of the race.
MP Motorsport's Simo Laaksonen was another to receive a five-place grid penalty as it was ruled he caused contact with Sauber Junior Team's Lirim Zendeli at Turn 8.