FIA Formula 3 Championship teams could try to persuade the series to use qualifying groups to avoid congested qualifying sessions, Autosport has learned.
The new series - a merge of the European Formula 3 Championship and the GP3 Series - kicked off at Barcelona last weekend, with 30 cars on the grid for the new series.
It featured a standard qualifying session, with all cars free to lap at any time during the half-hour.

The verdict on the start of the FIA F3 era
However, most teams stuck to the standard GP3 strategy of one or two flying laps and as many cool down laps, pitting to digest data before sending drivers back out for one or two final flying efforts towards the end of the session.
Prema Racing was one of a small number of teams to try an alternate strategy, running in the mid-session gap where its Ferrari- and SMP Racing-backed driver Robert Shwartzman shot to the top of the leaderboard with a lap in clean air while others debriefed in the pits.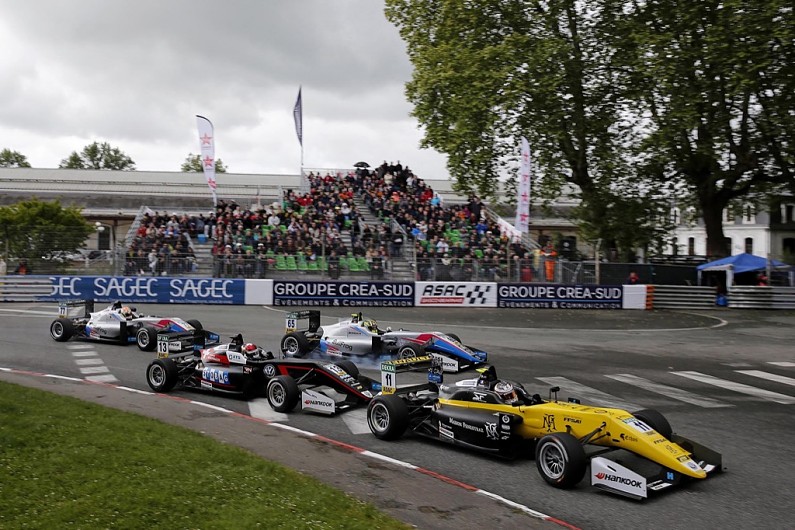 Both European Formula 3 and the Formula Renault Eurocup implemented qualifying groups in recent years, especially at circuits like Pau (pictured above) and the Norisring where track space is at a premium.
While FIA Formula 3 does not run at either of those tracks, teams have pointed to the Hungaroring and Red Bull Ring as circuits that could cause traffic issues.
Hitech GP's drivers struggle in qualifying, particularly Red Bull-backed Juri Vips who was baulked on his last lap in qualifying - as many other drivers improved their laps - and had to start from 11th. He advanced to fifth in race one.
Team boss Oliver Oakes told Autosport: "The difficult thing for the rest of the year is going to be qualifying, with 30 cars on track.
"There's talk from other teams that groups could be used in the future and I think that could be a good thing, we do want to make sure the right drivers start at the front."
A number of other teams confirmed to Autosport that they would be in favour of a grouped system for congested tracks.
FIA F3 organisers declined to comment.