Formula 3 racer Sophia Florsch has sustained a spinal fracture as a result of her horrific accident in the Macau Grand Prix.
A medical report issued by the Macau organisers states that the 17-year-old German was complaining of back pain, but that her vital signs are stable.
Florsch hit the back of 15th-placed Jehan Daruvala on the flat-out run to Lisboa, and sustained damage to her Van Amersfoort Racing Dallara-Mercedes in the impact.
She hurtled out of control, and got launched over the inside kerb at Lisboa into the TOM'S Dallara-Toyota of Sho Tsuboi.
The impact fired her over the barrier and through the catch fencing into an area occupied by marshals and photographers.
The speed-trap figure before the Lisboa braking area shows that she was at 276.2km/h (171.6mph).
Tsuboi's diagnosis from hospital is 'lumbar pain for future examination'.

One marshal, Chan Cha In, suffered a laceration of the face, abrasion of his upper abdomen wall and a fractured jaw.
Photographer Chan Weng Wang was diagnosed with a liver laceration and is being observed in hospital, and fellow photographer Hiroyuki Minami suffered concussion and will also be observed.
Ferrari junior Guan Yu Zhou, who was following Florsch at the time of the accident, explained that it was due to yellow caution lights flashing on the straight.
The incident happened just after a restart following an early safety car.
"First of all it was such a scary moment," said the Prema Powerteam driver, who was making his way through the pack after a crash in the qualification race and an engine change relegated him to 28th and last on the grid.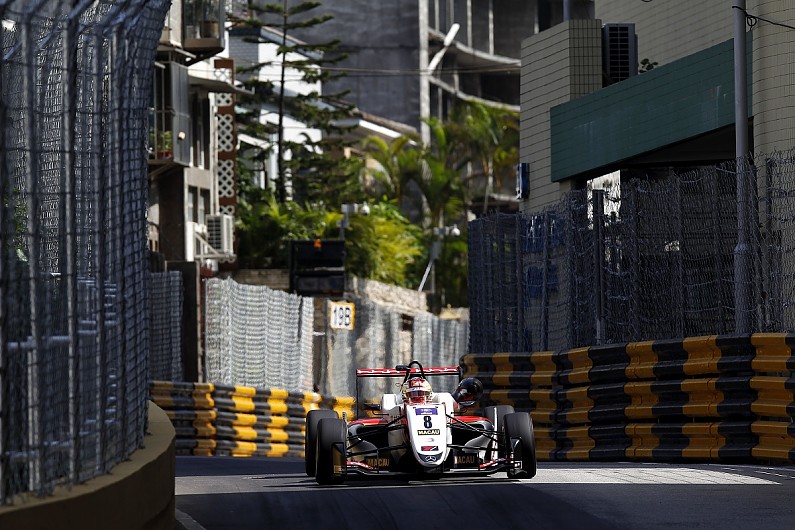 "Coming after Mandarin [the preceding right-hand kink], I saw the yellow, but I think it was just a mistake by the organisers' station.
"Sophia was really close to Jehan, so when Jehan braked early she had no time to react.
"She hit Jehan's right-rear, and that spun her around straight into Lisboa, and she flew into the other car.
"I just hope she's OK."
Florsch's team boss Frits van Amersfoort told Autosport that she had been accompanied to hospital by her father Alexander.
"We have to thank the angels she had with her today, and for the fantastic strength of the Dallara car," said van Amersfoort.
Florsch took to Twitter after the incident to confirm she was "fine" and will undergo surgery on Monday.