Joel Eriksson will start both of Sunday's Formula 3 European Championship races at the Red Bull Ring from pole, with Lando Norris joining him on the front row for both.
BMW junior Eriksson looked utterly supreme for most of the session, driving his Motopark Dallara-Volkswagen with great flair, and as the chequered flag flew he had set three laps quicker than points leader Norris's best.
But although McLaren Formula 1 junior Norris pulled a great lap out of the bag right at the end, the Carlin driver fell short of Eriksson's 1m23.431s best by just 0.003 seconds.
Even if Norris had pipped Eriksson, the Swede would have grabbed pole for the third race - set by second-fastest times - owing to his other quick laps.
"It [the overall fastest] was a bloody good lap actually," Eriksson said afterwards.
"Everything was spot-on, and there was a good peak in the tyre.
"In the race this morning we had some issues in sector two and we've fixed it, and directly I felt much more confident.
"I started pushing, got to a 23.4, and thought, 'shit, it's not going to get any better than that', and then I did another to get as close as possible - everything was perfect."
Norris, who reported that the handling issues that held him back on Friday were sorted by the first race - won by Callum Ilott - felt that earlier in the session he was pushing his entry speeds into the slow corners too much, compromising his exits.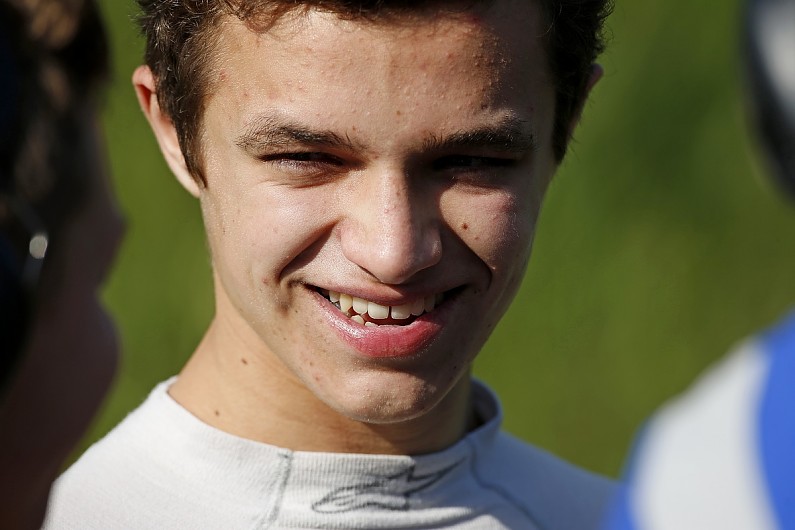 "It was just a case of getting better exits and gaining more and more down the straights," he said.
"It felt really good, and compared to yesterday it was a good improvement."
Ilott got bumped off the front row late in the session by Norris, and then his Prema Powerteam-run car was demoted on the last lap by Hitech GP's Nikita Mazepin.
Mazepin's second-best lap was good enough for fourth on the grid for race three, behind Ilott, in one of the Russian's best sessions to date.
Carlin's Force India F1 protege Jehan Daruvala (another driver to improve on the last lap) and Hitech's Jake Hughes were fifth and sixth overall, but slip to fifth-row positions for race three on second-best times.
Another Hitech driver, Ralf Aron, also went quicker at the last gasp to take seventh, and starts fifth for the finale, while Carlin's Ferdinand Habsburg is on the fourth row for both races on his home ground.
Maximilian Gunther looked spectacular on-track again but it was a bad session for Norris's closest title challenger, as the Prema-run German driver took ninth overall but improves to sixth on the grid for race three.
Gunther is 70 points adrift of Norris, and needs to prevent the Briton outscoring him by five points in Sunday's two races to take the title to the Hockenheim finale.
Prema's Ferrari junior Guan Yu Zhou and Hitech's Honda protege Tadasuke Makino each took a top-10 slot, 10th for race two and eighth for race three respectively.
Race two starting grid
| Pos | Driver | Team | Car | Gap |
| --- | --- | --- | --- | --- |
| 1 | Joel Eriksson | Motopark | Dallara/Volkswagen | 1m23.431s |
| 2 | Lando Norris | Carlin | Dallara/Volkswagen | 0.003s |
| 3 | Nikita Mazepin | Hitech GP | Dallara/Mercedes | 0.253s |
| 4 | Callum Ilott | Prema Powerteam | Dallara/Mercedes | 0.300s |
| 5 | Jehan Daruvala | Carlin | Dallara/Volkswagen | 0.317s |
| 6 | Jake Hughes | Hitech GP | Dallara/Mercedes | 0.336s |
| 7 | Ralf Aron | Hitech GP | Dallara/Mercedes | 0.339s |
| 8 | Ferdinand Habsburg | Carlin | Dallara/Volkswagen | 0.349s |
| 9 | Maximilian Guenther | Prema Powerteam | Dallara/Mercedes | 0.395s |
| 10 | Guanyu Zhou | Prema Powerteam | Dallara/Mercedes | 0.398s |
| 11 | Tadasuke Makino | Hitech GP | Dallara/Mercedes | 0.481s |
| 12 | Mick Schumacher | Prema Powerteam | Dallara/Mercedes | 0.487s |
| 13 | Joey Mawson | Van Amersfoort Racing | Dallara/Mercedes | 0.503s |
| 14 | Harrison Newey | Van Amersfoort Racing | Dallara/Mercedes | 0.509s |
| 15 | Pedro Piquet | Van Amersfoort Racing | Dallara/Mercedes | 0.529s |
| 16 | David Beckmann | Motopark | Dallara/Volkswagen | 0.616s |
| 17 | Marino Sato | Motopark | Dallara/Volkswagen | 0.629s |
| 18 | Devlin Defrancesco | Carlin | Dallara/Volkswagen | 0.890s |
| 19 | Keyvan Andres | Motopark | Dallara/Volkswagen | 0.976s |
| 20 | Petru Florescu | Motopark | Dallara/Volkswagen | 1.428s |
Race three starting grid
| Pos | Driver | Team | Car | Gap |
| --- | --- | --- | --- | --- |
| 1 | Joel Eriksson | Motopark | Dallara/Volkswagen | 1m23.545s |
| 2 | Lando Norris | Carlin | Dallara/Volkswagen | 0.105s |
| 3 | Callum Ilott | Prema Powerteam | Dallara/Mercedes | 0.211s |
| 4 | Nikita Mazepin | Hitech GP | Dallara/Mercedes | 0.236s |
| 5 | Ralf Aron | Hitech GP | Dallara/Mercedes | 0.296s |
| 6 | Maximilian Guenther | Prema Powerteam | Dallara/Mercedes | 0.333s |
| 7 | Ferdinand Habsburg | Carlin | Dallara/Volkswagen | 0.344s |
| 8 | Tadasuke Makino | Hitech GP | Dallara/Mercedes | 0.371s |
| 9 | Jehan Daruvala | Carlin | Dallara/Volkswagen | 0.373s |
| 10 | Jake Hughes | Hitech GP | Dallara/Mercedes | 0.386s |
| 11 | Joey Mawson | Van Amersfoort Racing | Dallara/Mercedes | 0.439s |
| 12 | Harrison Newey | Van Amersfoort Racing | Dallara/Mercedes | 0.447s |
| 13 | Guanyu Zhou | Prema Powerteam | Dallara/Mercedes | 0.497s |
| 14 | Pedro Piquet | Van Amersfoort Racing | Dallara/Mercedes | 0.549s |
| 15 | David Beckmann | Motopark | Dallara/Volkswagen | 0.552s |
| 16 | Mick Schumacher | Prema Powerteam | Dallara/Mercedes | 0.583s |
| 17 | Marino Sato | Motopark | Dallara/Volkswagen | 0.614s |
| 18 | Devlin Defrancesco | Carlin | Dallara/Volkswagen | 0.860s |
| 19 | Keyvan Andres | Motopark | Dallara/Volkswagen | 0.916s |
| 20 | Petru Florescu | Motopark | Dallara/Volkswagen | 1.502s |