New signings by Van Amersfoort Racing and Motopark will bring the Formula 3 European Championship grid up to a season-high 22 cars at the Nurburgring this weekend.
Formula Renault Eurocup frontrunner Max Defourny will make his F3 European Championship race debut with VAR in a one-off outing.
The 18-year-old Belgian lies fourth in the Eurocup points this season and finished third in the same series in 2016.
Defourny - who also finished runner-up to Lando Norris in last year's FRenault NEC standings - was linked with a graduation to F3 for 2017, only to complete a late deal to remain in the junior category.
He tested one of VAR's F3 Dallara-Mercedes at Brno in July before taking part in the official test at Spa, which was affected by rain.
"Of course I am really happy to be here this weekend, and have the opportunity to drive at the Nurburgring with Van Amersfoort Racing," said Defourny.
"We will obviously do our best on both sides to get the best out of it and see what it holds up for the future - of course a big thanks to the team."
Defourny will join Joey Mawson, Harrison Newey and Pedro Piquet in the line-up, occupying VAR's fourth seat, which was vacated in June when David Beckmann quit the team to join Motopark.
Florescu joins Motopark for rest of season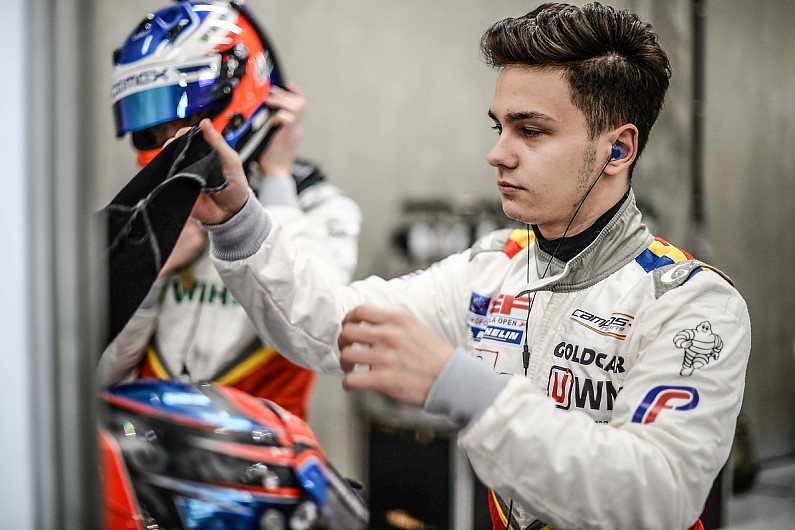 British Formula 4 Championship race winner Petru Florescu has joined Motopark for the remainder of the F3 European Championship, starting this weekend at the Nurburgring.
The 18-year-old Romanian led the British F4 points last season before fading during the second half of the season.
He graduated to Euroformula Open, the Spanish-run series using current-spec Dallara F3 chassis, for 2017 and was eighth in the standings before quitting the drive to refocus on Euro F3.
Florescu's programme in the fifth of Motopark's Dallara-Volkswagens is in preparation for a planned full campaign in the series in 2018.
Team boss Timo Rumpfkeil said: "Racing with us is ideal preparation for the 2018 season - our goal is to teach him as much as possible during the three upcoming race events to give him an advantage for next season.
"Petru did one of his first tests ever in a formula car with us back in winter 2013 in Valencia - ever since we kept in contact and I'm very happy that he gives us the trust to support him in one of the most important steps in his career."
Motopark, like Carlin - which brings Sacha Fenestraz into its line-up for this weekend - has taken advantage of the FIA relaxing its four-cars-per-team rule.