British teenager Dan Ticktum looks set to end his 12-month ban from motorsport by contesting the Macau Grand Prix.
The 17-year-old, who had his licence suspended for a year after an incident in the penultimate round of the 2015 MSA Formula series (now British Formula 4) last September, is aiming to contest the Far East Formula 3 classic this November with Double R Racing.
Ticktum has already completed several days in private test sessions - for which a licence is not required - with Double R, predominantly at Pembrey.
Some of these have been alongside Spa 24 Hours winner Alexander Sims, who finished on the podium in Macau last year with Double R and who looks likely to join Ticktum in the Woking squad's 2016 attack.
Team boss Anthony Hieatt told Autosport: "It's a really exciting line-up.
"Dan is bloody rapid and I've got a lot of respect for his driving in the F3 car.
"He's proper old-school - he just gets in the car and rags the shit out of it, and as soon as we ran him I knew we had to have him for Macau."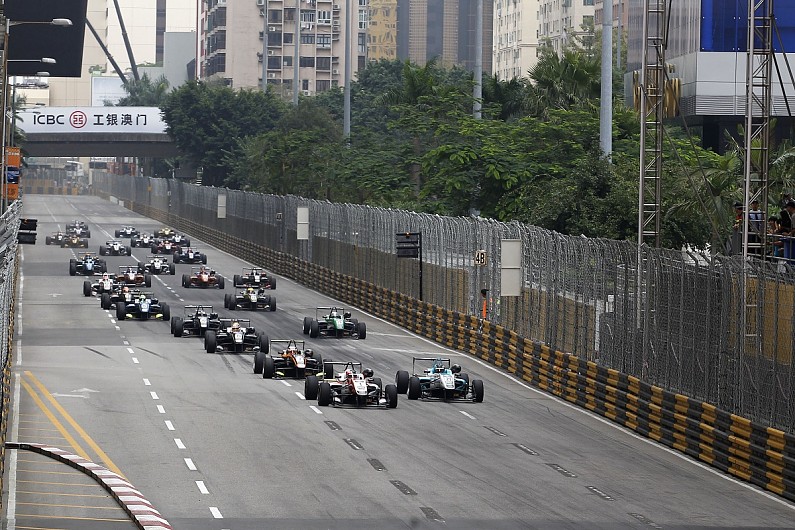 Ticktum would have to contest two F3 races in order to qualify for Macau after his ban ends - Autosport understands it is most likely this would be the MSV F3 round at Snetterton on October 8-9.
Sims would also have to squeeze in an F3 outing, as drivers must have competed in the category during the current calendar year.
RANDLE JOINS FOR DOUBLE R COMEBACK
BRDC British F3 title contender Tom Randle will contest his first FIA-spec F3 event in this weekend's Masters at Zandvoort as Double R returns to the category.
The team has sat out this season's F3 European Championship after it was unable to attract drivers, but it will field a Dallara-Mercedes for the 20-year-old Australian, who lies third in the British F3 points.
While Randle has never driven a Double R car, he did test with T-Sport's Euro F3 team at Valencia last winter.
"T-Sport told me he was a good kid," said Hieatt.
"I want to be back in European F3 next year and it's always good to support the Masters, especially when F3 is stuttering.
"It also qualifies him for Macau, although whether that is with us or someone else I don't know.
"Tom's a good punter, but it will be difficult because he'll have to learn Zandvoort - if he gets a top-10 I'll be well chuffed."
The Masters of F3 entry list is confirmed as 16 cars, with Callum Ilott and Anthoine Hubert (Van Amersfoort Racing), Joel Eriksson and Sergio Sette Camara (Motopark) and GP3 Series runner-up Alexander Albon (Hitech GP) the likely leading contenders.