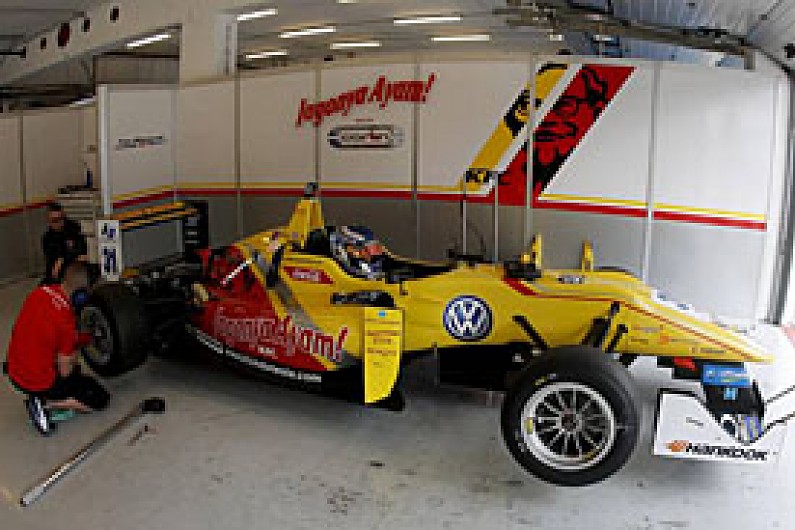 Tom Blomqvist struck back for the experienced racers by beating a trio of rookies to the first Formula 3 European Championship pole position of the season at Silverstone.
It was the maiden pole in the series for third-year Blomqvist, whose F3 career was saved this season by his selection for the Indonesian-backed Jagonya Ayam scheme, which has placed three drivers with Carlin's team of Dallara-Volkswagens for 2014.
"It feels bloody good to be honest," said the New Zealand-raised Anglo-Swede. "We lacked a bit of straight-line speed in free practice so we went low on downforce, and the car was really good.
"You only get two laps here with the tyres at their peak and I like that - it helped me out and it was a pretty tidy lap."
Newcomers Esteban Ocon, Antonio Fuoco and Max Verstappen, who stole the thunder in free practice this morning, ended up second, third and fourth respectively.
Lotus-backed Ocon was frustrated to lose out on pole by just 0.002 seconds in his Prema Powerteam Dallara-Mercedes.
The Frenchman pointed to his own mistakes in setting a lap time three tenths slower than his theoretical best.
His Prema team-mate Fuoco, a Ferrari protege, was a mere 0.051s down on pole and said he lost time with a slide on rubber from World Endurance Championship practice at the Brooklands left-hander.
Meanwhile, Verstappen continued his own eye-catching debut weekend by ending up 0.075s off pole in his Van Amersfoort Racing Dallara-Volkswagen.
Next up was a debuting team in fifth place, with West-Tec's Felix Serralles heading Carlin runners Jordan King and Ed Jones.
Prema duo Nicholas Latifi and Dennis van de Laar claimed eighth and ninth spots, with Lucas Auer the best of the Mucke Motorsport contingent in 10th.
Four places further back from Auer was his team-mate, pre-season title favourite Felix Rosenqvist, who had engine problems in free practice and felt the car was lacking speed in qualifying.
This qualifying session sets the grid for race one, with second qualifying later this afternoon forming the order for the second and third races.
Pos Driver               Car                                 Time       Gap
 1. Tom Blomqvist        Carlin Dallara-VW                   1m51.327s           
 2. Esteban Ocon         Prema Dallara-Mercedes              1m51.329s  +0.002s  
 3. Antonio Fuoco        Prema Dallara-Mercedes              1m51.378s  +0.051s  
 4. Max Verstappen       Van Amersfoort Dallara-VW           1m51.402s  +0.075s  
 5. Felix Serralles      West-Tec Dallara-Mercedes           1m51.795s  +0.468s  
 6. Jordan King          Carlin Dallara-VW                   1m51.808s  +0.481s  
 7. Ed Jones             Carlin Dallara-VW                   1m51.848s  +0.521s  
 8. Nicholas Latifi      Prema Dallara-Mercedes              1m51.909s  +0.582s  
 9. Dennis van de Laar   Prema Dallara-Mercedes              1m51.951s  +0.624s  
10. Lucas Auer           Mucke Dallara-Mercedes              1m51.987s  +0.660s  
11. Spike Goddard        T-Sport Dallara-NBE                 1m52.034s  +0.707s  
12. Antonio Giovinazzi   Carlin Dallara-VW                   1m52.146s  +0.819s  
13. Felipe Guimaraes     Double R Dallara-Mercedes           1m52.166s  +0.839s  
14. Felix Rosenqvist     Mucke Dallara-Mercedes              1m52.263s  +0.936s  
15. Jake Dennis          Carlin Dallara-VW                   1m52.337s  +1.010s  
16. Riccardo Agostini    EuroInternational Dallara-Mercedes  1m52.350s  +1.023s  
17. Mitch Gilbert        Fortec Dallara-Mercedes             1m52.365s  +1.038s  
18. Gustavo Menezes      Van Amersfoort Dallara-VW           1m52.372s  +1.045s  
19. John Bryant-Meisner  Fortec Dallara-Mercedes             1m52.392s  +1.065s  
20. Sean Gelael          Carlin Dallara-VW                   1m52.525s  +1.198s  
21. Alexander Toril      T-Sport Dallara-NBE                 1m52.550s  +1.223s  
22. Jules Szymkowiak     Van Amersfoort Dallara-VW           1m52.711s  +1.384s  
23. Roy Nissany          Mucke Dallara-Mercedes              1m52.769s  +1.442s  
24. Hector Hurst         West-Tec Dallara-Mercedes           1m52.883s  +1.556s  
25. Michele Beretta      EuroInternational Dallara-Mercedes  1m53.217s  +1.890s  
26. Tatiana Calderon     Jo Zeller Dallara-Mercedes          1m53.311s  +1.984s