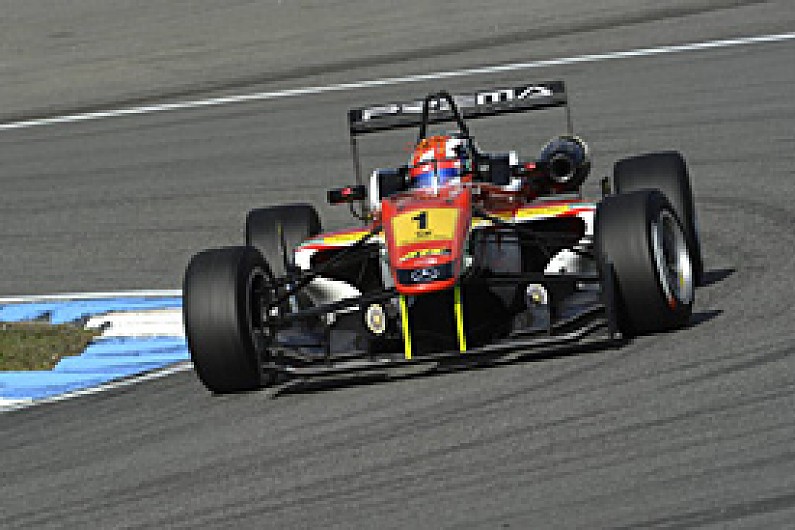 Ferrari protege Raffaele Marciello stole a decisive march on Felix Rosenqvist in the fight for the Formula 3 European Championship by taking a double pole position for the season finale at Hockenheim.
Prema Powerteam driver Marciello was languishing in fifth place in the first session with a minute to go, but dug deep for a 1m33.778s lap to usurp Rosenqvist by 0.090s.
Prior to Marciello's lap, the top five drivers had been separated by less than a tenth of a second.
Marciello also topped the second twenty-minute session with a 1m33.495s lap in his Dallara-Mercedes, and added second place on the race-two grid, which is based on second-fastest Q1 times.
Mucke Motorsport driver Rosenqvist, who is 45.5 points behind Marciello in the championship with 75 on offer this weekend, added to his pair of front-row starts with pole for race two.
Behind the title contenders, Carlin's Harry Tincknell was the star performer. The Briton took a pair of thirds and a fourth in the best of the Volkswagen-engined cars.
Prema's Alex Lynn beat him to third on the race-two grid and added a fourth for race one. But he will start only 20th in Sunday's final race after going off at the entrance to the stadium section and damaging the floor of his car.
Double R driver Antonio Giovinazzi had easily his best qualifying session of the year, the young Italian netting a trio of top-eight starting spots including a career-best sixth for race two.
The Dutch Van Amersfoort Racing team was also strong, especially in Q1 as Sven Muller and Dennis van de Laar took seventh and eighth.
Nick Cassidy, who is standing in for Daniil Kvyat at Carlin this weekend, and making his first F3 appearance since the Norisring in July, was an excellent sixth on the grid for race three.
Stefano Coletti, whose Ma-con car was repaired after a puncture-induced trip into the gravel during practice, will start 24th, 25th and 28th for his return weekend to F3 competition after four years away.

Race one grid:

Pos Driver               Team/Car                        Time        Gap  
 1. Raffaele Marciello   Prema Dallara-Merc              1m33.778s        
 2. Felix Rosenqvist     Mucke Dallara-Merc              1m33.868s  +0.090s
 3. Harry Tincknell      Carlin Dallara-VW               1m33.928s  +0.150s
 4. Alex Lynn            Prema Dallara-Merc              1m33.943s  +0.165s
 5. Lucas Auer           Prema Dallara-Merc              1m33.981s  +0.203s
 6. Sven Muller          Van Amersfoort Dallara-VW       1m34.106s  +0.328s
 7. Dennis van de Laar   Van Amersfoort Dallara-VW       1m34.115s  +0.337s
 8. Antonio Giovinazzi   Double R Dallara-Merc           1m34.124s  +0.346s
 9. Kevin Korjus         T-Sport Dallara-Nissan          1m34.213s  +0.435s
10. Jordan King          Carlin Dallara-VW               1m34.260s  +0.482s
11. Eddie Cheever        Prema Dallara-Merc              1m34.274s  +0.496s
12. Felix Serralles      Fortec Dallara-Merc             1m34.450s  +0.672s
13. Pipo Derani          Fortec Dallara-Merc             1m34.506s  +0.728s
14. John Bryant-Meisner  Fortec Dallara-Merc             1m34.540s  +0.762s
15. Nick Cassidy         Carlin Dallara-VW               1m34.560s  +0.782s
16. Tom Blomqvist        Eurointernational Dallara-Merc  1m34.592s  +0.814s
17. Jann Mardenborough   Carlin Dallara-VW               1m34.663s  +0.885s
18. Nicholas Latifi      Carlin Dallara-VW               1m34.700s  +0.922s
19. Mitchell Gilbert     Mucke Dallara-Merc              1m34.708s  +0.930s
20. Michael Lewis        Mucke Dallara-Merc              1m34.753s  +0.975s
21. Roy Nissany          Mucke Dallara-Merc              1m34.841s  +1.063s
22. Lucas Wolf           URD Dallara-Merc                1m34.924s  +1.146s
23. Sean Gelael          Double R Dallara-Merc           1m35.141s  +1.363s
24. Stefano Coletti      Ma-con Dallara-VW               1m35.224s  +1.446s
25. Andre Rudersdorf     Ma-con Dallara-VW               1m35.321s  +1.543s
26. Spike Goddard        T-Sport Dallara-Nissan          1m35.362s  +1.584s
27. Sandro Zeller        Zeller Dallara-Merc             1m35.480s  +1.702s
28. Tatiana Calderon     Double R Dallara-Merc           1m35.808s  +2.030s


Race two grid:

Pos Driver               Team/Car                        Time        Gap 
 1. Felix Rosenqvist     Mucke Dallara-Merc              1m33.937s        
 2. Raffaele Marciello   Prema Dallara-Merc              1m34.018s  +0.081s
 3. Alex Lynn            Prema Dallara-Merc              1m34.028s  +0.091s
 4. Harry Tincknell      Carlin Dallara-VW               1m34.045s  +0.108s
 5. Lucas Auer           Prema Dallara-Merc              1m34.059s  +0.122s
 6. Antonio Giovinazzi   Double R Dallara-Merc           1m34.176s  +0.239s
 7. Sven Muller          Van Amersfoort Dallara-VW       1m34.228s  +0.291s
 8. Jordan King          Carlin Dallara-VW               1m34.372s  +0.435s
 9. Dennis van de Laar   Van Amersfoort Dallara-VW       1m34.380s  +0.443s
10. Kevin Korjus         T-Sport Dallara-Nissan          1m34.390s  +0.453s
11. Eddie Cheever        Prema Dallara-Merc              1m34.399s  +0.462s
12. Felix Serralles      Fortec Dallara-Merc             1m34.484s  +0.547s
13. Luis Felipe Derani   Fortec Dallara-Merc             1m34.526s  +0.589s
14. Tom Blomqvist        Eurointernational Dallara-Merc  1m34.653s  +0.716s
15. Nick Cassidy         Carlin Dallara-VW               1m34.673s  +0.736s
16. John Bryant-Meisner  Fortec Dallara-Merc             1m34.748s  +0.811s
17. Nicholas Latifi      Carlin Dallara-VW               1m34.801s  +0.864s
18. Mitchell Gilbert     Mucke Dallara-Merc              1m34.814s  +0.877s
19. Michael Lewis        Mucke Dallara-Merc              1m34.868s  +0.931s
20. Jann Mardenborough   Carlin Dallara-VW               1m34.883s  +0.946s
21. Roy Nissany          Mucke Dallara-Merc              1m34.934s  +0.997s
22. Sean Gelael          Double R Dallara-Merc           1m35.233s  +1.296s
23. Lucas Wolf           URD Dallara-Merc                1m35.430s  +1.493s
24. Sandro Zeller        Zeller Dallara-Merc             1m35.558s  +1.621s
25. Stefano Coletti      Ma-con Dallara-VW               1m35.679s  +1.742s
26. Richard Goddard      T-Sport Dallara-Nissan          1m35.710s  +1.773s
27. Tatiana Calderon     Double R Dallara-Merc           1m35.852s  +1.915s
28. Andre Rudersdorf     Ma-con Dallara-VW               1m36.145s  +2.208s


Race three grid:

Pos Driver               Team/Car                        Time        Gap  
 1. Raffaele Marciello   Prema Dallara-Merc              1m33.495s         
 2. Felix Rosenqvist     Mucke Dallara-Merc              1m33.563s  +0.068s
 3. Harry Tincknell      Carlin Dallara-VW               1m33.680s  +0.185s
 4. Lucas Auer           Prema Dallara-Merc              1m33.682s  +0.187s
 5. Jordan King          Prema Dallara-Merc              1m33.831s  +0.336s
 6. Nick Cassidy         Carlin Dallara-VW               1m33.834s  +0.339s
 7. Antonio Giovinazzi   Double R Dallara-Merc           1m33.864s  +0.369s
 8. Felix Serralles      Fortec Dallara-Merc             1m33.896s  +0.401s
 9. Tom Blomqvist        Eurointernational Dallara-Merc  1m33.935s  +0.440s
10. Eddie Cheever        Prema Dallara-Merc              1m33.967s  +0.472s
11. Nicholas Latifi      Carlin Dallara-VW               1m33.968s  +0.473s
12. Luis Felipe Derani   Fortec Dallara-Merc             1m34.034s  +0.539s
13. Sven Muller          Van Amersfoort Dallara-VW       1m34.092s  +0.597s
14. John Bryant-Meisner  Fortec Dallara-Merc             1m34.100s  +0.605s
15. Dennis van de Laar   Van Amersfoort Dallara-VW       1m34.198s  +0.703s
16. Michael Lewis        Mucke Dallara-Merc              1m34.310s  +0.815s
17. Mitchell Gilbert     Mucke Dallara-Merc              1m34.384s  +0.889s
18. Jann Mardenborough   Carlin Dallara-VW               1m34.399s  +0.904s
19. Lucas Wolf           URD Dallara-Merc                1m34.486s  +0.991s
20. Alex Lynn            Prema Dallara-Merc              1m34.489s  +0.994s
21. Kevin Korjus         T-Sport Dallara-Nissan          1m34.499s  +1.004s
22. Andre Rudersdorf     Ma-con Dallara-VW               1m34.512s  +1.017s
23. Roy Nissany          Mucke Dallara-Merc              1m34.530s  +1.035s
24. Richard Goddard      T-Sport Dallara-Nissan          1m35.012s  +1.517s
25. Sean Gelael          Double R Dallara-Merc           1m35.138s  +1.643s
26. Tatiana Calderon     Double R Dallara-Merc           1m35.164s  +1.669s
27. Sandro Zeller        Zeller Dallara-Merc             1m35.321s  +1.826s
28. Stefano Coletti      Ma-con Dallara-VW               1m35.753s  +2.258s