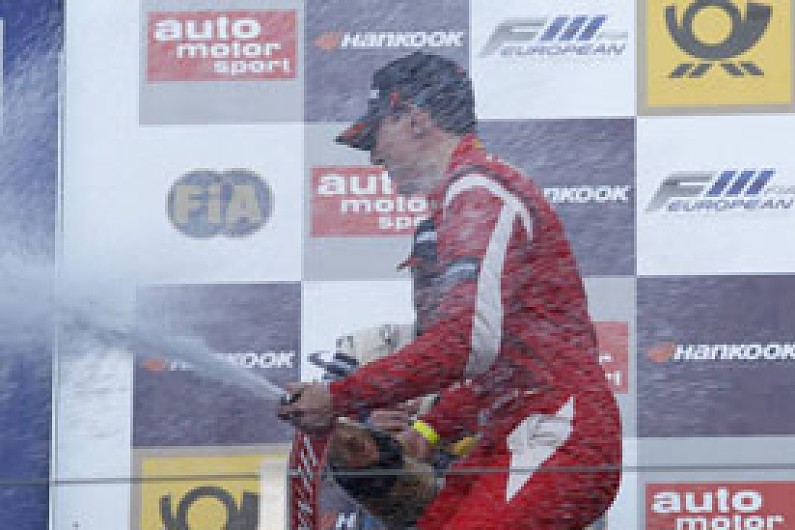 Raffaele Marciello swept to victory in the third and final race of the Formula 3 European Championship weekend at Vallelunga.
While the Italian had to endure a battle on the first lap with Pipo Derani, title rival Felix Rosenqvist fought through from 13th to sixth.
That means Marciello leads the Swede by 45.5 points, with 75 available going into next weekend's Hockenheim finale.
Derani swept past Marciello with a tyre-smoking manoeuvre into the first braking point, the Cimini curve, so the Ferrari protege had to rapidly reassert himself at the next corner.
Derani claimed that this was after the safety car boards appeared for an accident between Sean Gelael and Lucas Wolf, who went flying off the road at the kink on the way down to Cimini.
But Marciello said: "After I overtook him I saw the safety car board. I asked Rene [Rosin, Prema team manager] if I had to give the position back to Pipo, he went to the stewards and they said it was all OK."
A strong restart from Marciello then allowed him to open a cushion to Derani.
Although the Fortec Motorsport-run Brazilian kept the gap to the Prema Powerteam machine of Marciello within two seconds for a few laps, the leader began to really extend the advantage in the middle of the race.
An early fight for third place between Felix Serralles and Alex Lynn, after Lynn had passed Alexander Sims, resulted in light contact between the pair, allowing Sims to slip back ahead of both.
The delayed Serralles was then knocked into a spin at the next corner by Lucas Auer, who in fairness seemed to have nowhere to go, effectively ending both men's races.
Sven Muller took advantage to slip into fourth, but he dropped out a couple of laps later, promoting Lynn back into the position.
He was never a threat to the T-Sport Dallara-Nissan of Sims though, who was the only man to feature on all three podiums this weekend.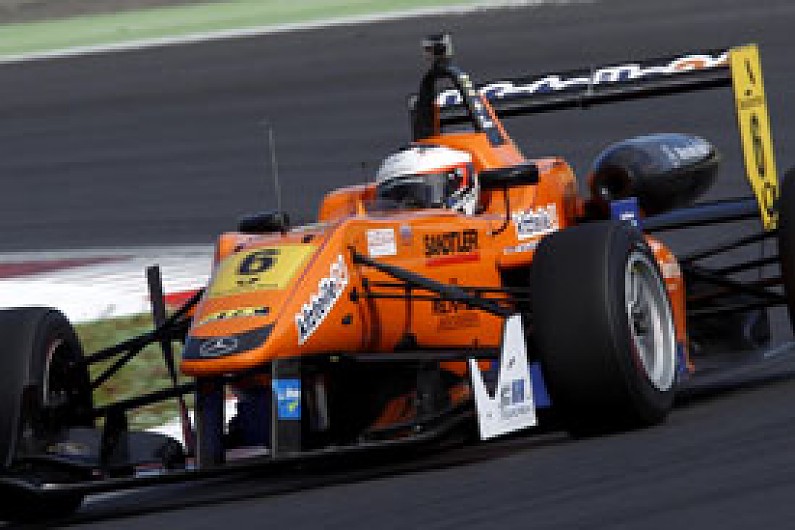 Rosenqvist moved smartly through all the drama ahead to grab sixth.
He challenged Jordan King briefly for fifth, and there was light contact between the pair before the Englishman held on.
Daniil Kvyat and Harry Tincknell made it three Carlin drivers in the top eight, with Dennis van de Laar and Michael Lewis rounding out the top 10.
With Kvyat unregistered for points, Jann Mardenborough scored the final point after winning his fight with Mitchell Gilbert.
Results - 22 laps:

Pos  Driver              Team/Car                          Time/Gap
 1.  Raffaele Marciello  Prema Dallara-Merc              35m18.375s
 2.  Pipo Derani         Fortec Dallara-Merc                +3.955s
 3.  Alexander Sims      T-Sport Dallara-Nissan             +4.696s
 4.  Alex Lynn           Prema Dallara-Merc                 +6.849s
 5.  Jordan King         Carlin Dallara-VW                 +15.901s
 6.  Felix Rosenqvist    Mucke Dallara-Merc                +16.788s
 7.  Daniil Kvyat        Carlin Dallara-VW                 +19.801s
 8.  Harry Tincknell     Carlin Dallara-VW                 +23.079s
 9.  Dennis van de Laar  Van Amersfoort Dallara-VW         +23.630s
10.  Michael Lewis       Mucke Dallara-Merc                +25.105s
11.  Jann Mardenborough  Carlin Dallara-VW                 +26.789s
12.  Mitchell Gilbert    Mucke Dallara-Merc                +29.266s
13.  Antonio Giovinazzi  Double R Dallara-Merc             +29.832s
14.  Tom Blomqvist       Eurointernational Dallara-Merc    +31.879s
15.  Spike Goddard       T-Sport Dallara-Nissan            +32.661s
16.  John Bryant-Meisner Fortec Dallara-Merc               +33.342s
17.  Roy Nissany         Mucke Dallara-Merc                +34.867s
18.  Sandro Zeller       Zeller Dallara-Merc               +36.118s
19.  Andre Rudersdorf    Ma-con Dallara-VW                 +36.905s
20.  Tatiana Calderon    Double R Dallara-Merc             +43.662s

Retirements:

     Lucas Auer          Prema Dallara-Merc                 11 laps
     Sven Muller         Van Amersfoort Dallara-VW           7 laps
     Felix Serralles     Fortec Dallara-Merc                 7 laps
     Eddie Cheever       Prema Dallara-Merc                  0 laps
     Nicholas Latifi     Carlin Dallara-VW                   0 laps
     Lucas Wolf          URD Dallara-Merc                    0 laps
     Sean Gelael         Double R Dallara-Merc               0 laps