"Last year you were Landosport; this year you're Ticktumsport."
It's a familiar refrain in Autosport's direction this season in the Formula 3 European Championship paddock, because for the second year running, after Lando Norris's rookie title-winning campaign, there's a Brit running at the front who just can't stop making headlines.
Red Bull junior Dan Ticktum is bludgeoning his way through his rookie F3 season like a comic-book character. Yet he's only fourth in the points, and that's partly because you never know what's going to happen next with the 2017 McLaren Autosport BRDC Award winner...
But two particular challengers have also stepped forward as mega-talents, and the interesting thing is that they're continuing a battle they enjoyed in 2017 in a lower formula.
Ferrari Driver Academy prospect and F3 rookie Marcus Armstrong, a couple of weeks' shy of his 18th birthday, is narrowly leading Prema Powerteam stablemates Guan Yu Zhou and Ralf Aron - third-year F3 drivers both - in the standings, while Ticktum's fellow Motopark man Juri Vips has also emerged as a very exciting prospect.
Last year, Vips beat Armstrong to the German Formula 4 title - although Armstrong gained consolation at the same level in winning the Italian crown, for which Vips did not compete. Every now and then a group of very exciting young talents come together in the same series, and the reports were that German F4 2017-style was one such edition. This duo really is proving it this year.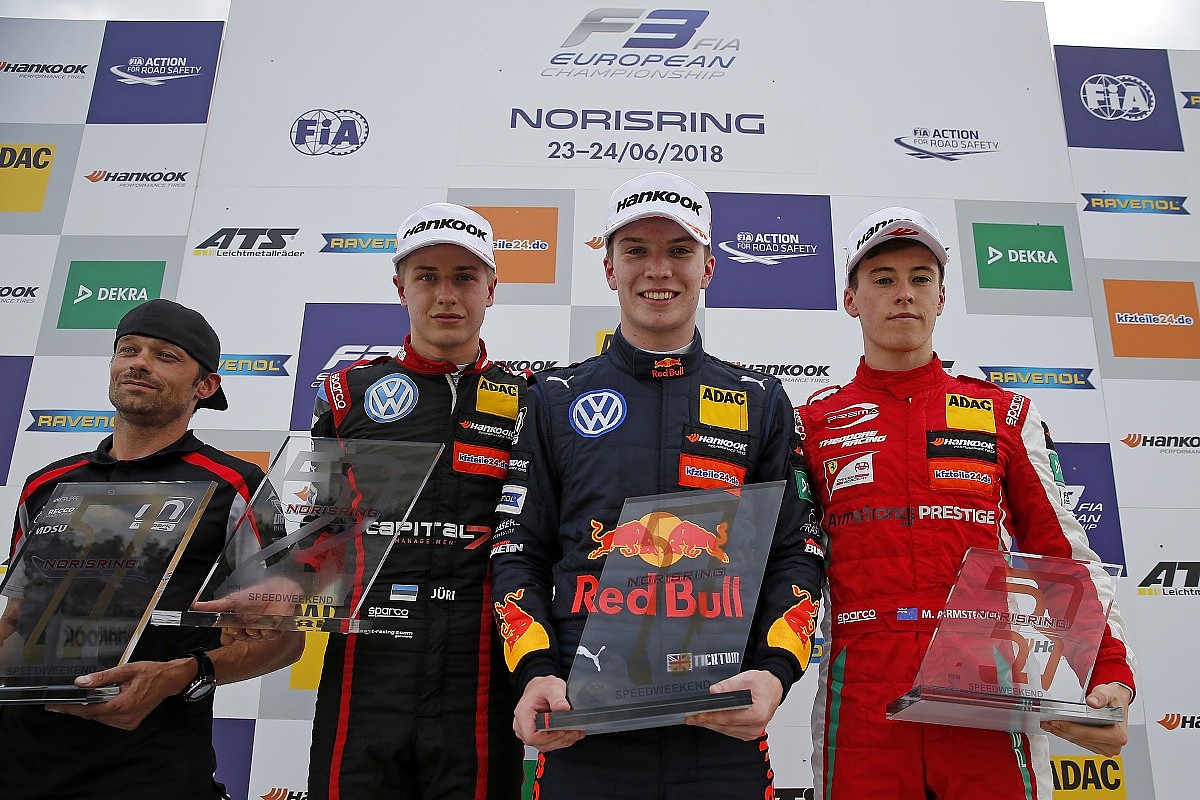 Ticktum: fastest but fourth
But let's start with Ticktum. Owing to his combined half-season of competition ahead of this year in GP3 and F3, the 2017 Macau Grand Prix winner doesn't officially qualify as a Euro F3 rookie this season, but to all intents and purposes he is.
Speed-wise, he has been outstanding. He's been the most consistently quick driver of 2018, as proved by his average 'supertime' (a driver's fastest time of a race weekend expressed as a percentage of the overall fastest). At present, Ticktum is on 100.055, followed by Zhou (100.147) and Armstrong (100.279).
Motopark team boss Timo Rumpfkeil, who has run drivers including Max Verstappen, Valtteri Bottas, Kevin Magnussen and, most recently, Joel Eriksson, believes that Ticktum is "not short of anyone [in terms of talent], I would say".
"Ticktum is not short of anyone in terms of talent" Timo Rumpfkeil
Rumpfkeil was close to a deal to run Ticktum in Euro F3 in 2017, before Red Bull confirmed his selection to its junior team and siphoned him off for a year in the Formula Renault Eurocup.
"We had Dan in the car in 2016 for testing already, and saw very good things from him," says Rumpfkeil. "I'm always happy to have a driver pushing himself 100%. Sometimes you have to move him in the right direction, but he's got a good handle on that."
Ticktum could have a healthy points advantage had he converted his pace into results throughout this season, but it doesn't help when you shoot down a Pau escape road late in a drying qualifying session; or when the retaining pin comes out of your headrest, you pull a piece of tape flapping around, and it turns out that was the only thing attaching the headrest (also at Pau); or when your brakes fail at the Hungaroring; or when you stall at the Norisring and get smashed into by someone not looking where he's going; or when your new clutch pre-load method gets blown by unexpectedly warm conditions at Zandvoort, and you have to leave the startline early from pole - and get a jumped-start penalty.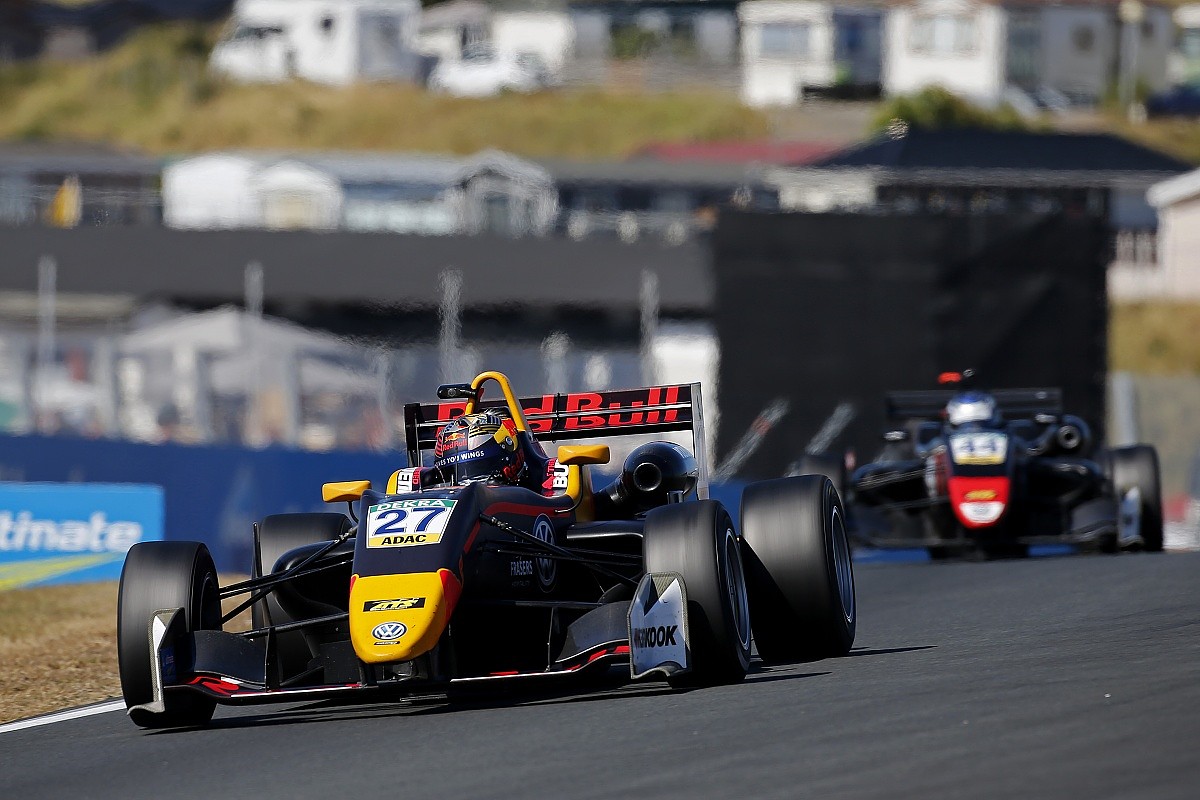 "He's been unlucky on occasions and lucky on others," says Rumpfkeil. "We basically lost race two at each of the first three rounds. But if you ask the others, Marcus Armstrong was a bit unfortunate - he had two comings-together with Dan, and we were fortunate because we could continue with minor damage, and he couldn't."
"If I hadn't had two DNFs for mechanicals we'd be in a better place," adds Ticktum. "We are consistently the quickest car, and the combination with Andy [Kohler, Motopark technical director and Ticktum's engineer] is great.
"We get it right 90% of the time - the only difference is they [Prema] seem to get it right 95% of the time, but hats off to them."
That's partially because, when the updated aero kit came in for 2017, Motopark had only Eriksson to rely on as it tried to redevelop the car. This year, as well as Ticktum, the team has Vips, plus two more graduates of German F4 who have shown great speed on occasion: Fabio Scherer and Jonathan Aberdein. Additionally, Marino Sato has gained experience and Italian F4 graduate Sebastian Fernandez had good pace in pre-season testing. But the team is still playing catch-up.
"All of the guys now drive to a pretty high level," says Rumpfkeil. "They are all very different characters but they all have something the others can learn from, while last year Joel was a lone ranger.
"Last year was definitely not healthy for us because other teams with two or three strong drivers could develop the new aero kit."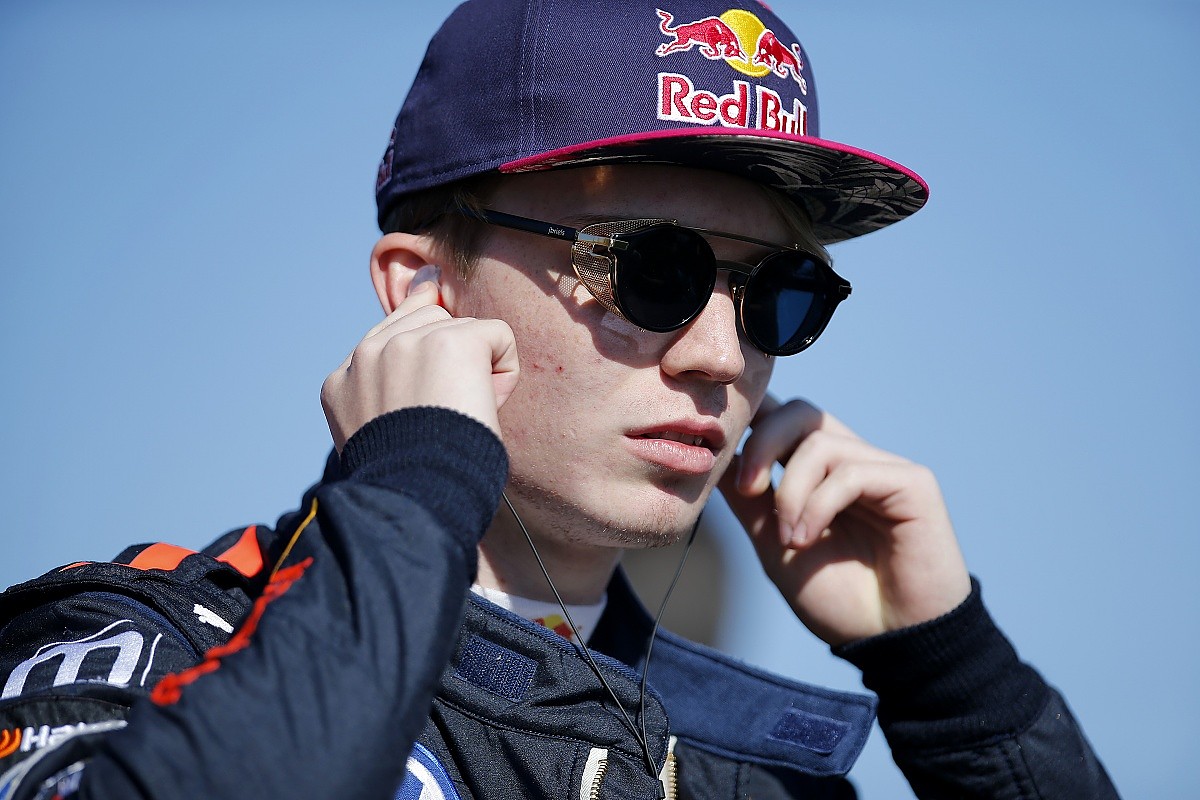 Armstrong: the next Leclerc?
Prema had no such problems of course, and Armstrong has benefited this year. As Rumpfkeil acknowledges, the New Zealander could be further ahead in the championship had it not been for three separate incidents with Ticktum in the early-season races, in which he usually came off worse.
Armstrong started racing cars in his homeland five years ago - aged just 13 - before making a career switch to international karting that has brought him to where he is today.
Similar to Ticktum with Red Bull, Armstrong's recruitment to the FDA for 2017 forced him to change his plans: he had contested some late-season Formula Renault 2.0 races and also the BRDC British F3 Autumn Trophy at the end of '16.
"In my opinion I was ready for F3 when I was starting my F4 season" Marcus Armstrong
In his case, that meant doing F4 with Prema last year, and his success in 2017 brought him a place in the team's traditional rookie F3 test, which last year was held at Magny-Cours.
"In my opinion I was ready for F3 when I was starting my F4 season," says Armstrong, who before his Ferrari deal was targeted for F3 by Hitech GP boss Oliver Oakes. As a talent scout for the Tony Kart squad, Oakes had been instrumental in the Kiwi's karting success.
"It took me a while to get used to the F4 [after his mileage in the 'more cultured' FRenault 2.0 cars], but when I first drove the F3 car I thought, 'Oh my God, I'm home'. I was comfortable and quick. And Rene [Rosin, Prema boss] told me, 'OK, now I definitely want you for next year'."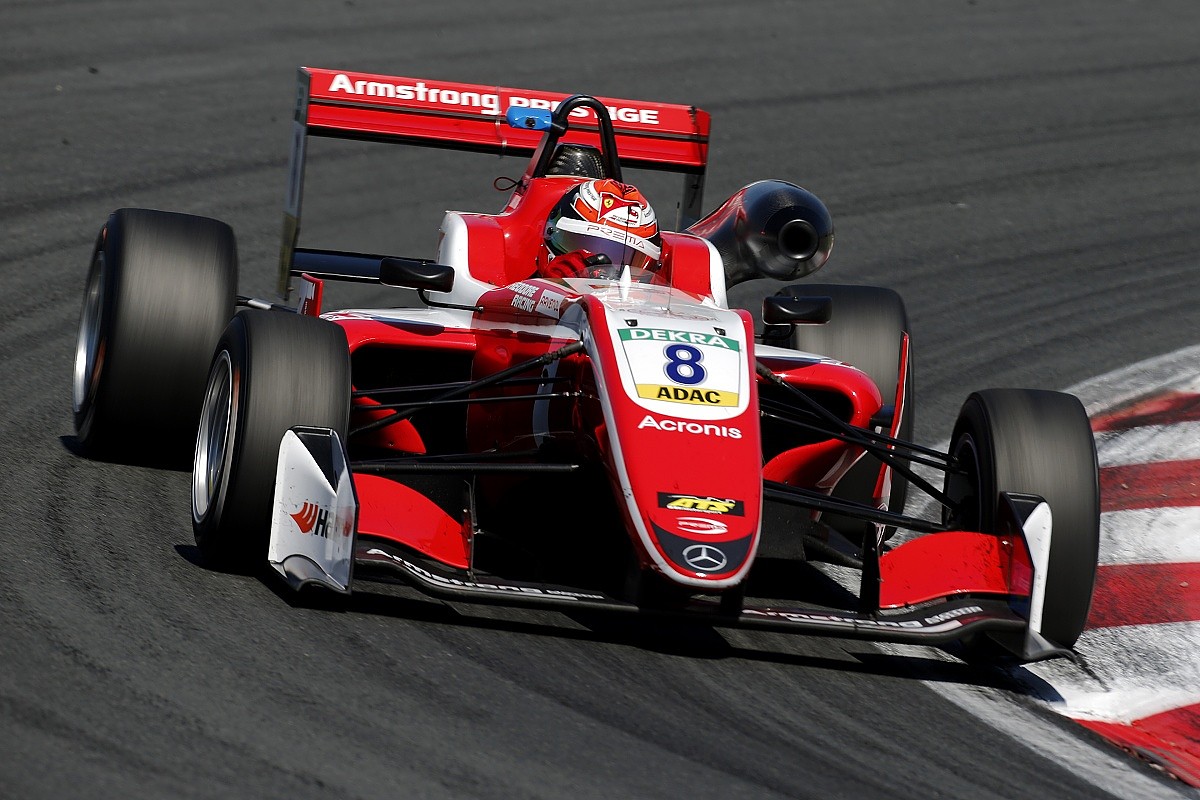 That comfort has been evident all year - Armstrong is supremely smooth in the F3 car, and you have to look extremely closely to realise when he's hustling it; it's subtle, silky, effective.
Interestingly, bearing in mind their contrast in styles, he says that the spectacular Callum Ilott - who was doing pre-Macau GP testing with Prema while Armstrong was getting up to speed in F3 - was instrumental in his development.
"The thing I really love about the F3 car is it's really instinctive to drive," he says. "You can't overanalyse it. That's why I connected with it immediately.
"Callum was the one who I was looking at his techniques and analysing them. The first thing is it's instinctive, but you have to use the aero and the brakes to the maximum, and that's something I learned from Callum initially. And after that base level of learning it's been a dream.
"I do tend to be quite smooth. I like to focus a lot on techniques and make sure everything is perfect - for instance, using the brakes properly so I don't have to use the steering too much. I can save the tyres while driving at a reasonable pace and when I need to push I can. But at my first test Nuno [Pinto, long-time Prema driver coach] said, 'You're smooth, but there's some places you need to be aggressive'. Maybe in Macau I'll need to rag it up a wee bit!"
Consider that these are the words of a youngster not yet 18 - Armstrong's maturity is remarkable, and he brings a cerebral approach to his driving. A great example came in Norising qualifying: on a wet-but-drying track, he expended no effort in the opening half of the session, just getting a feel for the conditions, then pushed when the time was right and leapt from the bottom of the times to pole position; simultaneously, those who'd set the pace earlier on fell down the order.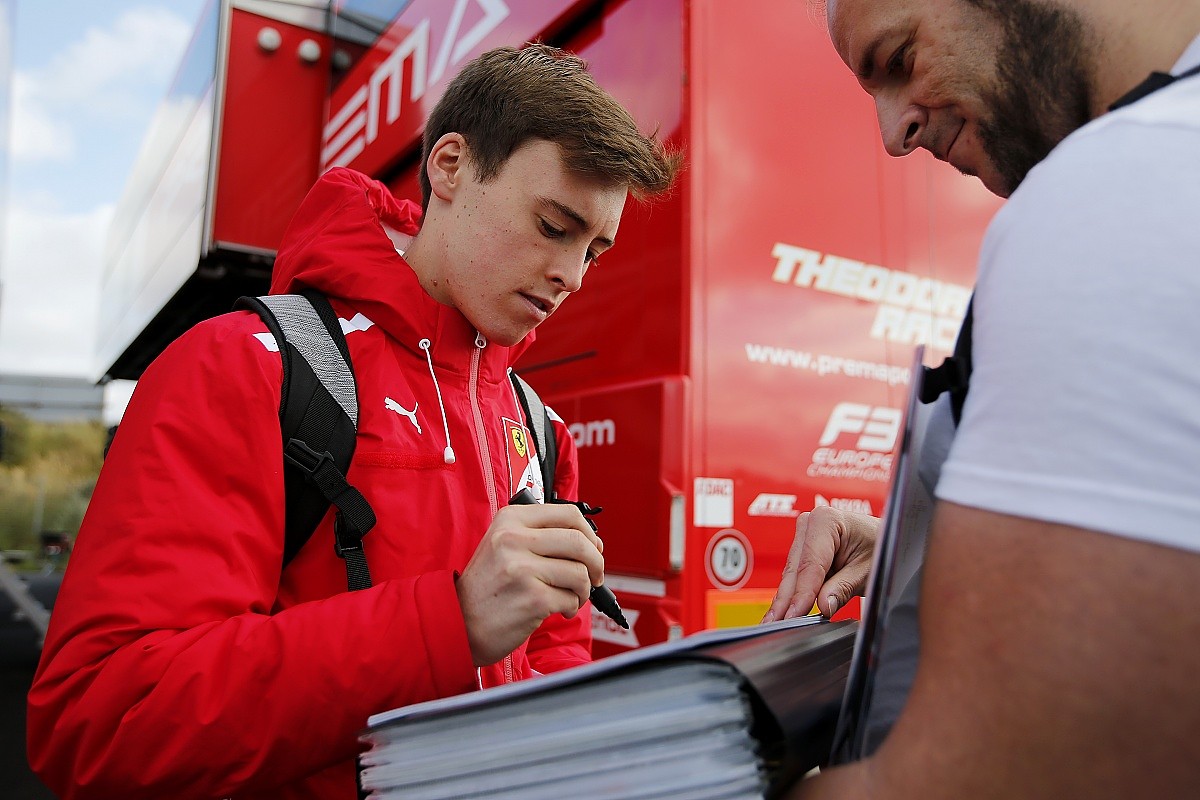 "It's something I learned from my team-mate in karting," he acknowledges. "Marco Ardigo [an Italian karting veteran and long-time pro driver] is the best driver I ever raced against. Although I was often quicker in qualifying, his strategy, the way he put races together, he'd always come out on top."
Armstrong has knitted perfectly with famously calm Prema engineer Jean-Francois 'Jeff' Levere, who has previously had success with Esteban Ocon, Lance Stroll, Alex Lynn, Maxi Gunther and before that with Marco Wittmann when he worked for Signature.
"Compared to the drivers I had before, Marcus is closest to Esteban in terms of style," says Levere. "He has a good feeling with grip on the track, especially when conditions are changing.
"Compared to other drivers, Marcus is closest to Esteban Ocon in terms of style" Jean-Francois Levere
"What is good is that he's not everything perfect, but he is still in the game. He's already good, but with a lot of room to improve. He will get better and better, and I expect a good end to the championship. He is already at a good level considering his small experience."
Levere adds that "he's consistent, what he's doing is under control. And he has high race intelligence - he has a good vision for what you have to do." And there's not much the Frenchman needs to do regarding his young charge's actions in the car: "My role is to help him grow up, not to help him to drive!"
Apart from Ocon, Armstrong is also reminiscent of Charles Leclerc, and it's fair to say that he's probably the natural successor to the Monegasque on Ferrari's F1 pathway.
"I use Charles as my ideal reference," agrees Armstrong. "His mentality is so unique. I was in Budapest last year when he was disqualified [in Formula 2 qualifying]. He found out he was disqualified but he was smiling and happy. I assumed he wasn't disqualified and said, 'OK, you got away with that one!' and he said, 'No, I'm starting last'. It's so good to see that because it pushed everyone on."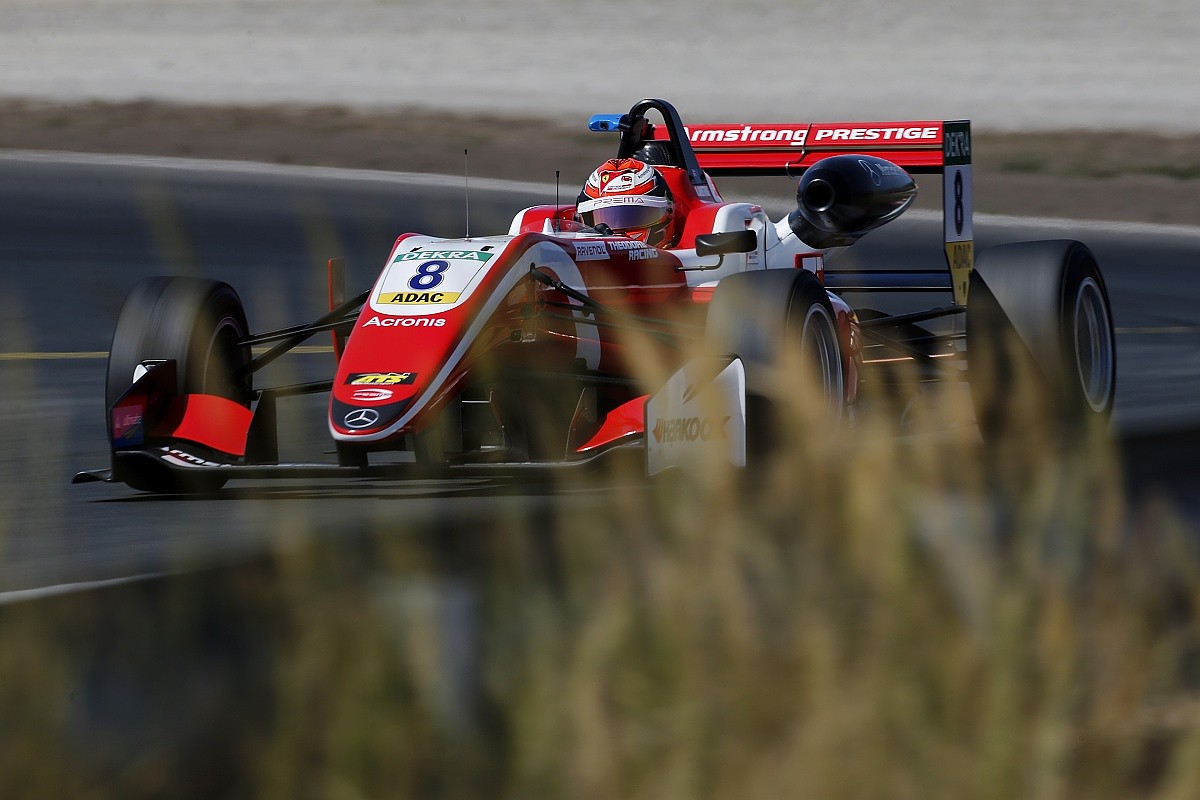 Vips: the spectacular wildcard
The results don't show it yet - apart from his maiden F3 win at the Norisring - but Vips, who's a couple of weeks younger than Armstrong, has the potential to be a sensation of the second half of his rookie F3 season.
The clues were there right from the first round at Pau. Vips was sensationally quick in the wet on his first visit to the French street circuit, but he was too confident, and qualifying incidents hid his potential.
A few weeks later, at the Norisring, he was stunning: again, it was his first time on a street track, and for a while in free practice he was quickest by a staggering three tenths - on a 49-second lap!
His car control is breathtaking. "I can handle oversteer, let's say..." he grins. "But I can be smooth if I need to!"
Vips has settled in perfectly at Motopark, after his two years in F4 with Prema. For a short while there was a chance of an F3 seat with Prema for 2018 - and Vips also took part in that Magny-Cours tryout. But Prema wanted some experienced drivers on board, including Vips's friend and compatriot Ralf Aron, and it was decided by the duo's mentor Marko Asmer that two Estonians in the same team might not have been to the benefit of both.
The deal with Motopark was worked out relatively late, over the Macau GP weekend, because Vips wasn't sure of his funding, and this meant he did miss out on some of the winter testing.
"We didn't think we'd have the money for the full season, so we limited the testing to eight days in Spain," he explains. "But we found enough to do the whole season and also Macau. It [the lack of testing] put me a bit on the back foot..."
Vips seems the perfect fit for Motopark, very reminiscent of the team's 2016/17 favourite Eriksson. And it's a very different culture to Prema.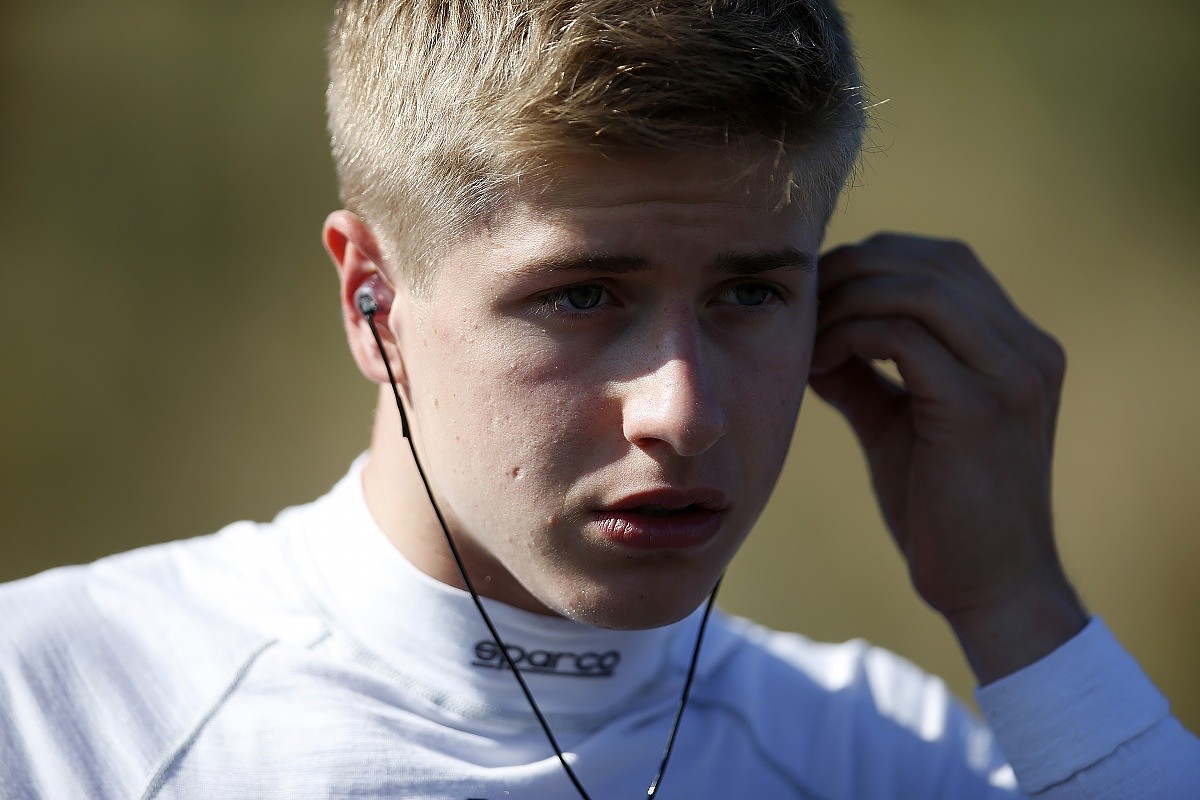 "It took some time to get used to, at first it was a bit of a shock, but I like the way Motopark work," says Vips. "Prema are really organised, punctual - here it's more laid-back and I find as a racing driver you don't need to stress that much."
"We have a different working attitude to Prema," agrees Rumpfkeil. "It took him time to adjust to that. They do stuff for a reason, we do stuff for a reason, and both methods work. Juri is very relaxed - some moments can catch him out, but generally he has a Baltic attitude!"
"When you look at Vips's car control and feeling, it's really on an exceptional level" Timo Rumpfkeil
Motopark ran in German F4 from 2015-17, so Rumpfkeil was well aware of Vips's talents - and Vips even stepped into Motopark's F3 team for a one-off debut in the final round of the 2017 season at Hockenheim.
"At Hockenheim he was jumping into cold water, and he even managed a rookie podium," says Rumpfkeil. "We knew we would like to have him.
"When you look at his car control and feeling, it's really on an exceptional level. He needs no time to adjust to different grip levels. That screwed us a bit in Pau because he didn't have the patience, but at Norisring from the very first laps he was flying."
The forces for the end of 2018?
Armstrong and Vips easily have the potential to be fighting for the 2018 Euro F3 title, with no-one yet having made a break at the top of the table. You'd have to say Ticktum has the pace to keep them at bay, but only if the odd random events can be eliminated.
Aron and Zhou probably have to string together a purple patch to prevent the less experienced guys overhauling them once they have gained experience.
If that happens, it would be reminiscent of German F4 last year.
"It was extremely challenging," says Vips. "So many teams and drivers were equal, and it was such a relief to come out on top. F3 is proving to be the same..."
"I really believe that last year's F4 was competitive," adds Armstrong. "When you look at me, Juri, also Scherer and the others, you have to say the level was not bad."
And if they can repeat what happened last year, maybe we'll be accused of becoming 'Armstrongsport' or 'Vipssport'.