European F3 paddock diary from Brands Hatch: trackside view, Kvyat's tyre adventures and the story of Vettel's F3 transformation
After Monza, Silverstone and Hockenheim, Brands Hatch was an entirely different discipline for the guys and girls of the Formula 3 European Championship. Following three race weekends of wide-open spaces, long straights and relatively flat circuits, the cambers, hills and incessant cornering of Brands must have made it feel as though they'd been plonked into a Wall of Death fairground sideshow.
It's great to watch too. While the Indy circuit, in common with many of the old-school British tracks, can rarely offer much in the way of overtaking in F3, those very same qualities that make the racing dull provide fantastic viewing in practice and qualifying.
Starting at Druids, you can see puffs of smoke from the inside rear tyre as they brake deep into the turn, trying to use the cambers and upward slope to go as late as they dare. Inevitably some overshoot, and you know that in the race that will merely put them on an advantageous defensive inside line for the following Graham Hill Bend.
Further round, at Surtees, we're coming towards the end of the first 40-minute practice session and roughly three quarters of field are flat in fifth here, although Raffaele Marciello and Felix Serralles seem to prefer sixth. The less experienced are still lifting, but it's interesting to see by the end of the weekend that their sector-two speed-trap times (the stripe is immediately after Surtees) have improved immensely.
Some of the confident guys - Harry Tincknell, Jordan King, Josh Hill and Alex Lynn - are pitching their cars in here in a lovely four-wheel drift, and it's interesting to note that these are all drivers who would probably have learned their Brands Indy technique in Formula Renault UK.
Tincknell and Lynn are notable in not taking a diagonal line into the close-following right-handed McLaren kink, instead choosing to stay well away from that apex in order to take a wider arc into the crucial Clearways. Mention it to Lynn later, and he admits that it's an FRenault line.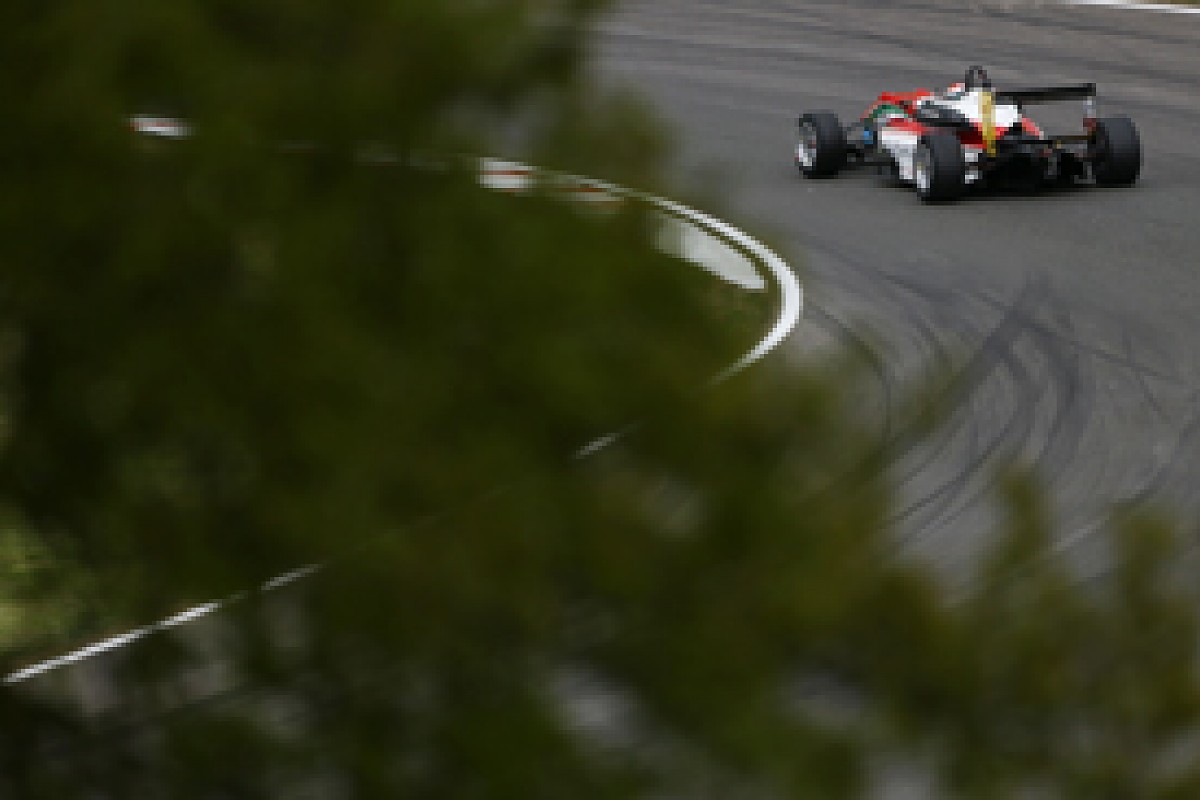 A trackside walk gave good insight into the skill behind Marciello's early domination © XPB
Walking back, for a moment the downhill approach to Graham Hill Bend is directly across the field of vision from right to left. When Marciello, all bravado, barrels into the turn, you're convinced he's not going to make it, but incredibly he does.
Back at Surtees for qualifying, and this time Marciello, while he tops his group, doesn't seem to have the flow of before. Maybe rubber from the support races has affected grip; certainly some of the tailenders seem to be driving a pendulum...
By the second group the grip seems to be back, and Lynn and Lucas Auer are in a thrilling fight for pole. Those four-wheel drifts are back, their cars so on the edge that, if you could just reach out and push the left-rear tyre with your fingertip, they'd be knocked into a wild spin. Lynn's speed-trap figure is 4km/h up on Marciello's, but the overall qualifying king here is Tincknell - 1km/h faster still.
Finishing off at Paddock Hill Bend for second qualifying... It's sixth-gear these days, mighty fast. It looks sensational, until inevitably your senses are dulled. Then, all of a sudden, Michael Lewis comes bouncing across the gravel trap, about to hit the barrier just in front of you. Bang! By which time you've done a reflexive 180 and covered the back of your head with your hands to protect yourself from the inevitable gravel shower. Now, that doesn't happen at Monza, Silverstone or Hockenheim...
KVYAT FROM ONE EXTREME TO THE OTHER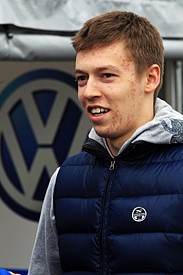 Kvyat is alternating between GP3's fragile tyres and F3's everlasting rubber © XPB
One week after his GP3 car had been among the worst affected by the Pirelli degradation in the opening round at Barcelona, Red Bull's Russian junior Daniil Kvyat was back in the saddle of his Carlin Formula 3 Dallara-Volkswagen at Brands Hatch.
Whereas his Pirellis offer characteristics that the Italian media have amusingly referred to as 'mozzarella', his F3 Hankooks at Brands were so long-lasting that his fastest lap in race two came on his 42nd time around the Indy circuit!
Kvyat was stuck in the middle of the field at Brands, paying the price for not having at least got a test session in a Formula Renault to learn the nuances of the circuit, and he also suffered a disconnected rear rollbar in first qualifying, meaning he was locking up at Druids and Clearways. As he said: "Those four tenths to pole make a big difference."
Talking of his GP3 travails with MW Arden, Kvyat said: "The Pirellis degrade so much it's unbelievable. I was going slower than I have done on wet tyres! It's out of our hands, and maybe we didn't have the best race preparation. But at least now we can make bigger steps than the others, even if it's a shame to have lost so many points."
So, is it more enjoyable to drive the Hankooks? "It's really hard to judge. We're going from one extreme to the other. Now I'm on a tyre that lasts forever and you can really push, but the best tyre I've used is the Michelin [in Formula Renault]. It has just the right amount of peak, which teaches you to be disciplined in qualifying."
VETTEL'S FIRST F3 SEASON
Vettel in his first F3 year © LAT
The Mucke Motorsport team has been part of the furniture in F3 since team founder Peter Mucke's son Stefan entered the category as a driver in 1999. Since then it's had a lot of high-quality drivers - Markus Winkelhock, Christian Klien, Robert Kubica, Bruno Spengler, Sebastien Buemi - but none have gone on to scale the same heights as Sebastian Vettel.
Vettel, after finishing runner-up in German Formula BMW in 2003 with Eifelland Racing, joined Mucke for '04 and dominated that year's BMW series, winning 18 out of 20 races. Backed by BMW and Red Bull, it was logical that he would stay with the Berlin-based Mucke operation for his move to the 2005 F3 Euro Series.
"We didn't know him that well because we were a separate organisation to the BMW team," says Mucke's technical chief, Peter Fluckiger.
"He was just a kid, and it was a big step from Formula BMW, just as it is now from Formula ADAC, yet it has always been quite small from Formula Renault.
"The problem with Sebastian was he was a star in BMW. When you win so many races you are never admitting really that somebody else is quicker, and he did so well that he wanted to keep going like he had. He told me always, 'We did it like this in BMW.' And I would say, 'You are doing Formula 3 now - maybe you have to do it different. There are many more things you can do to the car, and you have to learn a different way.'
"This was a big struggle. To be honest it was not easy with him - and now sometimes we laugh about it at the team! He had a strong personality, 'I want to do it like this.' And I said, 'If you want to carry on like this then do BMW again. If you want to go to Formula 1 you're not going to tell them, "Oh we did it like this in Formula 3".'
"I had a bit of deja-vu last year because with Pascal Wehrlein it was quite the same. A very strong personality, 'I'm so good in Formula ADAC, and now you tell me I have to do a different style in driving? You're not a racing driver!'"
Luckily for the team, it had run some pretty decent drivers the season before Vettel. Fluckiger recalls: "Sebastian had some good data - we had Kubica and Spengler the year before, Winkelhock and Klien the year before that. You have a completely different driving style from a BMW to a Formula 3, and you have to admit this first and then change. Those guys are so good that they can change it immediately if they want to, but at the start of the year he did not want to..."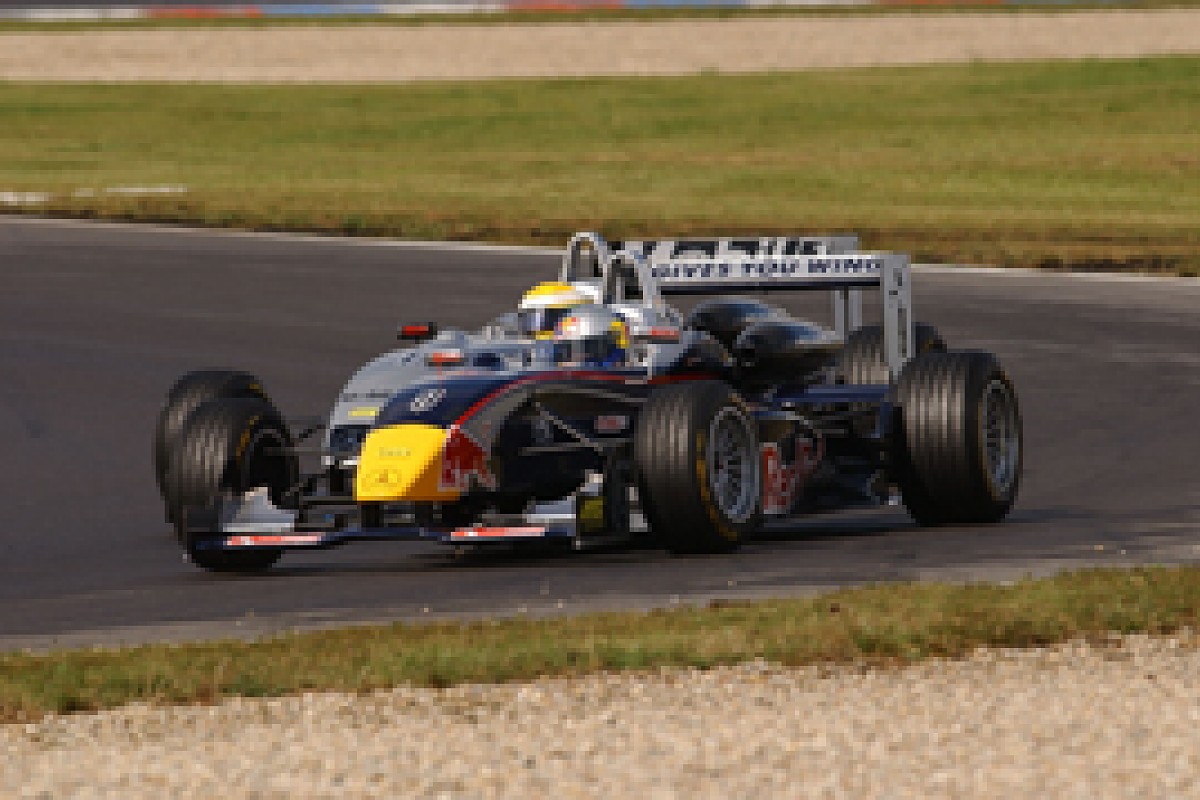 Vettel and Hamilton battle in F3 in 2005 © LAT
So it was a case of a headstrong, bubbly, joking 17-year-old German trying to be whipped into shape by a technical team led by a studious Swiss chap in the form of Fluckiger. Was it a case of calming down a tendency to overdrive, as hits so many F3 rookies?
"No, not really. It was more the throttle application. And I think he was just not aware that he was coming now to such a competitive series. There were guys like Lewis Hamilton. At the time we didn't know that he was a special guy that was going to be world champion soon!
"We knew Vettel was a good driver, but there were others - Rossiter [plus Sutil, di Grassi and di Resta] and so on - and he was a rookie. We all know what to expect of a rookie, but especially at the start of the year he was comparing himself to Hamilton and he said, 'I'm quicker than him, I'm the best driver.' But we would tell him, 'He's already done it a year.'
"That was the main thing, to get it into his head, and also his father was sometimes also telling him, 'This car is not quick enough.' At the time ASM [now ART] was really running away - they probably had the better car at the time.
"I remember qualifying for the first round at Hockenheim. Sebastian qualified third and he really was upset about this. We were happy because he was by far the best rookie; he wanted to be P1. Maybe that's what you have to do as a driver.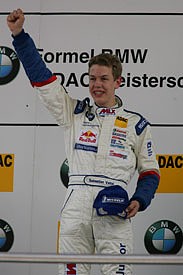 Vettel had dominated FBMW with Mucke before stepping into F3
"But he learned it was a hard series. Later in the year he qualified fifth at Zandvoort and we had made a mistake changing something on the car, and I said to him, 'I'm really sorry, it was our mistake.' And he said, 'Hey, it's Formula 3, fifth is still good and we know what we did wrong, we can still improve,' and he was second in the race.
"After Monaco [where Vettel qualified anonymously on the seventh row, alongside Giedo van der Garde] he tried to do it as we wanted it, and every weekend in the second half of the season he was on the podium. I think he was second in the points in the second half of the year [Fluckiger is correct, only Hamilton scoring higher].
"He changed completely. He used to stay with the family at the track, but from mid-year he was told by Red Bull and BMW not to do that, because he would complain overnight about the car not being good enough. He grew up a lot. You can see the same with Pascal - he made such a step in 12 months in his personality; they learn a lot in a year in Formula 3.
"Sebastian kept us really in the game in Formula 3. Our boss [Peter Mucke] was always a big fan of his and supported him all the way through.
"His car feeling was very good already. At the time we did a lot of development in dampers and things like this, and we did some testing with him. Our damper guys wanted to run something different, and we were in a bit of a fight with them. They wanted to go another way, and then we went to the seven-post rig and it was the setting that Sebastian wanted that was the best.
"That was really impressive. He was really a guy who knew. The guy who developed it from Bilstein thought there must be another way around, and we tried and we tried and we tried. We would go testing and Sebastian would say, 'No, I can do one lap with it, but I would never be able to do a race.' He did well to do one lap! And it showed exactly on the seven-post his setting was the way to go, and we still use a form of that today."
Vettel moved to ASM for 2006, but would lose out on the title to di Resta. It would take some time to get up to speed with the French squad, and Fluckiger is convinced he could have won that year's title if he'd stayed with the team whose systems and set-ups he already knew.
"We still had contact when he drove for ASM - it was not really his decision to go," says Fluckiger. "It was made by BMW mainly and it was understandable at the time because Hamilton had done really well there.
"Sebastian came to see us two weeks ago at the DTM Hockenheim meeting. I hadn't seen him for about five years - in Formula 1 there are so many things to do, so it was nice to see him again and I was surprised how much time he took to speak to everybody. We still have a lot of the same people as when he was here. He stayed for an hour.
"It was nice to see that he didn't change as a person, even though he's made millions of euros. He's still on the ground - not in the moon!"