Formula 3 cars aren't supposed to be driven like this, but when they are it's wonderful to watch.
Felix Serralles had a championship to try and win, but he really needed to plant himself on the front row. Over the first two sectors at Donington - the high-speed, flowing Redgate, Craners, Old Hairpin, McLeans and Coppice - he was fastest. But the time was melting away through the Esses and two hairpins.
Now, instead of relaxing his attack and cutting his oversteer on the slower turns to gain time, he was trying to go yet faster through the sixth-gear Old Hairpin, catching the subsequent opposite-lock with a glorious four-wheel drift. Slower, of course, but worth your admiration...
It was a little illustration of why Serralles fell short in the three-way battle between the main title contenders at Donington. Here is a very raw talent, with just two years in European racing under his belt; a diamond that perhaps needs a little polish, but in doing so must not have the sparkle dimmed.
Serralles fell short in the title battle © LAT
That left the fight largely between Jack Harvey and Jazeman Jaafar. And, with Alex Lynn (who held only the slimmest of mathematical chances of the crown) on their pace, it was a gripping trio of races.
Apart from an on-camera spat between Jaafar and Lynn - they crashed at the Old Hairpin in race two, and the Malaysian was furious until he discovered Lynn had a puncture and was therefore not at fault - it completed a season that has been fought out largely with good humour and respect among the leading contenders.
OK, Harvey took a fair bit of flak for incidents over the Silverstone weekend, but Donington was a fitting way to crown a very deserving champion.
STAR IN A REASONABLY-PRICED DALLARA
Motor racing is all about being in the right place at the right time. If you can't do that, then it's probably better to be in the right place at the wrong time than never get there at all.
That, at least, would be the motto of Narain Karthikeyan. For him, Formula 1 is the right place, although bearing in mind the F1 cars he's driven, some would argue with that... But how different would his career have been if he'd got into a decent F1 car in, say, 2001, when he was a hot property from British Formula 3?
Double R Racing boss Anthony 'Boyo' Hieatt, who engineered Karthikeyan at Carlin Motorsport in 1998 and '99, is in no doubt. "I tell a lot of people that Narain doesn't deserve to be at the back," he says. "I'd be really interested to see what Vettel could do in that HRT, and what Narain could do in the Red Bull...
"I've yet to see anyone who can rag the arse off a car like Narain. Possibly the only thing that let him down in his junior days was his personal fitness, although today he'll tell you 'shut up, don't remind me!'
"He is one of the top three drivers I've run. He has great control and great feet. People just don't realise how good he is."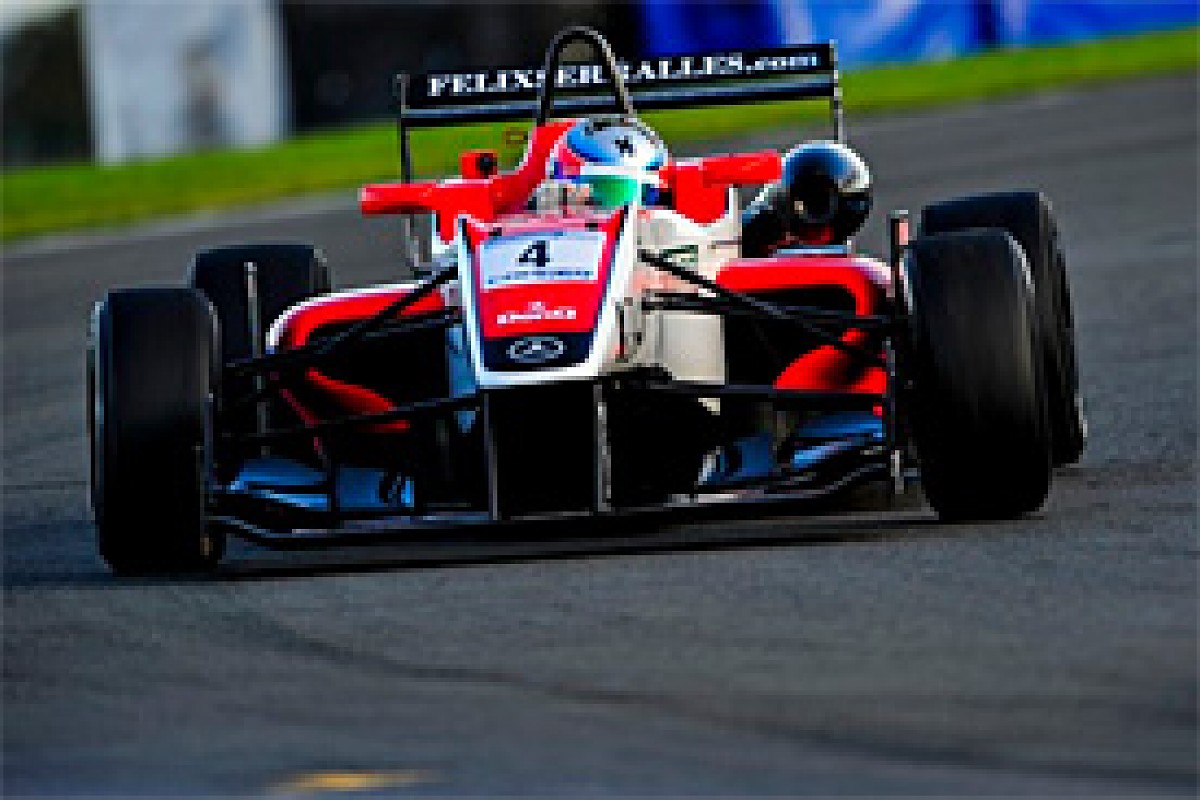 Karthikeyan was hot property in 2001 © LAT
Karthikeyan arrived at Carlin in August 1998. At the time, the team didn't have a driver and the Indian had started the season with Intersport Racing. "We'd tested him at Pembrey but we had the wrong engine," says Hieatt. "We had a Mugen but he needed an Opel [for sponsorship reasons] so he went to Intersport. But he didn't like Intersport's car so he joined us - Trevor [Carlin] signed the deal the day my first daughter was born!"
First time out at Pembrey, Karthikeyan put the tiny Carlin team's Dallara third on the grid. The ball was rolling, and he would go on to take the squad's first two wins - both at Brands Hatch - in the spring of 1999. "He had a big accident on the test day before his first win when he went off at Paddock Hill Bend," remembers Hieatt. "The likes of Stewart Racing didn't expect us to be winning, but we absolutely annihilated them..."
Indeed, Stewart picked up Karthikeyan for 2000, but he was never happy in that environment and returned to Carlin for the end-of-season races in Macau and Korea. He won Korea, but it's Macau that Hieatt recalls: "There was a session where it was wet at the start, and on the first lap he was 14 seconds quicker than anyone. He was in a different league - confidence, car control and ability to steer the car with his feet as well as his hands."
Hieatt still deals regularly with Karthikeyan today. The Double R chief has been in India engineering the shakedowns for the new Formula MRF series, for which Karthikeyan acts as ambassador and test pilot: "I speak to Narain most weekends - you hear all these tales of woe and you wouldn't believe some of the stories. If only you could swap some cars and drivers around, it would be a bit of an eye-opener...
"It's a real shame he's pedalling around in an HRT. He deserves better. I'd just like to see him now in an IndyCar to end his career with a flourish. Him, Takuma Sato and Mike Conway [all three are ex-Hieatt F3 charges] - that would be a good old bunch of drivers to work with!"
DONINGTON DRIVER BY DRIVER
Jack Harvey (Carlin Dallara-VW): 1st/6th/1st
Possibly lacked the tiniest fraction of pace compared to the leading Fortec runners, but absolutely maximised what he had to claim a double pole. Untroubled in race one, although he pushed on in a failed bid to grab the fastest-lap point.
Gifted a couple of places in reversed-grid race by Jaafar/Lynn tangle, and then led the final race throughout (bar a brief pass by Lynn) despite appearing to be struggling for speed. Confirmed he was pushing all the way, but lacked grip, so a very impressive win that gave him the title.
Pietro Fantin (Carlin Dallara-VW): 6th/3rd/6th
Happy with the car this weekend and it showed, his driving really flowing as qualifying progressed and Fantin going fifth fastest. Dropped to seventh in race one when Derani passed him, but then came back at his fellow Brazilian and they had a grand old dust-up before Fantin made it stick five laps from home.
Lined up third on reversed grid; got passed by Serralles at the start but then punished his mistake to claim a podium, thanks to a bold move into the Esses with two wheels on grass. Ran fourth in the finale and was looking for a way past Jaafar with three laps to go. That left him vulnerable to pass by Tincknell on the Craners; Fantin then ran wide at the Old Hairpin and lost a further spot to Derani.
Harry Tincknell (Carlin Dallara-VW): 8th/1st/4th

Was looking good in qualifying until he ran wide at the Old Hairpin, damaging the floor. Chased the Derani/Fantin scrap home in race one, giving him yet another reversed-grid pole. Once again Tincknell converted that perfectly for win number four.
Had a cracking final race. Knowing he needed to finish fourth to deprive the absent Sainz of fifth in the championship, he braved it out on the outside of the Craners to take Fantin with three laps to go. Boosted by changes in set-up and driving style on Sunday, which shows that even after two years in F3 you never stop learning.
Jazeman Jaafar (Carlin Dallara-VW): 2nd/DNF/3rd
The Malaysian was just a whisker off Harvey all weekend and paid the price in the title fight. Did a sound job to defend second from Lynn in the opening race, but collided with the Englishman in the reversed-gridder after a brush between the two had punctured Lynn's left-rear tyre.
That left Jaafar on the back foot in the finale. He chased Harvey and Lynn throughout but there was no way by, and he drifted back to defend from Fantin in the closing laps.
Pipo Derani (Fortec Dallara-Mercedes): 7th/2nd/5th
Once again Derani came alive in the races, although once oversteer set in he was fighting a losing battle against Fantin in the first, albeit still holding off Tincknell. Very solid drive to runner-up spot in reversed-grid race. In the last, he held off van Asseldonk and was in a prime position to capitalise when Serralles and Fantin left the road. After 40 minutes of racing, was only seven seconds down on winner Harvey.
Felix Serralles (Fortec Dallara-Mercedes): 4th/4th/8th
Confessed to getting a bit sideways in the Esses in qualifying after taking third and fourth on the grid for the main races - he'd been top in the opening two sectors. Couldn't make progress from that position in race one, but a meteoric start took him from fifth to third at the start of the reversed-grid race.
Attacked Derani for second, but a mistake at Coppice meant he lost third to Fantin instead, and nearly got demoted by van Asseldonk before he settled again. Dropped to fifth at start of finale, and fell to seventh with seven laps to go when he went off at Coppice. That became eighth when he spun at the Old Hairpin while avoiding the recovering Fantin.
Hannes van Asseldonk (Fortec Dallara-Mercedes): 5th/5th/7th
The Dutchman had trouble at the Old Hairpin in the test two weeks earlier - including a 1080-degree triple spin - but gradually sussed it out in qualifying. Nice to report an incident-free weekend for him for once, and he briefly held fastest lap in race one as he chased Serralles to fifth.
Similar story in race two, again challenging Serralles, before lower-key final race, mostly spent at the back of the close-knit leading train. After being quickest in the wet in Friday's test, he was disappointed that the rain came too late to take advantage of.
Alex Lynn (Fortec Dallara-Mercedes): 3rd/DNF/2nd
After dominating Silverstone on pace, he was disappointed not to tee himself up for another win. It unravelled in qualifying, when he ran wide at McLeans and did some damage to his floor. Braved it out at the start of race one to pass Serralles for third, and claimed fastest lap as he chased Jaafar for second.
Then he went out with the Malaysian in the reversed-grid race when a puncture forced him into a spin at the Old Hairpin. Led the final for a couple of seconds when he threw it down the inside of Harvey at the Melbourne hairpin, but ran wide and settled for second - and another fastest lap - on his flat-spotted rubber.
Nick McBride (T-Sport Dallara-Nissan): 10th/8th/10th
Found himself in no man's land in qualifying, adrift of the top eight yet comfortably clear of the Double R runners. He was passed on the first lap by Double R man Svendsen-Cook in all three races, although stayed ahead into the GP loop in the third. That consigned him to a weekend sandwiched between Svendsen-Cook and Uhrhane. Frustrating, as his best lap in the finale was less than a tenth adrift of podium man Jaafar's.
Spike Goddard (T-Sport Dallara-Mugen): 14th/11th/15th
Only needed to beat Padayachee in the first race to claim the National Class crown, which he did, despite a first-lap spin at the Goddards hairpin when he was tapped by Calbimonte. In the second race he set class fastest lap as he closed on Lloyd towards the end. Was challenging Lloyd again in the third when he bounced off the road at the Old Hairpin. Set another fastest lap to pass Padayachee, but another moment dropped him back to last.
Pedro Pablo Calbimonte (T-Sport Dallara-Mugen): 13th/12th/13th
Took a pair of second places in class. His first came after he'd knocked into Goddard on the opening lap of race one, but his other was arguably his strongest since he graduated to F3 in late summer: he was last in the early stages of the finale, but passed Padayachee, moved up when Goddard went off and then trimmed the gap to Lloyd to finish less than a second in arrears.
Geoff Uhrhane (Double R Dallara-Mercedes): 11th/9th/11th
Only used one set of tyres in qualifying after missing the first half of the session when his fire extinguisher went off in the pitlane - just as it had done in Friday's test. It was therefore a good effort from the Aussie to trail team-mate Svendsen-Cook by just a thousandth of a second. Must have the back end of McBride's T-Sport Dallara imprinted on his mind now after spending all three races chasing his fellow Aussie.
Rupert Svendsen-Cook (Double R Dallara-Mercedes): 9th/7th/9th
Like Uhrhane, RS-C only used one set of rubber in qualifying, but this was by design as a similar ploy on this low-grip track had netted him a pole in 2011. After only rejoining the F3 field last time out at Silverstone, he's been up against it and it's a shame the season has ended while he's still playing himself in. Got ahead of McBride on the opening lap of all three races, but didn't have the pace to wriggle away and get onto the tail of the guys ahead.
Duvashen Padayachee (Double R Dallara-Mugen): 15th/13th/14th
Dropped a little adrift of his National Classmates this weekend. Could've taken the title to the final day of the season, but didn't make life too hard for the recovering Goddard when his fellow Aussie went by into the Melbourne hairpin. Finished the season with a National Class podium in the final race.
Hywel Lloyd (CF Dallara-Mugen): 12th/10th/12th
Having not raced since Macau last November, the Welshman wheeled out one of the family CF team's Dallaras (a different one to the chassis Adderly Fong raced in the summer). Then he lost much of the first Friday test session to a mechanical problem, and then it rained... Still, he notched up a National Class treble without extending himself too seriously and deserves to get drivers on board for 2013.