Oulton Park is a great place to start the British Formula 3 season. Its leafy old-school charm and superfast sweeping bends offer a fantastic place to watch who's on it, who's brave and who's likeliest to end up forcing his team to buy spare Dallara parts.
On this occasion, trackside impressions were actually slightly misleading. Watching free practice at the sixth-gear Druids, it looked as if Jack Harvey, Jazeman Jaafar, Harry Tincknell and Carlos Sainz Jr were oozing confidence.
All four drive for Carlin, and it was barely detectable to these ears whether they were lifting when conditions were fully dry. It took a spectating Bruce Jouanny, a leading F3 runner from 2002 and Jaafar's coach these days, to confirm that it was almost flat, but not quite... Certainly Jaafar was the most spectacular, unafraid of a squirming back end, while Harvey - the most consistently on it - said it was a tiny lift on the way in.

The Fortec Motorsport runners looked more tentative, until Alex Lynn put on a new set of tyres and began to attack the corner as convincingly as the leading Carlin boys. It showed up on the times, with Lynn blitzing it by half a second from team-mate Felix Serralles.
Fortec had found an edge on mechanical grip, which enabled it to run less downforce, improving its straight-line speed. While this made it trickier to attack the high-speed bends, it was more than offset elsewhere on the track.
Lynn got stuck behind the damaged car of Sainz in qualifying, wrecking his race chances, but Serralles's race-three win proved the strength of the Fortec package, which this weekend was undoubtedly the best. And even the Carlin bosses would probably agree that such a result was good for British F3, proving to everyone that the category's dominant team is beatable.
To his credit, Fortec senior engineer Mick Kouros refused to be deflected from his team's programme in the pre-season tests, even when his team was trailing in the times. "This new Dallara is very aero-dependent, and it has less mechanical grip at the front end," he said. "That's what we've been working on."
STAR IN A REASONABLY PRICED DALLARA
Sergio Perez celebrates an unlikely, but deserved, victory at Monza in 2008 © LAT
Sergio Perez, T-Sport, 2008
Sergio Perez is big news these days. And, with British F3 moving on this weekend to Monza, it's inevitable that some in the series remember the Mexican's incredible double British F3 win at the track in 2008.
Perez had just taken his and T-Sport's maiden overall victory at Croft before heading to Italy, giving him a narrow championship lead. But it certainly didn't look like he'd keep that position when he was put in 14th place on the grid for both races.
T-Sport team boss Russell Eacott recalls: "I can't remember where he qualified in terms of the laptime, because everyone was jumping the second chicane. We weren't on pole but we were about fifth to eighth and thought, 'Oh well, we'll be fine in the second session.' And then after that we got called up to the stewards again...
Amazingly, Perez won the first race from his seventh-row slot. "After the first race we thought, 'Well, we're never going to do that again,'" continues Eacott. "We sat him down and there'd been a few risky moves on the video, but it was incredible... he did it again! Monza played to all his good strengths really - he's really good on the brakes. We took as much wing as we could off and he flew."
It proved he had great racecraft, which hadn't been obvious to the world at large while he was concentrating on winning the series' lower National Class in 2007. "He was round the outside, up the inside," says Eacott. "In race two I said to 'Skelly' [race engineer Alan Woodhead], 'Just tell him to keep his head down and don't do anything stupid.' The next lap he took the lead and won and it was, 'Oh well there you go - all logic out the window.'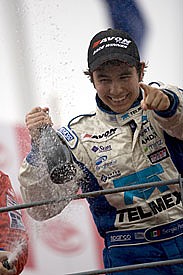 Perez leads the field at Monza in 2008 © LAT
"When you look back at when he did National Class, he always qualified in the middle of the pack, in among the crowd. There was a race at Snetterton where about four cars went in together, he got fired off, came back on and still managed to do really well.
"It's what you get from karting - peripheral vision so you know where everyone is - and it probably didn't get noticed so much in National Class. He very rarely damaged the car so he was obviously pretty good, but at Monza everyone else noticed."
OULTON PARK Driver by Driver
Jack Harvey (Carlin Dallara-VW): 1st/6th/2nd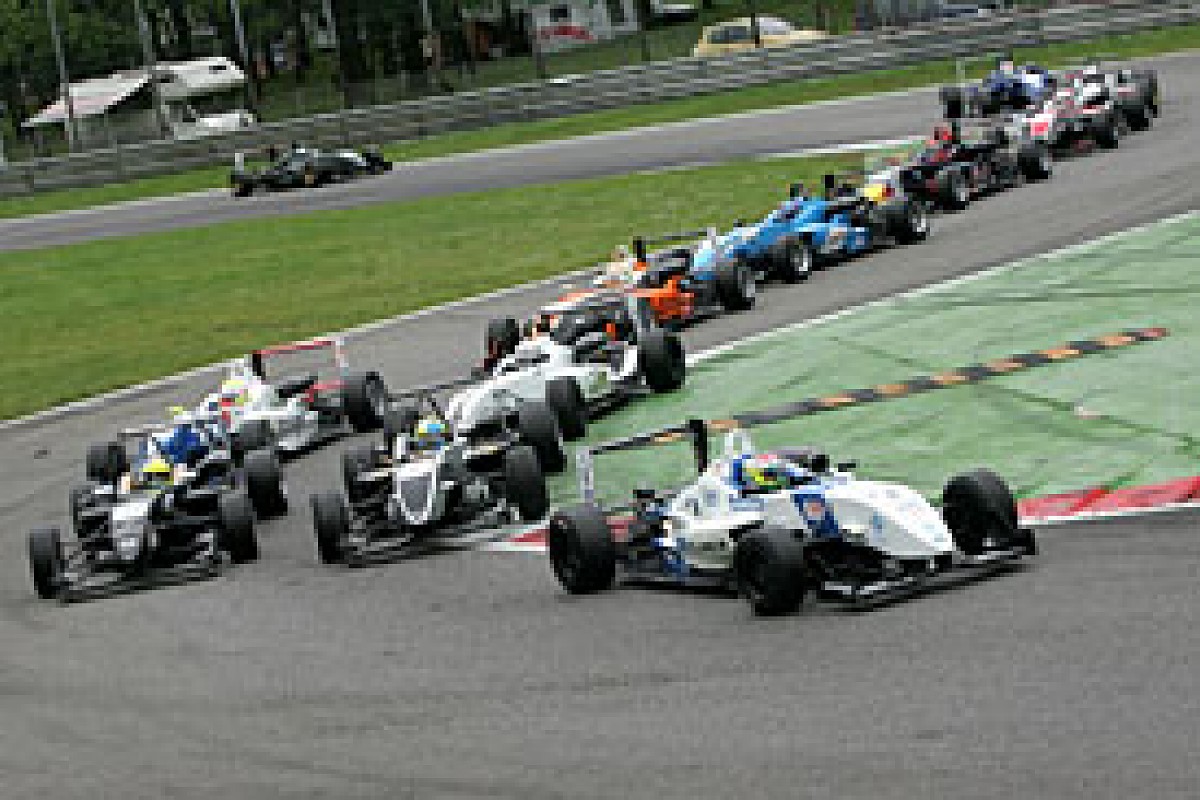 Put in a sparkling qualifying performance to secure double pole on a weekend when rival Fortec had the advantage. Converted this into a beautiful drive to victory in the wet, but could not catch Serralles in the dry. Low-key but composed to run to sixth in reversed-grid race. As a result of all this he leads the points.
Pietro Fantin (Carlin Dallara-VW): 8th/2nd/7th
Struggled through Druids and Lodge in qualifying, losing a quarter of a second in the Oulton woods. Better on race day, and reckoned safety car prevented a possible attack on Derani for victory in reversed-grid race. Great scrap with Derani in first race after contact with Serralles on lap one, which loosened his front wing and gave him a puncture.
Harry Tincknell (Carlin Dallara-VW): 4th/4th/3rd
Wasn't quite a match for Harvey this weekend but happy with strong results in all races. Did sound defensive job to hold off Lynn for fourth in the wet, despite being a second off the pace, due partly to oversoft set-up. After losing touch with those in front and behind in the finale, he shrugged off aching hand injury to consolidate podium.
Jazeman Jaafar (Carlin Dallara-VW): 2nd/3rd/5th
The spectacular Malaysian narrowly missed out on the front row, but moved up to chase Harvey home in the opening race. Did fantastic job to rise from 11th to third in reversed-grid race with some dramatic passing, before keeping Lynn and Fantin at arm's length in race three.
Carlos Sainz Jr (Carlin Dallara-VW): 3rd/5th/4th
His best moment was the opening 10 minutes of qualifying - before the red flag he was 0.3s up on a damp track. Then he went off at Cascades in sixth gear, emulating his dad with some rallying, which damaged the floor. Sunk to fourth on grid for both races, which rather precludes race-winning chances at such a hard-to-pass-on circuit.
Pipo Derani (Fortec Dallara-Mercedes): 9th/1st/DNF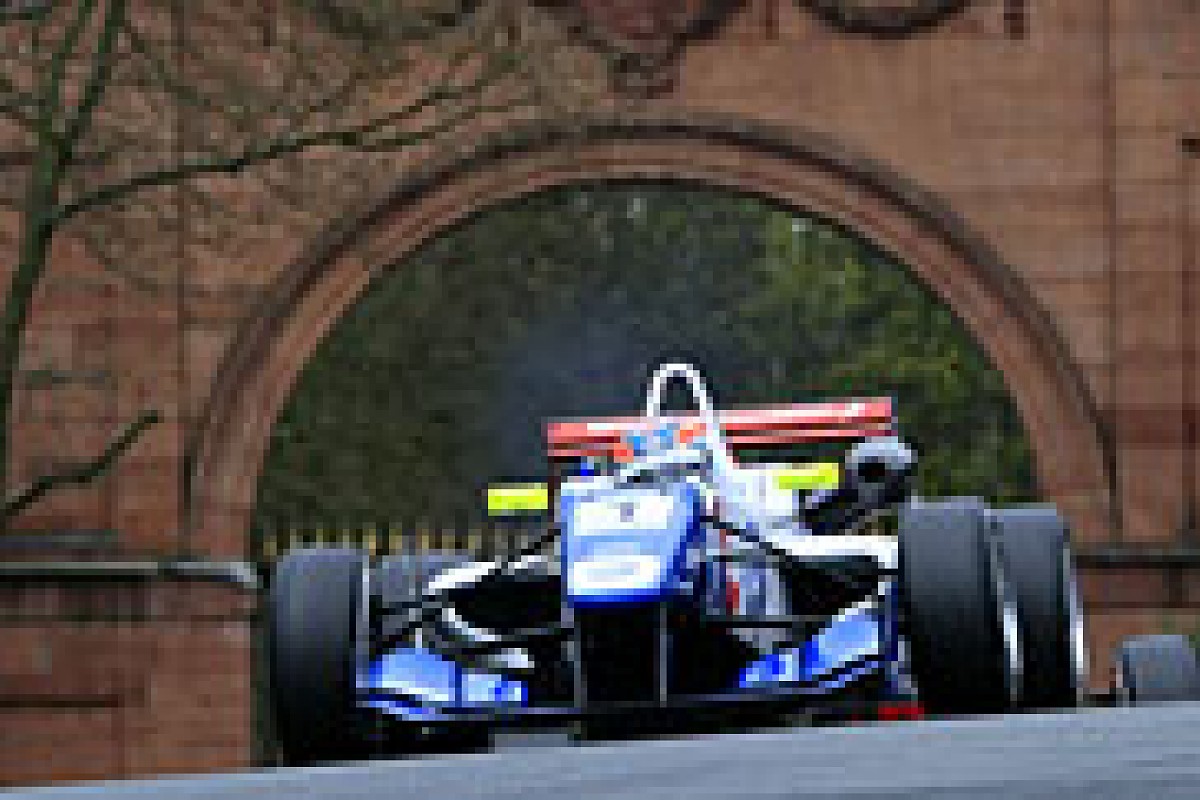 Was so down in the dumps after testing that Fortec F3 team manager Mick Kouros sent him home to Brazil for a couple of days' fishing with his family. Still trailed his team-mates in qualifying, but an entertaining battle with Fantin in race one - and last-corner spin while trying to pass McBride - set him up nicely for reversed-grid win after battling past McBride and Goddard. Clutch seized on grid for race three.
Felix Serralles (Fortec Dallara-Mercedes): 7th/7th/1st
Teed up his win with a front-row grid spot, and his subsequent holding off of Harvey was the sensation of the weekend. But he'd already starred by charging from a distant last to seventh in the first race after a mudbath-providing incident with Fantin on lap one. Could have had good reversed-grid result if he'd not run wide at Cascades early on.
Hannes van Asseldonk (Fortec Dallara-Mercedes): DNF/8th/DNF
Was just on the tail of the top runners in qualifying, then fought through to challenge Sainz for third in the wet first race before he ran wide at the Shell hairpin on the last lap and crashed after setting fastest lap. Finished reversed-grid race, but crashed again in the finale, this time at Druids, after losing a couple of places off the grid.
Alex Lynn (Fortec Dallara-Mercedes): 5th/DNF/6th
Had blistering speed in free practice, then lost half a second in qualifying as his main rivals found three or four tenths. Spent the closing stages of race one trying to fathom a way around Tincknell, and spent much of the last chasing Jaafar. In the middle race, he clipped a tyre stack at the Hislop's chicane, breaking the suspension.
Nick McBride (T-Sport Dallara-Nissan): 10th/11th/9th
Still learning aero techniques, especially getting the car turned in for fast corners, at the start of the meeting. Looked on course for a solid eighth in race one until he spun at the very last corner while avoiding a lunge from Derani. Looked a good bet for strong reversed-grid result until he bounced off track at Cascades.
Spike Goddard (T-Sport Dallara-Mugen): 11th/9th/11th
Took his expected hat-trick of National Class wins, but will remember his F3 race debut weekend more for the overall lead he held for five laps in the reversed-grid race, before Derani found a chink of light and he got shuffled down the order. Put Uhrhane under pressure in race three.
Geoff Uhrhane (Double R Dallara-Mercedes): DNF/10th/10th
Last-gasp deal meant he had only a shakedown at Anglesey under his belt. Needs miles to learn, so shunting at Druids in free practice didn't help. Nor did shunting at the same place in race one. After that he made much-needed progress and held off Goddard in the final race.
Fahmi Ilyas (Double R Dallara-Mercedes): 6th/DNF/8th
Caused a red flag in qualifying when he crashed at Old Hall, but avoided mayhem on first lap of race one to settle into what became a very solid sixth place. Hydraulics problem meant no clutch and a pitlane start in reversed-grid race, then he spun into the gravel while trying to pass Goddard around the outside of Island on the last lap.
Duvashen Padayachee (Double R Dallara-Mugen): 12th/12th/12th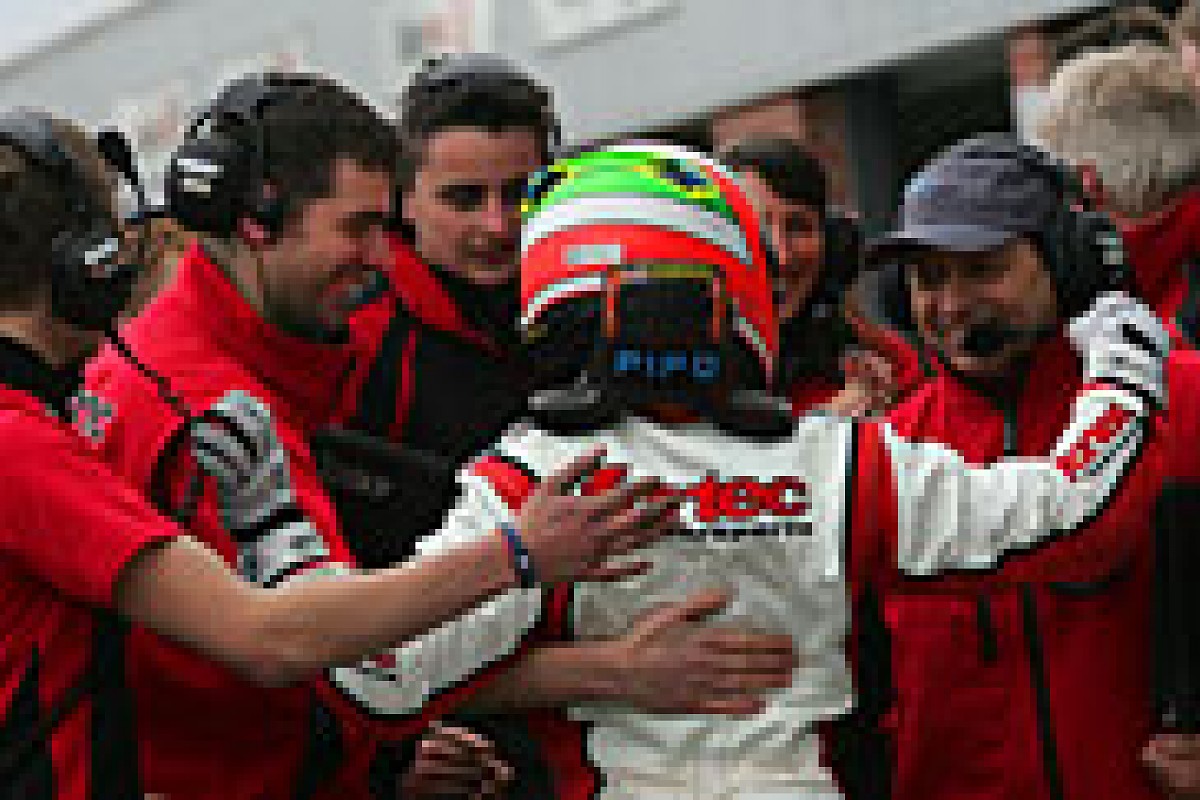 Learning all the time but still around a second off the pace of Goddard and very cautious on cold tyres. With that in mind, he did a good job to a) finish all three races and b) not get panicked into a crash when he was awarded a pole position for the reversed-grid race, something he could never have expected.