Should the British Formula 3 championship and the Formula 3 Euro Series merge? When GP3 arrived this year with grids of 30 cars, the Euro Series delivered the weakest numbers since its revival in 2003. Some Formula 3 stalwarts started getting nervous...
After years of labelling itself the best Formula 3 championship in the world, things suddenly looked grim for the Euro Series. Grids of 12 or 13 cars could never be sustainable in the long term, so the category needed to find a way to reverse this sudden and sharp decline in popularity.
Fearing the Euro Series might die, key figures led by Frederic Vasseur (boss of French superteam ART) broached the idea of a merger with British F3 arguing it would be in the best interests of both series, and the category as a whole, to combine. Tentative discussions were held, but nothing came of them.
British F3 just isn't interested. This championship feels it has already faced down the threat of dwindling numbers (brought on mainly by the arrival of F2 and an economic downturn in 2009) by shaking up its format.
It introduced an extra race for every weekend in 2010 and began shouting louder about the valuable and sizeable amounts of track time it offers drivers in return for their sponsors' money. It feels these measures have reignited interest and helped it ride out the worst of the storm. It's now so popular again that some Euro Series teams are considering switching to the British championship in 2011.
Unsurprisingly (and with some degree of schadenfreude it seems), the newly-optimistic British F3 doesn't fancy playing the good Samaritan for a rival series that acted with a sense of snotty-nosed superiority during its times of plenty. The overtures were rebuffed - 'we're doing quite well on our own thank you very much'.
That's not to say British F3 wants to see the Euro Series go under - far from it. Euro Series teams have frequently raced in British rounds as invitation entries during the past couple of seasons, and British F3 is keen for that to continue.
British F3 still has a healthy grid © LAT
It is also aware that if the Euro Series dies, British F3 could be next. Leading team boss Trevor Carlin, whose eponymous team competed in the European championship from 2008-'09, said recently: "If we lost the Euro Series, what's to say in five years time we wouldn't also lose the British series?" The argument is basically that two heads are better than one in the battle against GP3's cheap(er) budgets and presence on the F1 package.
As details emerge of a Euro Series 'rescue plan' - including a British F3-esque third race on each weekend, more dates away from DTM meetings on pokey German circuits, relaxation of its stringent testing restrictions and moves to cut budgets when the next generation of chassis arrives in 2012, the merger question might not matter anyway.
But Vasseur seems convinced it's the best solution for the future of the category: "For me a merger would make sense," he told AUTOSPORT earlier this season. "British F3 has about 18 cars, we have 12 or 13. This would make a good base for a very strong championship that would compare well with GP3 and would be attractive to drivers.
"If we merge it will be easier to find a deal with British F3 to reduce costs. The promoters have to discuss it, but I'm not sure everyone wants to. It's an ego problem - but for me there is no other option."
Could it work? The British F3 contention is 'absolutely not'. They say the current rules and different tyre contracts in place for the two championships make it unfeasible - at least until 2012 when the FIA shakes up all its championships with new cars, hybrid technology and world engines.
Even then, the British series would be happier with two strong, independent series, or a return to the days of French, German and British domestic championships - perhaps with a separate 'world cup of F3', encompassing the Masters, Macau, Korea and a couple of other choice European events, like the recently-mooted 2011 invitational at Pau.
The apparent contradiction here, given British F3 is currently locked in dispute with Jonathan Palmer over the suitability of some of his MotorSport Vision circuits (Snetterton, Oulton Park and Brands Hatch) and looking to add a fifth European event to the 2011 calendar, thus making it at least 50 per cent a continental series, does not seem to phase the big players.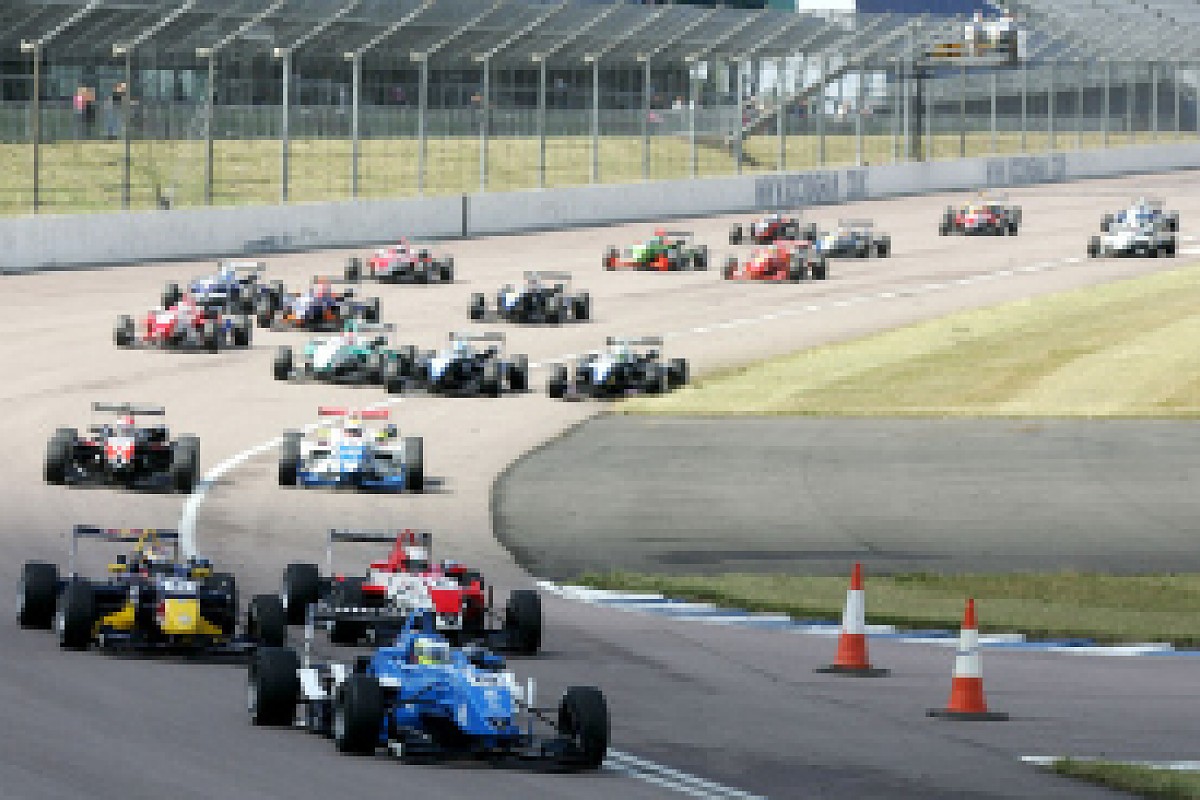 Valtteri Bottas winning the Masters, one of F3's special events © LAT
It's hard to deny the attractiveness of a 'fantasy' union between the two. But it's never going to happen unless both championships are simultaneously staring down the barrel of a gun with no other way out.
If that's the route to go down though, why not create one mega international series - incorporating the other domestic F3 arenas? Under one set of rules, you could have a truly international Formula 3 series - perhaps the F3 World Championship - incorporating races across all continents?
Sure it would be expensive, but it would be a great training ground for the technically-advanced, globetrotting, ultra-expensive grand prix arena - a true miniature Formula 1 that would exponentially increase the popularity of F3 with fans.
So long as you kept national series for the more cost effective domestic equivalents (using older cars?), you could probably keep the naysayers happy too. Pie in the sky I know - just like the idea of a merger between British F3 and the Euro Series.