We've been here before in British Formula 3. Last season Daniel Ricciardo came into the series with Red Bull backing, racing for the championship's top team, Carlin, having finished second in the previous year's Formula Renault Eurocup with continental superteam SG Formula.
This season French racer Jean-Eric Vergne comes into British F3 with Red Bull backing, driving for Carlin, having finished second in last year's Formula Renault Eurocup with SG Formula...
In 2009, Ricciardo went on to become the first Australian to win the title since sportscar legend David Brabham in 1989. Ricciardo's competition wasn't the strongest, but some of his driving was truly mesmerising: Think his race one win at Silverstone International, where he drove away from the pack with a succession of laps within fractions of a second of each other. Or the first race of the final round on the Brands Hatch GP circuit, where he destroyed the field by over 15 seconds and annihilated Jaime Alguersuari's 2008 lap record by more than six tenths of a second.
Performances like these urged team boss Trevor Carlin to label Ricciardo one of the best drivers he's ever worked with and, after a stunning showing during last year's rookie Formula 1 test at Jerez, the affable Aussie is now a Red Bull F1 reserve driver.
If anything, Vergne's form at this stage has been even more impressive than his Red Bull-backed predecessor's. Ricciardo set the pace for two of last season's six days of official pre-season testing. He finished up 0.291s clear on the first day at Oulton Park, and topped the Rockingham test by 0.261s. But at other times he found himself some way adrift. By the end of the two-day Oulton test (where the field went faster on the second day) Ricciardo was four tenths off the pace. After two days running on the Silverstone International circuit he wound up three tenths off, while at the season opening test at Snetterton he finished seven tenths adrift of the benchmark.
When Vergne has topped the timesheet this season (also at Rockingham and Oulton), his margins have been bigger (0.318s and 0.353s respectively), and against a stronger field...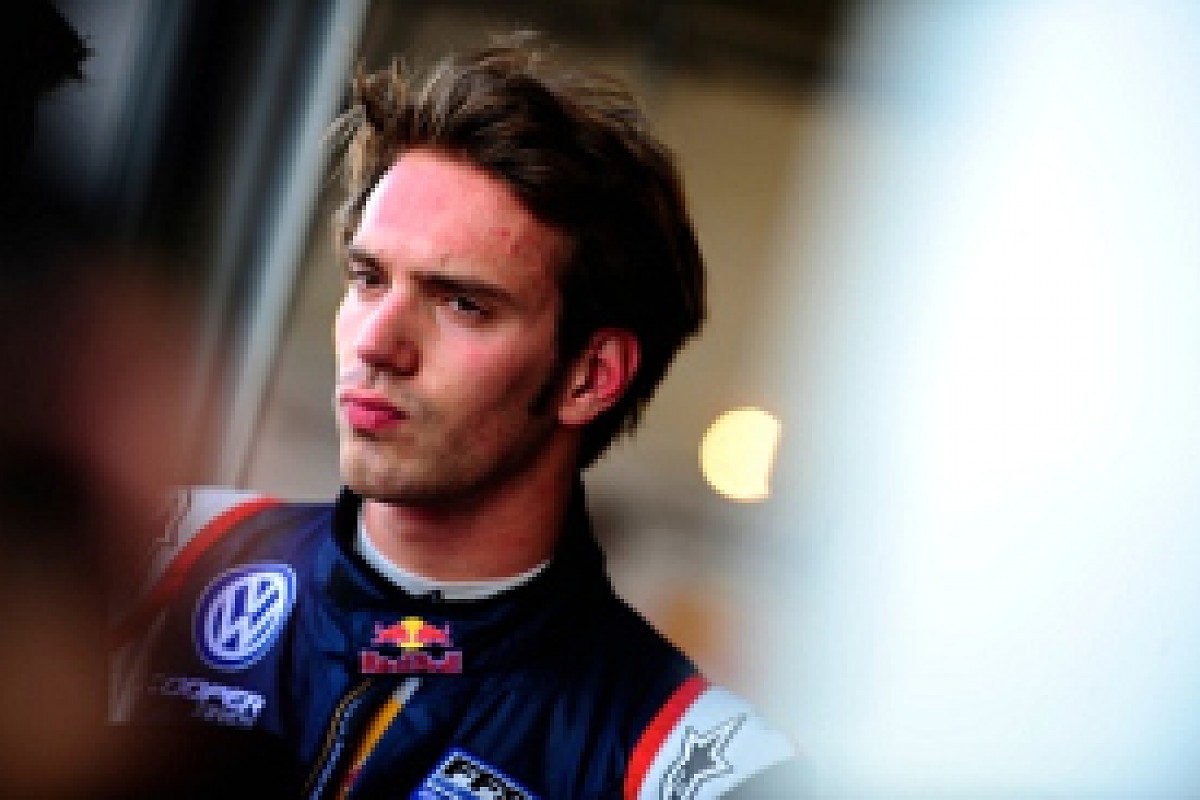 Jean-Eric Vergne © LAT
When he hasn't ended up quickest, he's found himself only fractionally off the pace: only 0.037s behind at Snetterton and 0.023s adrift after two days on the Silverstone GP circuit. Given how comfortably Ricciardo went on to dominate last year's championship, Vergne's pre-season speed must be of serious concern to his rivals. Publicly, they will say "it's only testing", but privately they will all be bricking it.
Trevor Carlin already thinks his new French charge is "at least as good as Ricciardo", and for Mike Lugg, who engineered the Australian last season and will work with Vergne this year, the parallels between the two are striking.
"They are very similar in many ways," says Lugg. "They are both very determined and very hard working. Even if we finish a test day quickest by a good margin, they both want to push on and make it bigger.
"In many ways what we learned with Dan [last year] we've continued. We're certainly better off than a year ago, but all the other teams will keep pushing and we need to do the same.
"The good thing about the Red Bull drivers is they always want to keep doing better - nothing is ever good enough. That matches my personality - I want to push and work as hard as them."
Before finding its way to British F3, the Ricciardo/Vergne parallel career path wound its way through the Formula Renault Eurocup - probably the world's most competitive entry-level slicks and wings formula.
A desperately disappointed Ricciardo missed out on the 2008 title by just three points, after a yearlong tussle with F3 Euro Series favourite Valtteri Bottas. A season later, SG Formula again went into the final race of the campaign with a shot at the title, but Vergne narrowly lost out to Spaniard Albert Costa.
"I learned more finishing second than if I had won the championship," says the 19-year-old Parisian, defiantly.
"I was sick at the first race in Barcelona and ended up in hospital, then I had engine problems at Spa and Costa had taken four wins in a row!
"I started really far away, but won at Budapest, Silverstone and Le Mans, and came back to fight for it in the end. It was a really hard season, but it made me much stronger."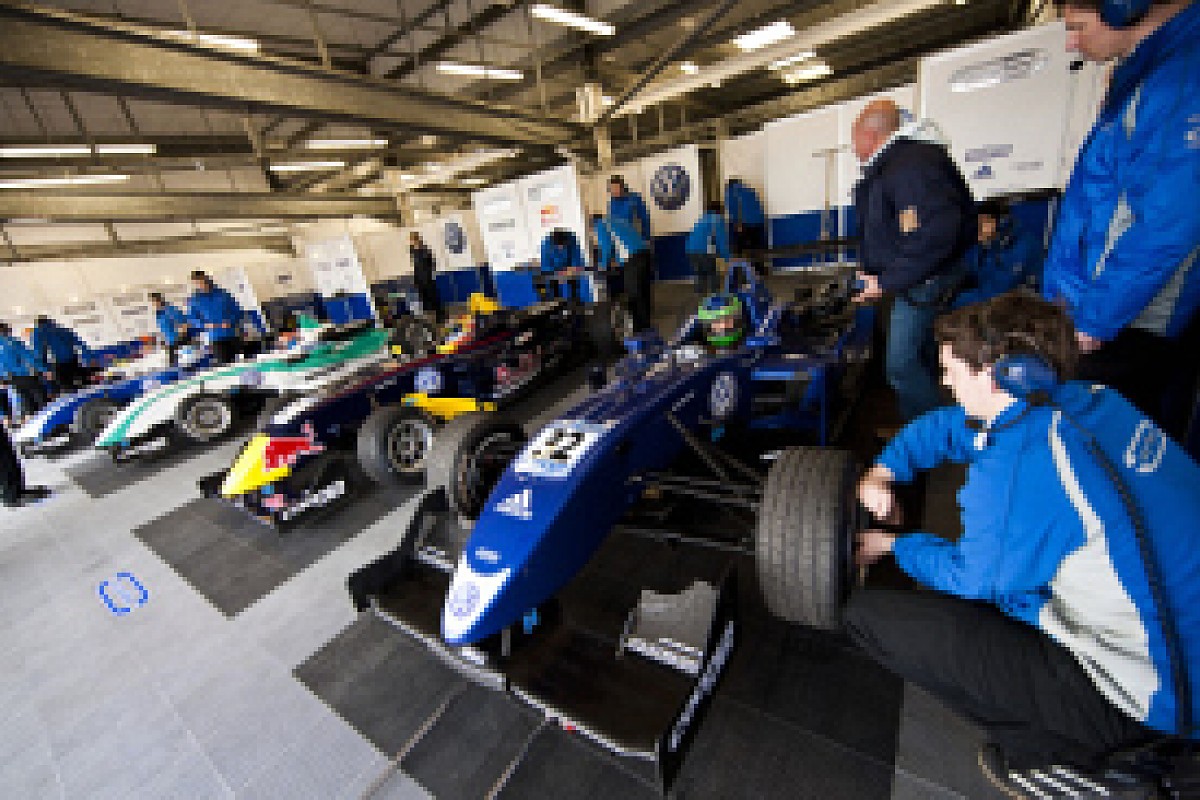 The Carlin team garage © LAT
"Dan said the same thing about his season in the Eurocup," adds Lugg. "Realising how close you can come, and it not work out, makes you more determined to make every session count and make no mistakes."
The last three British F3 champions have all come from the Eurocup, and Lugg has seen first hand the benefits SG has brought Ricciardo and Vergne during their respective seasons in the series.
"Quite a few people have done well and moved forward from the Eurocup," he says. "I think SG are similar to Carlin - a frontrunning team, fairly large. They do a good job training drivers going from karts to cars - simple things like techniques with braking."
Vergne agrees: "I have to thank SG because I learned to drive with them and the biggest thing I learned was how to drive a car with a problem."
This is something both squads clearly have in common. When you know you have frontrunning pace at every circuit, you can afford to throw a few deliberate spanners into your drivers' works and see how they react. This is a vital part of a junior racer's education.
"It's quite important for drivers to learn to deal with what they've got and drive around problems," adds Lugg. "At a test you can always just stop and do something. In a race, that's not possible."
Vergne's Formula Renault Eurocup campaign was clearly the making of him last season, and he will get the chance to reignite his rivalry with Costa this season when he undertakes a dual campaign in Formula Renault 3.5 with SG.
This is something Red Bull tried with Brendon Hartley last season. The Kiwi raced for Carlin in the F3 Euro Series and doubled up with Tech 1 in Formula Renault 3.5, but with limited success. Despite this unsettling precedent, Vergne is not worried about unduly affecting his season by having to race two very different single-seaters in a parallel programme.
"I know Hartley struggled in both, but I've prepared a lot this year," says Vergne. "Physically, I'm ready for the season. During winter testing I was a bit worried about coming back to each car, but I've had no problems.
"In the first session in F3, after testing the World Series before, I was in front at Oulton Park. That was good for me mentally. When I arrive at the track, I focus on that car - it's not a big problem."
Despite the need to show competitively in both series, Vergne is clear that his main focus is on British F3 this year and he will thus skip the World Series rounds that clash with his UK commitments.
No Frenchman has ever won the British F3 title and this one is aiming to become the first. Despite being a complete F3 rookie and facing a field of talented rivals, nothing less than the title will do for Vergne.
"For sure one year, win the championship. I don't consider myself as a rookie driver, both because of my mental approach and my experience," he says.
"For example, in the last test I did a mistake and ended up P2. If I am a rookie I can say: "P2 is good, but I could have done better".
"I don't like to have the 'if'. For me there should be no excuses."
Read the full preview to this season's British Formula 3 championship in this week's AUTOSPORT magazine, or in the digital edition.