The 2009 British Formula 3 season promises a championship battle of biblical proportions - a real David and Goliath contest, but whether this particular fight will have the traditional outcome is anyone's guess.
The Goliath of this story is Australian ace Daniel Ricciardo. The 19-year-old comes to Britain on the back of a stellar season in Europe's premier junior single-seater category - the Formula Renault Eurocup, where he took five wins and ran champion Finn Valtteri Bottas to the wire.
Following in the footsteps of Kiwi Brendon Hartley and last year's youngest ever British F3 champion Jaime Alguersuari, this affable antipodean arrives in the UK flush with the cash of energy drinks giant Red Bull.
This means three things for the rest of the field:
1. The kid is seriously talented.
2. The money buys him a seat with the championship's top team, Carlin Motorsport and with it an instant shot at the title.
3. He'll be fighting for his career from the first race to last, because if he doesn't perform he'll likely lose his Red Bull backing for the following season.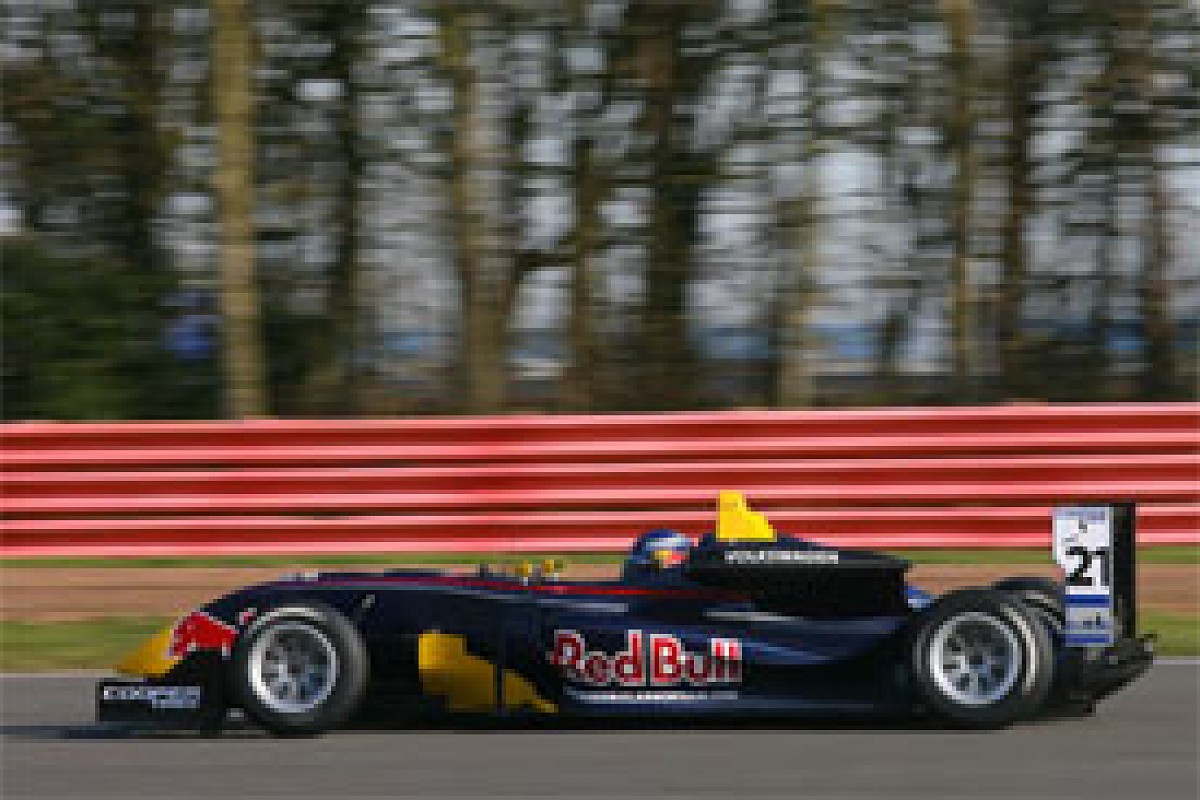 Daniel Ricciardo, Carlin Dallara-Volkswagen © LAT
In sum, expect the rookie Ricciardo to be seriously quick, seriously hungry for success and utterly determined to make it happen.
Ricciardo's arrival in British F3 also brings with it the return of the Volkswagen engine, and the likelihood it will power a driver to race victory for the first time since Steve Robertson took glory at Thruxton in 1991.
VW's return to the UK opens up a fresh front in the marque's ongoing F3 engine war with Mercedes, which has raged in Europe for the past season and a half.
Early signs show this to be a potent power unit. It's 15 kilos lighter than last season's Euro Series motor and looks a formidable foe for the pointed star. Six cars will run it this season (four from Carlin and two from T-Sport) and all have been on or near the leading pace in pre-season testing. Ricciardo had four tenths of a second in hand at Rockingham last month in his Dallara-VW - that's a scarily sizeable advantage.
So who is likely to emerge from the fray to bring the Goliath down to size? Well, the most likely David in our Old Testament tale has to be Beford-based driver Nick Tandy.
Since graduating from British Formula Ford last season, Tandy and his brother Joe have earned widespread praise from their peers for transforming an unfancied Mygale-Mercedes into a genuine frontrunning package, with scant resources.
Tandy, a former McLaren Autosport BRDC Award finalist, has the experience and natural talent to take the fight to Ricciardo. He is also a master at using psychological games to crawl under the skin of his rivals, but this has often led to costly clashes on circuit in the past. Whether Tandy can reign in some of his 'win it or bin it' instincts and ruffle the feathers of the seemingly unflappable Ricciardo, while the puny JTR team tries to keep pace with the development of the mighty Dallaras, will be key to the championship battle.
Tandy may be aided in his cause by distractions for Ricciardo from within his own camp. Henry Arundel, Max Chilton and Oliver Oakes all return for a second year of F3 this season - armed with seats at the top team. They have been close to and sometimes quicker than Ricciardo in pre-season testing, but will likely have to make their respective marks early before the Australian begins to stamp his authority on the squad.
A year's experience with the current breed of chassis (introduced last season) should favour them in this respect - a luxury not enjoyed by the class of 2008, which favoured the rookies. Oakes in particular could be dangerous on his day.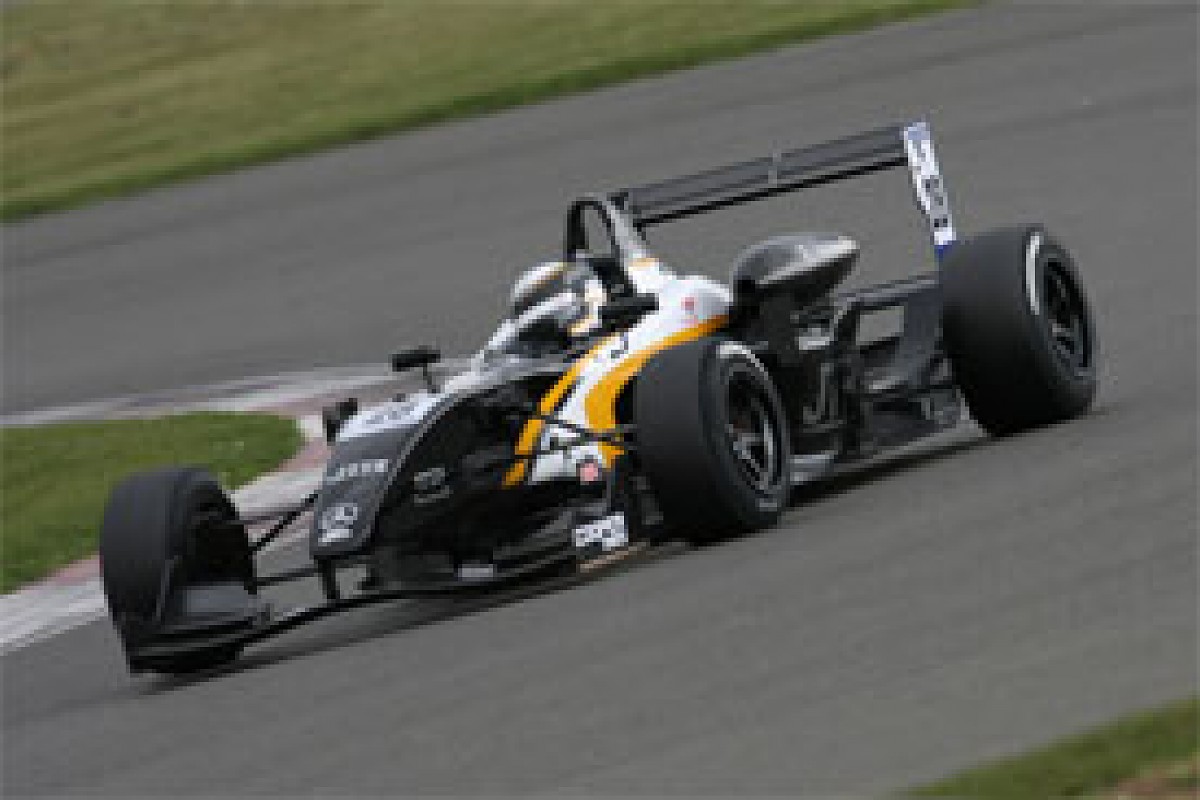 Nick Tandy, JTR Mygale-Mercedes © LAT
Elsewhere, a challenge should certainly come from the Brackley-based T-Sport squad. The team enjoyed a breakout season in 2008 - winning four races and leading the championship for much of the year with GP2 Asia star Sergio Perez.
T-Sport returns with an extra car for 2009 and the remaining supply of the coveted VW engines. Whether the squad can maintain a title challenge this season will depend on how quickly its two new drivers can adapt and progress.
Reigning British Formula Ford champion Wayne Boyd arrives as one of the most coveted and hyped drivers of recent memory following his 13-win season, plus the Formula Ford Festival, in 2008.
He is joined by the rapid, but occasionally wild, Brazilian Adriano Buzaid, who won five races in Formula Renault UK last season and was easily the fastest in the field during the second half of the year.
The pair have been neck and neck in pre-season testing and T-Sport's biggest challenge this season may be managing inter-team rivalry, while trying to cope with running a second car in Championship Class F3 for the first time.
More new blood at established squads Fortec and Raikkonen Robertson Racing (both running the proven Dallara-Mercedes combination) is charged with lifting to the front regularly after a disappointing 2008.
With highly-rated Swede Marcus Ericsson now plying his trade in Japanese F3, the Fortec mantle falls to another Formula Renault UK graduate - Riki Christodoulou. He endured a bitterly disappointing season as title favourite in the junior category last season, but Fortec is convinced it has a major talent on its hands and, if he can focus more and crash less, Christodoulou could be a real threat. His deal has come together late, but he has been quick in pre-season testing and should be right up there from the off.
Former champion squad Double R struggled to get the best from the new Dallara last season. Finn Atte Mustonen took just a single win for the team, in a monsoon at Rockingham, and the rest of its drivers were nowhere.
But a winter of head scratching and car tinkering has brought Double R back with revived confidence and a renewed driver roster.
Honda-backed Japanese Daisuke Nakajima (younger brother of Williams F1 racer Kazuki) brings a year of F3 experience from his native land. He has improved steadily during the pre-season and shown flashes of real speed, but has also been inconsistent and on unfamiliar circuits will have to learn rapidly if he wants to be a contender. Come September's maiden voyage to the new Algarve circuit for the penultimate round, he should be at less of a disadvantage. Unless any of his rivals have snuck in some secret F1 testing of course...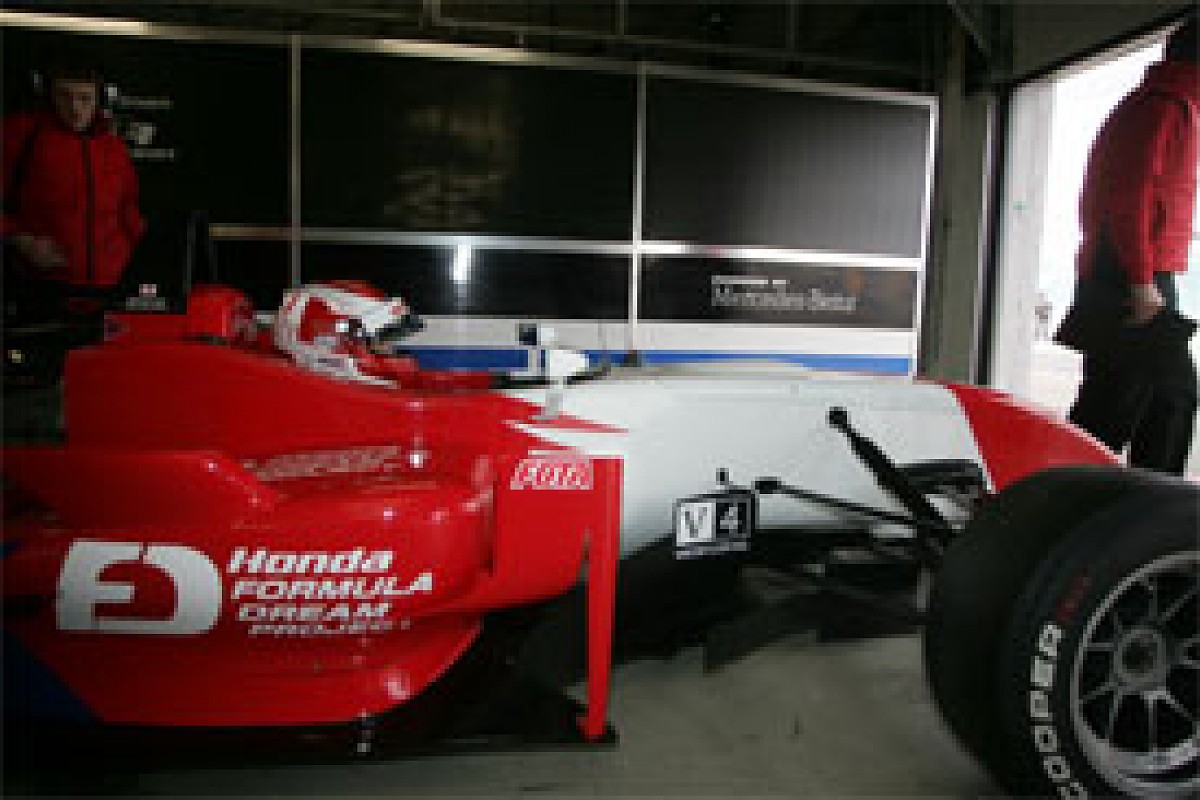 Daisuke Nakajima, Double R Dallara-Mercedes © LAT
Nakajima's team-mate Carlos Huertas has been the revelation of the winter. The 17-year-old Formula BMW graduate appears mature and serious beyond his years and has crept further up the order at each of the pre-season tests - culminating in a timesheet-topping performance during the final day at Silverstone last week. He knows the team inside out and if he can continually carry this form into race weekends he could be the surprise of the season. Double R is certainly hoping so.
The championship also welcomes two new teams to the fold this season. British squad West-Tec, which has title winning pedigree in Spanish F3 and British FF1600, will run a Mygale-Mugen-Honda for reigning National class champion Jay Bridger, while multiple French F3 champions Barazi Epsilon will field a single Dallara-Mercedes for Monagasque racer Stephane Richelmi.
Despite impressive curriculum vitaes, neither squad has troubled the sharp end of the timesheets in testing and look unlikely to pose a threat to our Goliath.
Nevertheless, at least five teams should produce potentially race winning cars and, Biblical analogies aside, this promises to be a classic season.