Nikita Mazepin has been given a suspended five-place grid drop for "potentially dangerous and unsportsmanlike conduct" in parc ferme after the Spa Formula 2 feature race.

The Russian won the race on the road by fending off the advances of Yuki Tsunoda, but was demoted to second after the race by a five-second penalty for edging the Carlin driver off the road at Les Combes.

Upon his arrival in parc ferme, Mazepin drove into the P2 board and sent it flying just as Tsunoda was about to walk in front of it to celebrate with his team.

Race stewards decided that the Hitech driver "approached parc ferme at too great a speed, before making contact with the second-place marker".

Speaking to Sky after the race, Mazepin said he was "getting a little bit annoyed" with the stewards after losing a podium in the previous F2 feature race at Barcelona for an unsafe rejoin.

He later expanded by saying he "didn't feel like there was anything to be punished for".

"I've kept my racing line, I haven't moved twice," he said.

"I defended. I was the car in front, and I was entitled to do that as the rules say.

"I have never touched or collided with Yuki, and I didn't really understand it. Unfortunately, as the rules go by, there's no way to do anything about a five second penalty.

"My job now is to analyse this incident, and the incident that happened two weeks before in Barcelona, to see the differences, understand it, learn from it.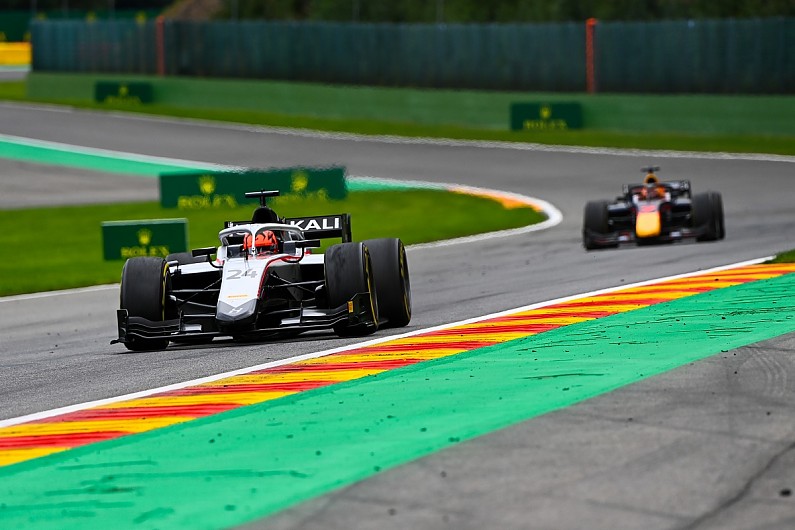 "I'm only 21 years of age. I'm aiming to get to F1, and I think it's important to understand the Stewards point of view here.

"I might go and actually see them, because I think that the good relationships that we have had with the Stewards so far allow you, as a driver, to question things if you don't understand them."

Mazepin's Hitech team were also given a reprimend for an unsafe release during the race, as Trident mechanics were forced to take evasive action when he left the pits.

MP Motorsport pair Felipe Drugovich and Nobuharu Matsushita have also both been penalised following their collision approaching Blanchimont.

Matsushita, who briefly held second early on, was battling for seventh with his Brazilian team-mate when he edged across on Drugovich approaching the fast left-hander and damaged his front-wing.

The contact instantly deflated Matsushita's right-rear tyre and sent him spinning backwards into the barrier.

The stewards determined that the Japanese driver was wholly responsible for the contact.
Drugovich was also disqualified for making his mandatory pit stop on the final lap in breach of article 37.6 in the sporting regulations.

Both MP drivers will therefore start from the back of the grid for the sprint race on Sunday.

ART Grand Prix's Marcus Armstrong was found to have overtaken Jack Aitken off track on the final corner of the final lap and given a 5s time penalty that drops him from 13th to 15th.