New Mercedes Formula E driver Nyck de Vries says his 2019 Formula 2 title success felt like "revenge" after he "blew" his chance to fight for the title last year.
De Vries raced for Prema Racing in 2018 and finished fourth in the championship, behind Formula 1 graduates George Russell, Lando Norris and Alex Albon.
He has taken four wins in 2019 - the same number of wins as he did in 2018 - but has extended his podium tally from three to seven in a season of better consistency.
When asked what the 2019 title - sealed three races early in Sochi last weekend - meant to him, he said: "Almost like revenge.
"Obviously last year I was in a position to fight for the championship, which was a very tough championship with everyone who has now been promoted to Formula 1.
"I really blame myself for missing out on the real battle because I simply made too many mistakes at the start of the season in positions or situations where we were able to score big points.
"Then you're on the back foot from the beginning.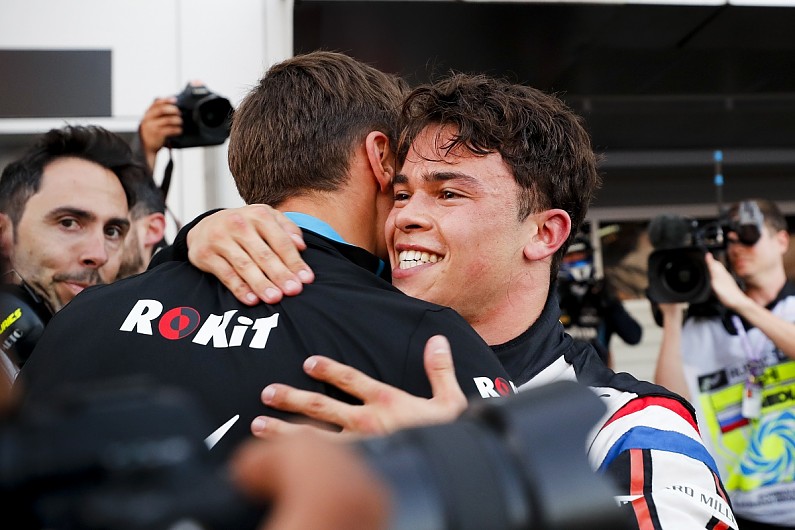 "As a kid you dream about Formula 1, and the route towards Formula 1, and I've had a very bumpy ride with a very successful karting period and difficult time in cars, and things changing.
"I only just managed to stay in single seaters and it felt like a second chance in Formula 2 because I blew my first last year.
"With everything that's happened through the past years it all came together and I'm very pleased that I was able to have done this.
"Obviously I chose a different route and direction in my career, but I'm very pleased with that opportunity and at the same time I'm very thankful that at least I've been able to tick this box and no one will ever be able to take this away from me."
De Vries will get little rest before starting his next chapter, with a Fuji World Endurance Championship outing bookended by Mercedes Formula E preparation ahead of the 2019/20 season starting at the end of November.
He will then contest the final Formula 2 round in Abu Dhabi the following weekend.