Paul Ricard will not feature on the Formula 1 support series calendar in 2020, with the Formula 2 and Formula 3 Championships visiting Zandvoort and Bahrain next season.
New events joining the F1 schedule for 2020, in what is a record size calendar, gave the F2 and F3 series organisers more flexibility when it came to choosing events.
The only change to the F2 calendar is Zandvoort as the Dutch circuit joins F1 for the first time since 1985. Despite its cramped nature, the support series' only Dutch squad, MP Motorsport, believe it is possible to house all series when it returns next year.
Paul Ricard in France is the event to make way, as F2 maintains a 12-round calendar.
F2 CEO Bruno Michel said: "Next season, our calendar will once again be made of twelve rounds, all part of the Formula 1 Grand Prix weekends.
"We kept the number of events to the same amount as the previous two years as we have found the right balance between European rounds and overseas race weekends.
"I can confirm that more tracks would have liked to have F2 race there, but as always, we want to ensure that our championship remains affordable by keeping the costs under control and thus the number of events to a total of twelve."
The bigger changes come for F3. This year the new championship did not start until Barcelona in May, but the addition of Bahrain helps to spread the season out more and give it a March start date, with the same opening round as F2.
Zandvoort is before Spain, so that helps shorten the gap between the new early start and the 2019 season opener at Barcelona.
Teams had claimed that an additional round in F3 would be beneficial if it did not alter budgets dramatically, and most in the paddock is in favour of having an additional round.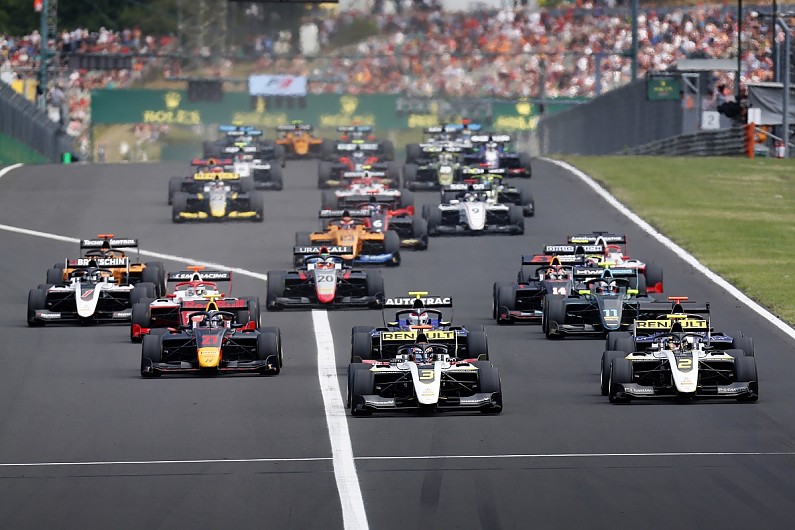 Autosport understands pre-season tests in Bahrain are also being discussed for F2 and F3 a release from organisers say that pre-season plans will be confirmed at a later date.
Macau is set to remain as a non-championship event attended by the FIA F3 Championship teams, as it is this year.
Speaking about the F3 calendar, Michel added: "I'm very pleased to confirm that our 2020 calendar will comprise nine rounds. That's one more event than this season.
"All events will occur alongside F1 Grand Prix, with two new venues, one flyaway and one European.
"It will be interesting to see the F3 cars racing at the Bahrain International Circuit and at Zandvoort alongside F1 and F2."
F2 2020 calendar
| | | |
| --- | --- | --- |
| Round | Country | Venue |
| March 22 | Bahrain | Sakhir |
| May 3 | Netherlands | Zandvoort |
| May 10 | Spain | Barcelona |
| May 24 | Monaco | Monaco |
| June 7 | Azerbaijan | Baku |
| July 5 | Austria | Red Bull Ring |
| July 19 | Great Britain | Silverstone |
| August 2 | Hungary | Hungaroring |
| August 30 | Belgium | Spa |
| September 6 | Italy | Monza |
| September 27 | Russia | Sochi |
| November 29 | Abu Dhabi | Abu Dhabi |
F3 2020 calendar
| | | |
| --- | --- | --- |
| Round | Country | Venue |
| March 22 | Bahrain | Sakhir |
| May 3 | Netherlands | Zandvoort |
| May 10 | Spain | Barcelona |
| July 5 | Austria | Red Bull Ring |
| July 19 | Great Britain | Silverstone |
| August 2 | Hungary | Hungaroring |
| August 30 | Belgium | Spa |
| September 6 | Italy | Monza |
| September 27 | Russia | Sochi |