Renault Formula 1 junior Jack Aitken admitted his weaving on the straights in the Monza Formula 2 sprint race was "a bit naughty" after Jordan King called it "dangerous".
Aitken, who went on to win the race, weaved on the straights leading to and following the Parabolica respectively to break the slipstream tow to the chasing Jordan King of MP Motorsport.
Aitken was awarded the black and white flag in the process, but he was not sanctioned by the stewards.
King took to the radio following the race to complain of Aitken's weaving and then continued his criticism in a post-race TV interview.
"When your closing speed is so big here, and someone's going from full-left to full-right, you can't pick a side. It's actually dangerous," said King.
"Although the rule of the book says it is fine, it is dangerous and it's hard to pick a side. We were definitely quick enough to get past."
Aitken's victory came after retaking the lead from King following a virtual safety car restart in which the Campos Racing driver moved ahead.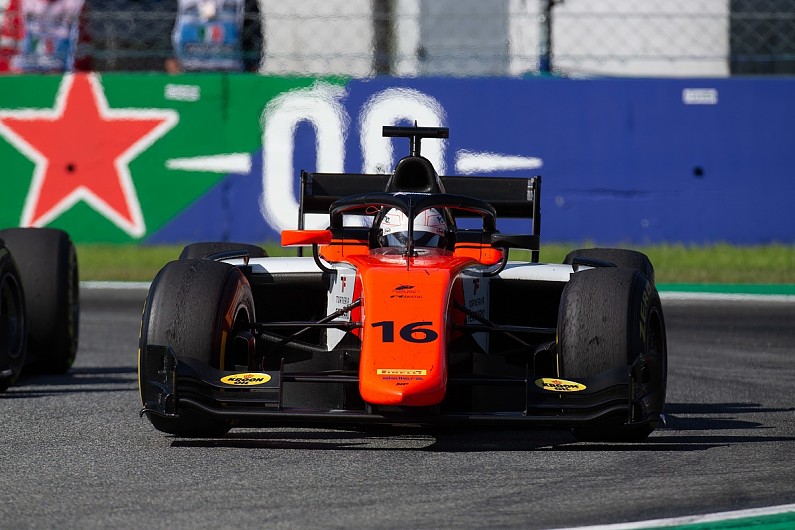 The two drivers both took to the run-off at the Variante della Roggia chicane later in the race, which handed Callum Ilott second ahead of King.
But on the last lap, Ilott locked up and had a spin at Variante del Rettifilo, handing the position back to King.
Aitken said: "I think everyone knows that at this track the tow is quite powerful.
"I was maybe a bit naughty doing my weaving on the straight, but I was just trying to break the tow, and I was trying to make sure I was always stopping when people got close.
"I had a good fight with Jordan and got him under the virtual safety car which was a bit lucky, but our pace was really good.
"Sector two and sector three, we were always really quick, it was just that the tow was way too powerful to break it."