Renault Formula 1 junior Guan Yu Zhou says he is not interested in being the top Formula 2 newcomer in 2019 and his target is overall wins and podiums.
Zhou entered F2 this year with Virtuosi Racing - renamed from Russian Time - for a two-year programme with his sights firmly set on Formula 1 for 2021.

The F1 junior with a nation's hopes on his shoulders
But Zhou and his team have been surprised at how quickly he has adapted, contending for the top five on a regular basis after racing at the tracks he had never been to before the start of the season, with three podiums scored so far.
Zhou lies sixth in the championship after 12 races, 22 points behind third.
If you discount the first two rounds where Zhou had never raced, he would be fifth in the standings but just six points off second.
The Chinese driver said: "From my side I'm definitely not fighting for the rookie championship, I'm more fighting for the overall championship".
When asked to expand on that by Autosport, he added: "At the beginning of the season it's nice to be near the top and after a couple of rounds you are definitely thinking about the championship.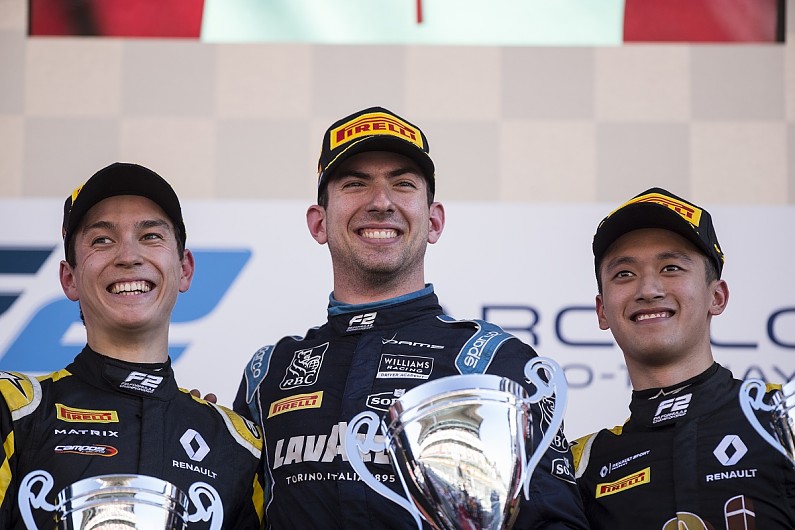 "To be honest I've not focused on fighting for the championship, but definitely I'm fighting for wins and podiums and it's nice to be already up there and to be more consistent than people with more experience.
"We're definitely going for that top three place.
"The beginning of the season was tough with all the new tracks, but now we're in Europe I feel more confident, I have adapted quite quickly to this car and we have been quick.
"We've been fighting for the same place as our experienced team-mate after big progress during the year.
"We'll continue like that and try to do the job.
"I didn't expect to be this fast straightaway, so that's better, and I'm still motivated to work even harder.
"It's a good thing and it's nice to show, especially when we are the support paddock for F1, it's nice to show F1 your true skills and I will keep trying to impress everyone."
F2 is back in action at Silverstone this weekend as it supports the British Grand Prix.