Ferrari Formula 1 junior Giuliano Alesi has received two license penalty points and will start the Paul Ricard Formula 2 race from the pitlane after hitting Louis Deletraz in qualifying.
Alesi attempted to overtake Deletraz, who was warming his brakes, on his outlap at the start of qualifying.
Trident driver Alesi hit the rear of Deletraz's car with the right-front of his, breaking Deletraz's rear wing and parts of the suspension.
Stewards decided that Alesi, whose count of penalty points is now up to three for the season, was "wholly responsible for the collision".
"It's difficult for me to say anything right now as we don't have footage," said Alesi, speaking to Autosport before the penalty was issued.
"The only thing I can say is that I was in a situation where I was very surprised, and I didn't really have any time to react or do anything, it just happened.
"Now I need to try and see if there is any way to see a video replay, if I could have done something I would have done it.
"It's very difficult for me to sit here and start pointing fingers because that's not what we're here for."
Deletraz told Autosport: "I'm not blaming him, I think he just made a misjudgement, he didn't leave any room, I think he was going to overtake.
"But it's what everyone does, you have to warm the carbon brakes, everyone does that.
"He had no chance to avoid because he was so close to me.
"That's the main mistake. The car behind has to handle it [the gap], not the car ahead."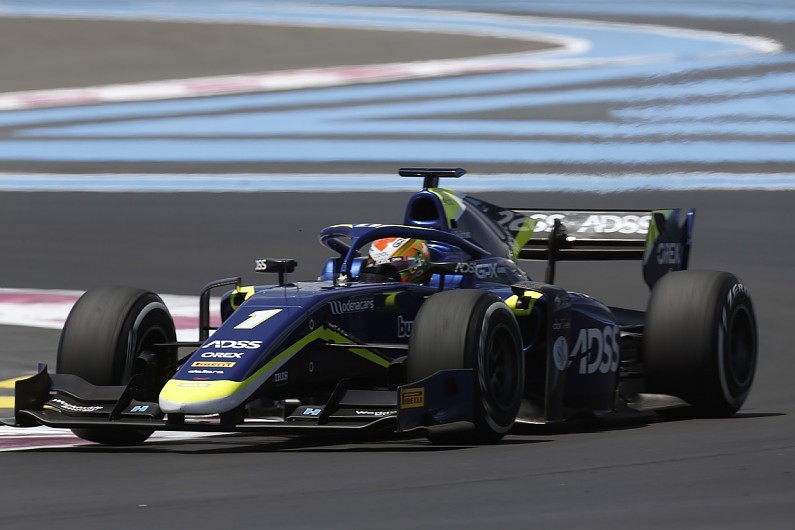 Deletraz's Carlin team was able to fix the damage, and he managed to set the fastest first sector of all in the closing stages - only to abort the rest of his lap when Ralph Boschung stopped with a mechanical issue.
"The car was very damaged," added Deletraz. "I was very surprised I went out again.
"Driving was bad, especially as it's a high-speed track, as it was very oversteery.
"Then there was the red flag, so it's not my day.
"In practice the race pace was good, still I think we should have been higher up as to qualify 12th [which becomes 11th after penalties for other drivers] with such damage and the car being fully taped was very impressive I think."