Nobuharu Matsushita is confident that his "nightmare" Formula 2 weekends are over as the Honda Formula 1 junior lies eighth in the championship after five rounds.
Matsushita concluded three seasons of GP2/F2 in 2017 with sixth place before switching to Japanese Super Formula, but returned to the series in '19 with Carlin in what was expected to be a title push.
Instead, heavy tyre degradation meant just two points in Bahrain, and pole position in Azerbaijan was followed with a technical problem in the race, and his engine caught fire in Spain.
Matsushita's highlight in 2019 was a podium in the Monaco feature race after a stunning pass on Sergio Sette Camara at Turn 5 that earned a first top-three finish since Monza in 2017.
The Monaco result came after just one proper lap in practice after more technical problems.
"Obviously we had a lot of disaster weekends," Matsushita told Autosport. "We could have had more podiums for sure and had many issues.
"In free practice [in Monaco] we could only do one lap, but finally I'm on the podium. I took the fastest lap as well.
"I had a new car [in Monaco after the Barcelona fire]. Because everything is new, there was not enough time to check everything before practice. I feel really bad about this.
"Hopefully for the next races, no more problems."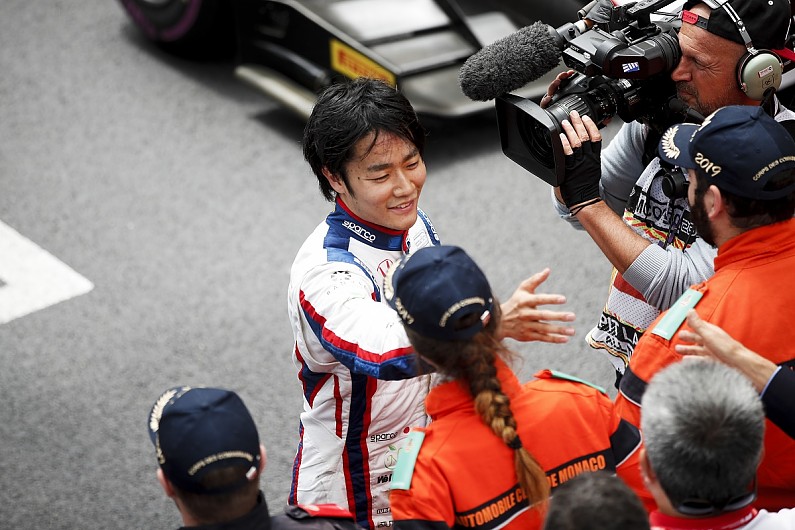 Honda - which supplies Red Bull and Toro Rosso - is keen to have a Japanese driver driving for one of its teams in F1.
Nirei Fukuzumi struggled to impress with Arden in F2 last year while the impressive Tadasuke Makino won the Monza feature race, but is still inexperienced.
Asked if F1 was still the goal for Matsushita, the 25-year-old told Autosport: "That's why I'm here, obviously.
"I need results and need to have weekends like this [Monaco] every weekend.
"At the beginning [of 2019] I struggled a bit to save my tyres, I think now it's fine and the next race is France and that's like coming back to a normal track, so let's see. I would like to prove that [he can manage the tyres].
"Last year I was doing Super Formula and there is no [tyre] deg. You push every lap.
"Here you have to take care on every lap. It's the same, I'm just adapting back to it [after a spell away].
"The car is a little bit heavier, the feeling is that everything is heavier. Now I'm back to being quite OK.
"We are happy with qualifying but for the races, we've had big deg. But now I think it will be fine for the rest of the season."