Nyck de Vries took a stunning Monaco Formula 2 pole position, while Ferrari Formula 1 junior Mick Schumacher scored his best F2 qualifying result of his rookie year in fourth.
As is usually the case in Monaco, the F2 field is split into two groups of 10 determined by whether each car has an odd or even number. Each group gets 15 minutes on track.
The polesitter comes from whichever group is the faster, with the remainder of their group taking positions one, three, five onwards down the odd-numbered side of the grid and the other group lining up down the 'even' side.
ART Grand Prix driver de Vries ran in the second group and was supreme, setting a lap fast enough for pole on the first runs and beating Callum Ilott's mark from the first group.
De Vries then went a further four tenths quicker than his own best, in a simply dominant performance.
Williams F1 junior Nicholas Latifi has won three of six races so far this year for DAMS, but it was announced before he set his flying lap that he would be penalised three places as he "had crossed the white line at the pit exit after the red light was illuminated" during practice. He should have started fifth, but starts eighth.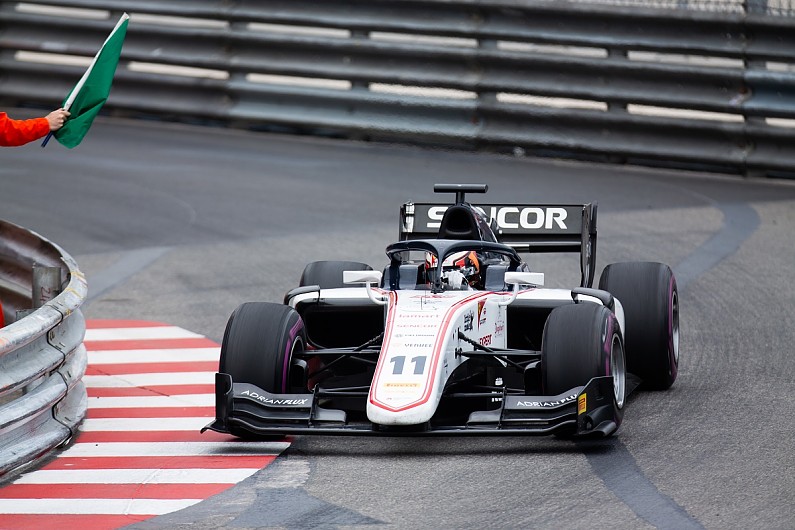 Ilott - incredibly on his first racing appearance in Monaco - starts second for the Sauber Junior Team, the F2 rookie Ferrari protege's best qualifying yet.
Despite setting a faster time than Ilott, Luca Ghiotto will start third under the format. But he benefits from being ahead of title rival Latifi, having jumped him on times anyway at the end of the Group 2 session.
Also on his first visit to Monaco, Ferrari junior and Prema driver Schumacher scored his best F2 qualifying result so far in fourth, moving up to second to Ilott in their group with a late improvement.
Having crashed in qualifying last year and suffered a hand injury that ruled him out of the race, McLaren junior Sergio Sette Camara slots in behind Schumacher in fifth.
Prema Racing's Sean Gelael - who took an F2 career best second place in last year's Monaco feature race - starts sixth, ahead of Anthoine Hubert and the penalised Latifi.
Carlin's Honda F1 junior Nobuharu Matsushita's practice was cut short with a technical issue. He and team-mate Louis Deletraz round out the top 10.
On his return to F2 to replace the Indianapolis 500-bound Jordan King in a one-off deal, Artem Markelov will start 11th for MP Motorsport.
It was a nightmare session for Renault F1 junior Jack Aitken, third in the championship standings, who struggled in the middle sector of his last flying lap and then was baulked by Mahaveer Raghunathan. Aitken will start 18th on the grid as a result.
Provisional starting grid
| Pos | Driver | Team | Time |
| --- | --- | --- | --- |
| 1 | Nyck de Vries | ART Grand Prix | 1m20.676s |
| 2 | Callum Ilott | Sauber Junior Team by Charouz | 1m21.462s |
| 3 | Luca Ghiotto | UNI-Virtuosi | 1m20.924s |
| 4 | Mick Schumacher | Prema Racing | 1m21.469s |
| 5 | Sergio Sette Camara | DAMS | 1m21.537s |
| 6 | Sean Gelael | Prema Racing | 1m21.598s |
| 7 | Anthoine Hubert | BWT Arden | 1m21.675s |
| 8 | Nicholas Latifi | DAMS | 1m21.130s |
| 9 | Nobuharu Matsushita | Carlin | 1m21.807s |
| 10 | Louis Deletraz | Carlin | 1m21.936s |
| 11 | Artem Markelov | MP Motorsport | 1m22.086s |
| 12 | Nikita Mazepin | ART Grand Prix | 1m22.089s |
| 13 | Dorian Boccolacci | Campos Racing | 1m22.290s |
| 14 | Ralph Boschung | Trident | 1m22.233s |
| 15 | Juan Manuel Correa | Sauber Junior Team by Charouz | 1m22.437s |
| 16 | Guanyu Zhou | UNI-Virtuosi | 1m22.772s |
| 17 | Giuliano Alesi | Trident | 1m22.785s |
| 18 | Jack Aitken | Campos Racing | 1m22.877s |
| 19 | Tatiana Calderon | BWT Arden | 1m24.791s |
| 20 | Mahaveer Raghunathan | MP Motorsport | 1m26.522s |