Formula 1's chief technical officer Pat Symonds says the data from Formula 2 switching to 18-inch tyres next year will be "very important" to F1 for 2021.
It was announced at Barcelona on Thursday that F2 would implement 18-inch tyres for the 2020 season, ahead of F1 doing the same the following year.
Symonds said it was evidence that F2 can become a feeder for technology, not just drivers.
"The FIA Formula 2 Championship has already proven to be the best possible feeder series for young rising talents who aspire to succeed in Formula 1 and now it's going to used as a feeder for technology," said Symonds.
"It's a great opportunity for our sport that the tyre development for 2021 can be done not only during bespoke testing but also in a racing environment.
"The amount of data that Pirelli and Formula 2 will be able to collect in the next 16 months will be very important for the next generation of Formula 1 tyres."
Series boss Bruno Michel confirmed that a development package is the next step in the process, to make changes to the car ready for the bigger wheels.
"This is a great opportunity for Formula 2 and our drivers: we are the training ground for Formula 1 and as such it is important that we race with the same type of tyres as the ones used in F1," he said.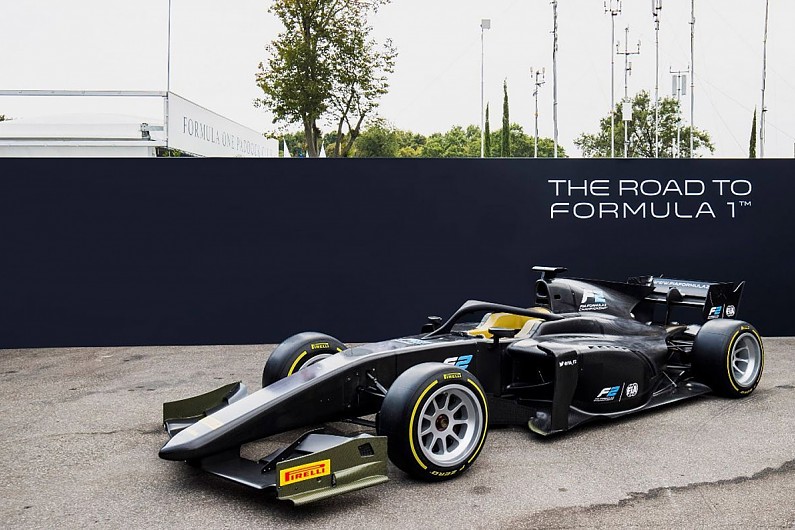 "I am very pleased that F2 will race with the 18 inch tyres as early as 2020 which means that the drivers who will graduate from our championship to F1 in 2021 will be able to adapt even quicker.
"This is not the first time that we have been a testbed for F1 and in the past some new elements were implemented at our level before then being applied to F1.
"The next step is an intensive development programme to ensure that everything is ready for next season, notably an upgrade kit for our 2018 cars to fit the new tyres."
The series technical director Didier Perrin added: "We ran an F2 car on 18-inch wheels yesterday for the first time and we have built up an extensive track tyre testing programme which will feature one test session per month until the end of the year.
"It will be fantastic for drivers because they will get a taste of a powerful single seater on 'big rims'.
"The behaviour of the car will change that's for sure, because the tyres' stiffness will be completely different."