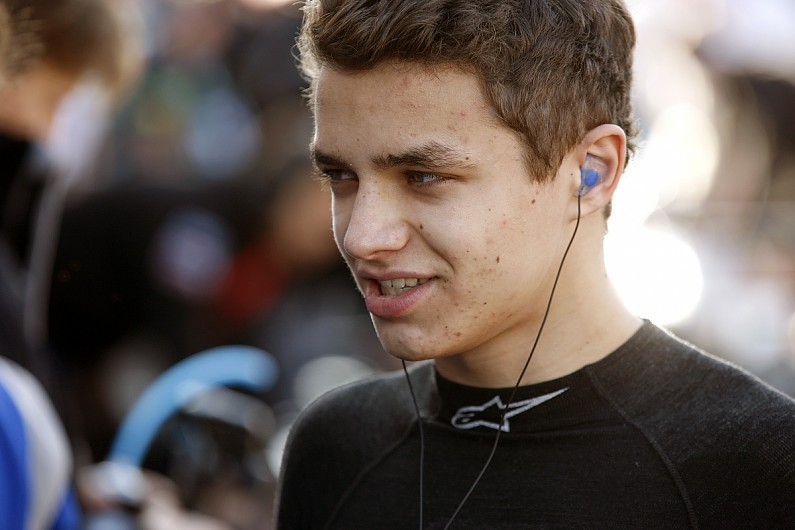 Newly crowned Formula 3 European champion Lando Norris and GP3 title winner George Russell could team up at ART Grand Prix in Formula 2 next year, Autosport has learned.
McLaren Formula 1 protege Norris's expected deal with Prema Racing, which has carried Charles Leclerc to the 2017 F2 title, fell over for good last weekend.
Autosport reported in August that Norris and Prema were closing in on an agreement, but it has emerged that this has been vetoed by Lawrence Stroll, father of Williams Formula 1 racer Lance, and who holds a substantial share in the Italian team.
Since then, negotiations have been ongoing with French squads ART and DAMS.
Immediately after clinching the F3 title last Saturday at Hockenheim, Norris told Autosport: "We haven't made a decision yet on which team.
"The three possibilities are Prema, ART and DAMS, because it depends what McLaren want me to do: to win the championship or to prepare for what to expect in F1."
But that was before a last bid to rescue the situation with Prema failed, apparently leaving the choice between ART and DAMS.
Meanwhile, Mercedes F1 junior Russell is looking increasingly likely to remain with ART, the team that carried him to GP3 glory this year, having initially looked to be heading to DAMS.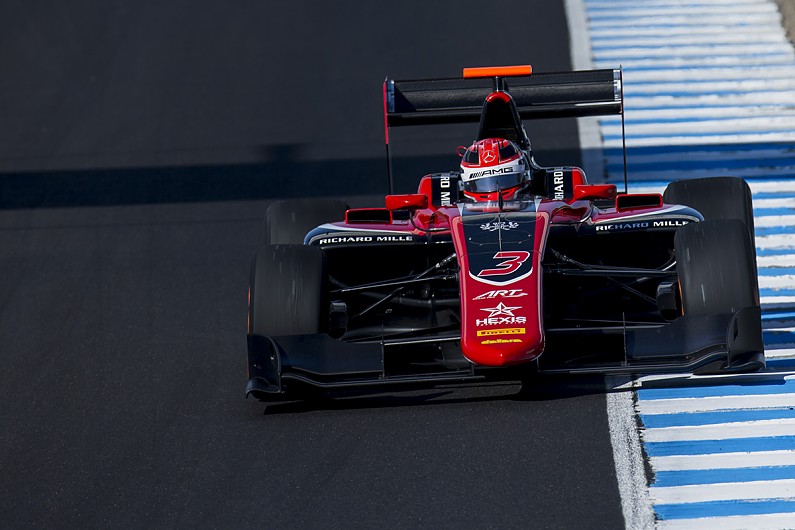 While Prema would not comment on the situation, ART boss Sebastien Philippe told Autosport: "This year, for whatever reason, everybody has been talking with everybody very early - during the season, since September.
"There are loads of rumours everywhere.
"It's true that we start to speak, and I am considering all the options everywhere, but at the moment there is absolutely nothing done either in GP3 or F2.
"I'm considering all of my drivers and I am quite happy with the job they have all done in their different categories."
Prema is widely tipped to run Sean Gelael next season, and Nyck de Vries has been named as one potential team-mate - the McLaren junior has been backed substantially this season by the Jagonya Ayam scheme of Gelael's father Ricardo.
But 2017 F2 runner-up Oliver Rowland cannot be ruled out of a Prema seat alongside Gelael, according to sources.
Norris could make Abu Dhabi F2 debut
Norris could even make an early F2 debut in the final round of the 2017 championship, supporting the Abu Dhabi Grand Prix at Yas Marina, and which takes place the weekend after his Macau GP assault.
"That's a possibility and we're definitely going to do the [post-season] tests," said Norris.
"About the race, I'm not too sure which teams would allow me to do it as a rookie.
"I need to speak to Mark [Berryman of ADD Motorsports, his management company] and some people at McLaren to see if it's a good idea to prepare for next year."